Moby is as much a marketer as a musician. Six years ago his songs were ubiquitous as the soundtrack to television commercials — he helped pioneer that licensing trend. Now he's releasing his fifth album, Hotel, through a partnership with an actual hotel chain that will provide much promotional lift.
Hotel shows that Moby remains as consistent a musician as ever — if you overlook his foray into ambient instrumental sounds on disc two, which is literally sleep-inducing. The album is by no means perfect, but musically Hotel showcases some of Moby's best work to date, including the stunning opener, "Raining Again."
This time out, Moby strikes a rock-oriented approach to electronica, a development that displays both his marketing acumen — dance-rock is all the rage at the moment — and his musical talent. The album's less-scripted sound, totally lacking in samples, suits him. He also applies his own quavering voice to ten tracks on the album, showing real personality for nearly the first time. But like every Moby album full of nice, tuneful, sweet-but-sad songs, Hotel isn't as compelling as it might have been. It's too repetitive in both musical and lyrical themes. After a few spins over a few weeks, you forget all about it. It's bland.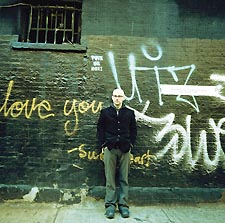 Moby
Particularly troubling is Moby's partnership with W Hotels. After the release of his last album, 18, people half-jokingly questioned which tracks might best suit the soundtrack to a car or hair product commercial. Though several tracks found their way into promotional usage, as far as it's known it all happened after the songs were created and the album released. With Hotel, we don't know which came first — art or commerce. Did Moby create the songs and build the album's hotel concept before or after talking to W Hotels about an arrangement?
It's all a little too synergistic for artistic comfort — Moby's marketing and music mix a little too well here. He's created a perfect musical accompaniment to a pricey boutique hotel stay, with atmospheric, dreamy music that's decidedly not mind-at-ease dreamy. So you ask yourself after checkout at the W: Did I just pay too much for a good night's sleep? And you ask about Moby after listening to Hotel: Did he just sell out for ephemerally pleasurable music?
Fannypack sounded like a fad with its 2003 debut album. And its single "Cameltoe " became a fad all its own, with its amusing critique of too-tight pants on women. But it was one of only several tracks worth repeated play on So Stylistic — and two years later, it's lost much of its original appeal.
It's a surprise to report, therefore, that the group's sophomore set, See You Next Tuesday, is a dramatic improvement for the group. The album is far more cohesive, containing a string of fully fleshed out songs that appealingly straddle the lines between hip-hop, dance hall reggae and electro-pop, connecting the genres through lowbrow humor. A few antagonizing lyrics grind the music to a halt, and the group unfortunately still retains its creepy, patriarchal puppetry quality. Now old enough to vote, Fannypack's three leading ladies — Cat, Jessibel and Belinda — rap over beats and samples put together by the two adult men, Matt Goias and Fancy, who call nearly all the shots.
On Tuesday Fannypack comes enticingly close to becoming this era's Salt 'n' Pepa. They brazenly, hilariously reverse gender roles on "In My Lap, " an NC-17-rated dub-infused track on which the girls rap about what they want their men to do. "Get down, slow, set it on back/Put your fine ass down in my lap, " they instruct. "Move it around, now give me a thrill. " If nothing else, it could and should get play at gay strip clubs.
The girls of Fannypack go out of their way here to offend not only those women wearing clingy pants, but also so-called hipsters wearing Von Dutch trucker hats. They also offend those of us who formerly appreciated their superficial cultural criticism but don't share their broadsides against "ugly people " — a label they essentially apply to everyone living outside of New York's five boroughs. The otherwise fantastic, electrifying "Seven One Eight " goes well beyond the homage to the group's Brooklyn base, exhibiting their "only in New York" attitude to be as ugly as anyone's. "Everywhere else, you can suck up on my titty/Eat a Big Mac and go to hell, " they sing.
Suddenly, I'm not so hungry for Fannypack's beats.