As we all know, Joan of Arc died hard and Tchaikovsky's Maid of Orleans is for a different sort of die-hard — the operatic kind. Though this is a brilliant and rewarding production, it is not a casual evening's entertainment. Anyone who comes unprepared will likely find themselves eager for Joan's place at the stake by the final act — or into the parking lot by the intermission. By all means fight for a ticket (the buffs are gobbling them up), but recalibrate your expectations and open your mind.
For, in truth, this production flows more like a concept piece than a conventional opera and that's not as easy to swallow as it sounds. Director Lamberto Puggelli's focus is on the full unfolding of Tchaikovsky's magical and rousing score as it catapults Joan towards her destruction — not the usual anchors of time, place, and character. Indeed, the few moments when the opera falls into convention are the flattest. If you come hankering for these trinkets of realism, you will find this opera tedious and the seats very hard. (Hint: if this does happen to you, close your eyes and start listening again — conductor Stefano Ranzani will bring you back.) If you can let go into the music, the mood and the punctuation of billowing silk, you will be carried away into the mind of a genius composer.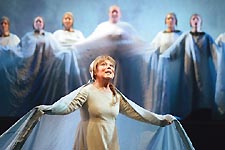 Maid of honor: Freni
(Photo by Karin Cooper)
  And if this is a departure for the audience, so it must be for the performers. Taking the lead role of Joan is the phenomenal soprano Mirella Freni, who will shortly mark the 50th anniversary of her professional debut. Freni has sung many great operatic roles to international acclaim and yet she is a star willing to challenge herself and the public to see opera as a powerfully organic medium. Freni bucks many conventions to play this role and it's gratifying to watch.
This interpretation of Joan is complex. At times she is a center stage heartrending presence, such as when she realizes that she must leave all she has known on a mission of faith. At other points she hovers in a seemingly mute silence, watching and reacting in mime. Freni plays her with superlative focus. She is obviously not the young girl of the libretto, and yet she renders her on a believable plane.
Working in tandem with Director Puggelli in a pursuit of mood and symbol, the achievements of set designer Luisa Spinatelli are remarkable. Although the trend in the last seasons toward photographically-based backdrops has been somewhat overdone, Spinatelli's choices are careful enough to stay emotionally fresh. The contrast between these stills with the regularly falling curtains of silk remains very subtle and alive. Still, the silk has a few ups and downs — the chorus (which sang excellently on opening night) does not always seem at ease with the mantles of silk they wear and wave about in the background of several intense scenes, and the sheets of silk emerge from the rafters with a jarring mechanical sound. On the up side, one of the most visually stunning moments in years is the use of a huge black silk curtain to take a body off stage.
Though discussions of silk curtains and "concepts" may sound like a load of old codswallop, don't let it deter you from reveling in the real gift of this production — Freni's voice. This is a richer soprano, an expressive sound, light years away from the pack in texture and tone. We are seeing her at a time when the beauty of her voice blends exquisitely with her technique and her experience. The bottom line is that no one in their right mind should miss this chance to see her gracing the Washington Opera House stage.