Washington may not boast a vast Chinatown or a thriving Little Italy, but there's no denying that with its myriad embassies and international organizations it's a true world city. And that international flavor is well represented, literally, on the menu at David Greggory Restau-Lounge.
Moroccan Shrimp Sticks share space with empanadas. Portobello Milanese might precede the Indian-inspired Garam Masala Grilled Salmon. The inspiration may spring from around the world, but the master who brings it all together is as locally grown as they come.
Greggory Hill is the chef at the two-year-old David Greggory restaurant, located at M and 21st streets NW. He launched the downtown hotspot with fellow chef David Hagedorn — hence the mixed moniker. Last spring, Hagedorn left to pursue other interests, and Hill now owns the restaurant with Gene Lawson and Scott Sterl.
Born in the district, Hill has always stuck close to his roots, spending nearly his entire life in Washington. "My father passed away when I was 5," he says, adding that this eventually led his mother to move out to Clinton, Md., to be closer to the extended family. "My mother and grandmother raised me. My mother was a single parent, with her mother there taking care of me, raising me, showing me the ways."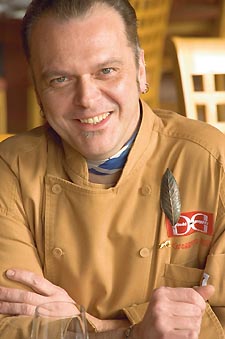 Hill
Those "ways" had a lot to do not only with his grandmother's traditional Maryland cooking, but also with the essence of food. Hill's upbringing may have been a stone's throw from D.C., but it wasn't in suburbia; it was in farm country.
"My grandmother did all the cooking in the house," Hill shares. "It was a lot of Southern roots. Maryland stuffed hams, fresh ham stuffed with watercress and kale, done with a cider and Dijon mustard vinaigrette. Her influence over me was always in the kitchen. She always did the cooking. Breakfast, lunch and dinner."
Having a lot of farmland in the family also helped expose young Greggory to the taste of fresh, locally grown food. "I have childhood memories of going to the farmhouse to have fresh, homemade biscuits, fresh ham, and eggs from the henhouse. Never anything canned. [Other than] canned in Mason jars, I should say."
Years of helping his grandmother in the kitchen, coupled with his exposure to fresh food, seemed to spark a fire in Hill. The beginnings of an executive chef were set on slow bake. He recalls throwing his first dinner party — a seafood banquet — when he was 16. Everyone else was out of the house, so firing up the stove and inviting some other teenaged friends over just seemed like the thing to do. One can only guess that Hill's fresh oysters and fried fish were more satisfying than throwing toilet paper in the neighbor's trees, like other boys his age might have been doing. A year later, Hill was back in the District.
Even during his time in Maryland, Hill stuck close to D.C. "When I was 9 or 10 years old, I started working at RFK stadium, selling programs, then concessions," says Hill. "I would go with a friend of my mother's. I was there for every game, whether it be a Redskins game or a Senators game. When I was 14, I was of legal age to work. With a work permit, I was selling Coca-Colas and programs and hot dogs."
The story is interrupted for Hill to yell out his "hot dog" bark in the middle of his otherwise quiet restaurant. He's still got it. Close your eyes and you'd expect to hear the crack of the bat.
"I was running through the stands of RFK Stadium and the D.C. Armory, doing every show possible. Whether it was the flower show or the rod-and-custom show, the boat show or the circus — whatever was happening, I was there working."
After high school, back in the city, Hill had a number restaurant jobs. He guesses he spent a decade at a variety of restaurants — some gone now, some with different names or different owners — before deciding to polish his hands-on education with a degree from L'Academie de Cuisine in Bethesda. That degree helped speed Hill along to mastering one of his first foreign flavors: French.
"I got my degree and from there went to work at the French Embassy, at the chancery," says Hill. "I was in the hot-line as a sous chef. At the chancery, it was mostly for the people who worked there — it was more of a cafeteria style. But at times you would do dinners for the president. There would be racks of lamb for 700. There would be a lot of special occasions and dinners…. The pressure was there, yes, but it was also a challenge. I was always looking for a challenge, a different way to do things, a creative outlet, trying to learn as much as I could."
Looking for a challenge led Hill to take over as executive chef at the acclaimed New Heights restaurant in Woodley Park, where he had been working part-time during his chancery stint. Five years at New Heights was followed by nine at Gabriel in Dupont. Hill's creative turn at Gabriel led Washington Post food critic Tom Sietsema to credit Hill as an "early pioneer of Nuevo Latino cuisine in Washington."
Now that Hill is his own boss at David Greggory, fans can still find Nuevo Latino, and plenty more. Despite the added responsibility, Hill says his primary focus is still the flavor — but it's far from the only one.
"I still work six to seven days a week, 14 to 18 hours a day. It's just that now I've got to worry about the bills being paid, which is not always an easy thing…. I'm supposed to be taking care of the back, but I'm in the front and the back all the time. I'm a perfectionist. That's why you never get to where you want to be. It's good and bad. There are times that you slip. You don't want to, and you feel bad about it. You wonder, 'How did that happen?' And it's because I wasn't there — I should've been there!
"It's still a growing business. It takes a lot of time, a lot of energy, a lot of effort. But that's what you get in this business for. You have to love it."
Though Hill says any guest's dissatisfaction can drive him to nightmares, hostess Gerlinde Burr says Hill manages a peaceful demeanor.
"I've been in the industry basically all my life, and I think he's the finest chef I've ever worked with. And the most even-tempered," Burr says. "I'm very impressed, otherwise I wouldn't work for him."
At least one of the several artists whose work hangs at David Greggory also speaks highly of the owner.
"As far as working with me and the other artists, [Hill] has been really easygoing. He's always been an incredibly pleasant person to work with," says Gary Fisher, a local artist whose Chefs is among the first pieces to greet customers entering David Greggory. Hill purchased the painting at auction in 1996, before meeting Fisher, at a Food & Friends' Chef's Best benefit. "Greggory puts the same kind of attention into the decoration of the restaurant as he does into food preparation."
Fisher says that the upbeat mood of his paintings — eight canvasses constituting six pieces — plays well with Hill's food. "A lot of his dishes are playful, fun," says Fisher. "Sometimes you don't expect things to be on the plate, but they make you smile and feel good."
Fisher's playful palette has company at David Greggory, thanks to the Grateful Palate. Hill has partnered with this California-based bacon-of-the-month club to bring monthly Aphrodisiac Bacon Dinners to the restaurant. And these are not stoic affairs.
"From appetizers to dessert, there are five to six courses involved. [Grateful Palate owner Dan Philips] probably has about 36 artisanal bacons, and every month we pick certain bacons and we do the menu around that. Right now I'm working on the April bacon recipe," says Hill, adding that bacon recipes are easily his favorite.
"The dinners have been great. I have people who come every month. It's unbelievable, the number of people out there who are crazed about bacon. It's definitely a cult!" he laughs. "The dinners are wild and out of control. Pig people gone wild, I tell you."
A crazy good time or not, it's still work. The stresses of owning a business can be stifling. So can the stress and responsibility of running a kitchen. Hill's devotion to the restaurant business has never left him much time for a social life. Talking to Hill, it's not even certain he wants one. He seems happy just where he is.
"I want to be here everyday," Hill insists, adding that some close friends have tried to persuade him to take more time for himself. "We try to close on Sundays. I try to have one day. But it's also a day I can be in here and work and get things done. Things are at a point where the menu is where it should be right now and things are running comfortably. But will I ever be satisfied with that? No. You have to change it again."
Before any romantic nurturer entertains thoughts of rescuing Hill from himself, be advised that he says he has no time for dating right now. There can't even be a romantic dinner at his home.
"I have a Thermador stove at home that holds papers now," Hill laments. "Originally, I had my kitchen set up with my scales and blenders and my knives and utensils, and I could do recipe testing at home. There's not enough time for that anymore. I want to be at the restaurant. I enjoy being here. There is a choice, but I choose to be here."
Even Hill's vacations are busman's holiday. His last trip was three days to L.A., visiting his friends, who also happen to own the Grateful Palate. Then there was the three weeks off to harvest grapes in Oregon. Or the six weeks in Spain, learning new recipes.
Hill saves time only to reinvest it. Consider as well that he thinks of his kitchen as a teaching kitchen, obligating him to spend time helping his staff learn the tricks of the trade. Maybe he's just following in his grandmother's footsteps, but adding a heavy hand of global spices. After all, he's found his kitchen, his family and his ham.
"It's a passion, it's a love," Hill says. "I wouldn't be here every day otherwise. I think we've done a good job. I don't think we've done the best job, but I think we've done a very good job. We've been here close to two years, and we've still got a lot of the same staff. They're part of the family. They're part of everything. When you walk in the door on Thursday, Friday, Saturday, you see Gerlinde. She's the grande dame. People come to see her. She's part of the house. You spend more time with each other than you do with anybody else. This is your personal life. I'm married to this place. This is my partner. This is my other half.
"I'm married with 30 children."
Greggory Hill's David Greggory is one of more than 135 restaurants participating in this year's Dining Out for Life, Thursday, March 10, in which a percentage of each food bill for the day will be donated to Food & Friends. For more information call 202-269-6883 or visit www.foodandfriends.org.