Named after a song from post-punk pioneers Public Image Ltd. — and not after the British radio station — Radio 4 is far from the only band today channeling nearly three decades-old rock. But it is by all means one of the best and most instantly likeable, mostly because it's less theoretical than fellow New Yorkers Interpol. What's not to like about a band who turned away from today's indie rock sound because of that style's aversion to groove? Similar to dance-rock bands Franz Ferdinand or The Killers, Radio 4 is a band that embraces dance.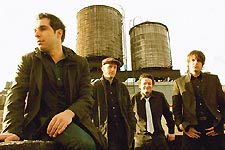 We love the nightlife: Radio 4
(Photo by Chris Cassidy)
One glance at the title to the quintet's latest album — Stealing of a Nation — and the group's interest in political agitation is made plain. The title could refer, lead singer and bass player Anthony Roman helpfully suggests, to the 2000 Presidential election or the U.S.-led war into Iraq: "All around us and in between, politics like cancer," Roman sings on the song "Nation." "Information in extreme, never find the answer." There's more where that came from, including criticism of anti-nightlife activists on first single "Party Crashers." It makes for a nice counter-argument to those rock-centric critics of uptempo pop music who say it's not to be taken seriously.
Ultimately, it's the band's serious commitment to producing melodious, rocking dance music with a real sense of rhythm that is what most recommends it. Two band members, Roman and guitarist Tommy Williams, share vocal duties, and two others share percussion responsibilities, giving the drums a prominence you don't often hear in a pop or rock band. Many of the songs feature ravishing polyrhythmic touches, and all feature driving beats. "Absolute Affirmation," for example, is a dizzying pop rock marvel. It celebrates a Saturday night out at the club, a release from the pressure of everyday life (although it also doesn't gloss over the pain that sometimes accompanies the morning after). And even though the band will appear live at the Black Cat tonight, March 31, there's no reason the crowd shouldn't celebrate like it's a Saturday.
By choosing to be known only by her initials (pregnant as they are with musical significance), it's inevitable that L.P. gets stacked up and measured against her idols, including Janis Joplin, Melissa Etheridge, Led Zeppelin and the Rolling Stones. Fortunately, the comparison is mostly favorable, since she shares their fervor for sounding genuinely sincere and sensitive while displaying an intense passion to cut loose and rock.
For all her old-school vinyl energy, this lesbian New Yorker, who boasts of making "Southern music for Yankees" and who will appear at Arlington's Iota Café on Monday, April 4, stacks up well alongside many of her contemporaries.
L.P. often sings in a slightly snarled and full-throated style similar to Gwen Stefani — her fantastic recent single "Wasted" is in many ways the straightforward rock equivalent to Stefani's "What You Waiting For?" The album features appealingly simple rock songs with weighted lyrics. On "All I Have," she sings powerfully of not fully appreciating her mother, an opera singer, while growing up. "All I have is a photo of you, smiling at me," she sings through obvious tears. Very affecting.