MISS JACKSON, IF YOU DANCE… They may still generate headlines, but neither Michael Jackson nor Janet Jackson have gotten much ink for their music in the 21st century. Chances are we won't hear new music from Michael again. We could hear new Janet this year, if rumors of a dance-pop album come to light. But remember LaToya Jackson? If you do, it's probably not because of her music. So LaToya must be secretly hoping her A-list siblings' spate of bad press might finally break public attention her way. In late May, LaToya will release her first album in a decade. According to Billboard, her album mixes dance, pop and R&B/hip hop and includes new dance single "Free the World" as well as last year's dance chart hit "Just Wanna Dance," which she initially released under the pseudonym Toy….
RAUHOFER'S MIXED BAG… And now, time to pose an unfortunate question. Is Peter Rauhofer beginning to lose his touch, six years into his weekly residency at New York's Roxy nightclub and five years after winning a Grammy for his remixing? As long as you skip Disc One of the new installment in his Star 69 Records' Live @ Roxy series, then your answer will be, probably not. But if you don't skip the disc, well, even after many listens, Disc One of the two-disc Live @ Roxy 4 remains as abysmal as it sounded the first time. Screaming diva noisemakers reign here. Why is this? In advance of last year's Roxy 3, he was quoted as saying, "The 'screaming diva' thing is just so passé, you know? These days people are going for more underground stuff." Apparently, he meant to say "underground screaming divas," though even that's now become passé. Among his many underground screaming diva tracks here, he ruins the one that should stand out: His Dirty Ho Mix strips Avenue D's riotously funny "Do I Look Like a Slut?" of most of its original slut-power. He also fails to humor us with his self-referential nod to this failing of his, of making Spartan use of actual melodies and hooks. Decibel feat. LaVeetra's noisy track "I Like It!" ends up putting words to your initial impression of the entire set through its screamed diva lyric: "Whatsa matter with this song? Don't it got no melody?… Can't you play me something better than that?"
Even Disc Two suffers slightly. The highlights, his Re-Construction Mixes, don't do anything to add to the appeal of already popular tracks. Still, Disc Two makes for a pleasant trip through a mostly melodic jungle. It is, for example, where you'll find the exclusive "Re-Invention" mix of Madonna's "Mother and Father," included to demonstrate that Rauhofer is well-connected, and well-connected for a reason. He can do what few other remixers working today can, turning weak tracks into at least unobjectionable and usually fetching remixes, as he does with "Mother and Father"….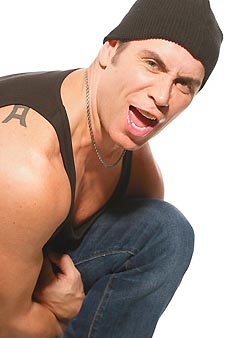 Lehman
NOBODY BEATS LEHMAN… Manny Lehman, like Rauhofer before him, hasn't always been consistent on record — he's junked up several previous sets with too much unfortunate cacophony of sound. But he doesn't do that on Freedom, due out this Tuesday from Tommy Boy Records and obviously this year's intended successor to the label's Alegria compilation. Freedom, which celebrates the Freedom Party event held Pride weekend in New York, doesn't come close to achieving what Abel did with last year's Alegria. And it's a bit too similar in sound and quality to Rauhofer's Roxy 4. Lehman doesn't quite best Rauhofer, either, in the end, though the hypnotic percussive thrust of his Tribal Sessions disc helps him get close.
Lehman concentrates almost exclusively — and very imaginatively — on a full range of percussive instruments. There are more beats here than most DJs play in a whole year. And it sounds as if the constantly shifting rhythm is being improvised as it goes along, as if an African drumming troupe was in the studio on Cold Fusion featuring Joe Cortes' "Origins (Part 1)." Wait till you hear that rain down on you on the dancefloor. It's tribal at its most primal….
MORAN'S GOT US "ALL OVER"… On Freedom Manny Lehman wisely throws in a remix, though it's unfortunately truncated with few lyrics, of Tony Moran featuring Deborah Cooper's "Live You All Over." Though it hasn't officially been released yet, the song has been heard since the turn of the year, when it took pride of place on Moran's riveting Tour de Beats compilation. The more you hear the song and its rising chorus, the more you appreciate that it should end the year as one of the best dance singles. But caution: the lyrics, about regretting a breakup and hoping to rekindle the romance, might make you cry….