Her rich contralto hooks the audience the moment she hits her first note. But it is Suede's playful, charismatic stage presence that keeps them engaged till the end. Suede gets life from their energy.
"I just love being able to connect with people like that," she says. "It completely lights me up. It's my reason for being on the planet, I'm sure of it. "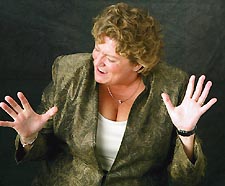 Suede
Suede has been wowing the crowds performing jazz standards, along with some pop and a lot of blues, for more than two decades. One of her first venues, in fact, was the same Mr. Henry's on Capitol Hill where Roberta Flack found fame. And the 48-year-old lesbian singer, who also plays trumpet, guitar and piano, says she's only gotten better over time.
"One of the really lovely things about having done this for so long and getting older is that my voice is really just getting richer and richer, " says the singer, who goes by a childhood nickname drawn from her shortened given name, Sue, and the first two letters of her last name, which she declines to share.
A dazzling combination of Ella Fitzgerald, Bette Midler and Rosemary Clooney — with a little Louis Armstrong grit thrown in for good measure — Suede is gaining popularity this year by virtue of Suede Live at Scullers Jazz Club. The just-released DVD, her first, is getting repeat play at PBS stations around the country as part of their fundraising campaigns.
But she's already well known to many in the GLBT community, as a regular performer in Palm Springs, Provincetown (near where she now lives) and on Olivia Cruises. And she's especially proud of her support over the past decade for the Lesbian & Gay Chorus of Washington. This Sunday, the one-time Baltimore resident returns, with her longtime pianist David Pearl and bassist Max Murray, for the chorus' annual "Shop with Suede " benefit auction.
"I'm just thrilled that they keep asking us back, " she says. "We get up and we do three sets of music, and just drum up energy and enthusiasm and get people to open their checkbooks. It's always a great, great time. " — Doug Rule
The Lesbian & Gay Chorus of Washington's Shop with Suede benefit auction takes place Sunday, March 6, at 4 p.m., at St. James Episcopal Church, 228 8th Street NE. Tickets are $25. For more info, visit lgcw.org or suedewave.com.