As a small child growing up in a poor family in San Antonio, Lupe Valdez remembers her father picking through the fruits and vegetables thrown out from the local farmer's market, cutting out the bad parts and saving the good.
"We were a very proud family," says Valdez of her father's hard working approach to their lives. "If we don't need help that badly, let's not take it…. It's the opportunity — sometimes it's not what you're looking for, but you make the best of what you've got."
That same attitude toward life — work hard, do right and make the best out of what life gives you — is what helped Valdez make history last November when she was elected sheriff of Dallas County, Texas. And it was no small bit of history: Valdez, 57, is the first woman, the first minority, and the first openly gay person to be elected to that office.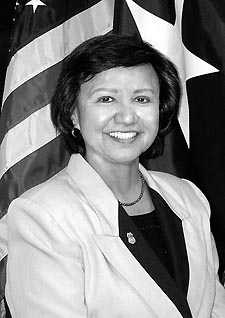 Valdez
In the months since, her life has become a whirlwind with the demands of both the job — she now runs a metropolitan-area jail system with around 2,000 employees — and the laudatory attention that comes with her historic win. She'll be in D.C. next Thursday, March 17, for "Sheriff and the City," an event for the Gay and Lesbian Victory Fund.
During the campaign, her opponent attempted to make an issue of her sexual orientation by publicizing the financial support she received from the Victory Fund, the national organization that supports gay and lesbian candidates for political offices. But even in a conservative Texas district, that path of attack never gained much traction.
"If you work hard and you're halfway intelligent, it's easy to get past that," she says of opposition based on sexual orientation. "I think people don't notice what color you are or who you are when you're helping them."
Valdez says she was helped in large part by her insistence on maintaining a positive tone in the campaign even as other candidates delved further and further into the negative. And while her campaign was summed up by the media as "underrated, underfinanced underdogs," it didn't faze her. She directed her staff, "Let's work like we're losing and we want to win."
Her start on the criminal justice career path wasn't a planned one. After her young adult stint in the military, she found herself in Kansas City at the employment commission looking for a job. They told her that since she was just out of the military she had 18 months before she needed to find a job — she could go on unemployment while she waited.
That wasn't acceptable. She told them she needed a job then — you don't take help when you don't truly need it. The job that was available at the time? Jailer. Valdez accepted.
Since that time she obtained a master's degree in criminology and criminal justice, and worked in both the state and federal justice systems. When she made her decision to run for sheriff, Valdez was a senior agent with the Department of Homeland Security.
Committing to run for office was a difficult decision. Under the Hatch Act, Valdez couldn't work as a federal employee while engaging in political activity, so she took an early retirement, sacrificing her salary and some of her retirement money.
"I gave up something that I enjoyed doing, so there was giving up [already done] when I made this decision," she says. It was a decision reached after days of careful consideration, in which the opportunity to be an example to other minorities and to blaze a trail for others to follow won out. Says Valdez: "I think at some point you just have to make a decision that some things are worth a certain loss."
Valdez didn't fully come to terms with her own sexuality until later in life, and her spirituality played a large role. "I was over thirty when I accepted being a lesbian," she says, when she came to Dallas and a large gay and lesbian church. "I wouldn't be able to accept [it] if I didn't know that God loved me anyway. I want to do the right thing in all things in life."
Valdez stresses that her personal spirituality isn't something that translates into religious strictures that should shape the lives of others. As for advice to other gays and lesbians considering running for public office, or just being active in their communities, she says, "Be yourself. If you're not as good as you want people to know you, then change. Get that good. But don't try to pretend you're something that you're not."
Sheriff Lupe Valdez will be honored at "Sheriff and the City," Thursday, March 17, at David Greggory Restaurant, 2030 M Street NW. Individual tickets are $35. RSVP at www.victoryfund.org/events or by calling 202-842-7314.