Thirty years ago, on March 25, 1975, the Alexandria City Council made a big step toward securing its reputation as one of Virginia's most progressive enclaves. That day, the council passed that city's Human Rights Ordinance, prohibiting discrimination based on a number of characteristics. As originally passed, the ordinance did not include "sexual orientation," but the council managed to include gay and lesbian Alexandrians in 1988. Early this month, the council took another step toward affirming its gay constituents.
"The Alexandria City Council declares its opposition to any proposed federal constitutional amendment defining marriage as only between a man and a woman," reads Resolution No. 2142, in part, passed March 8.
Stating that attempts to preclude same-sex couples from marriage is discrimination plain and simple, the resolution further opposes any state-level attempts to amend the Constitution to that end. It also urges their congressional representatives to promote policies that promote diverse communities, among other things.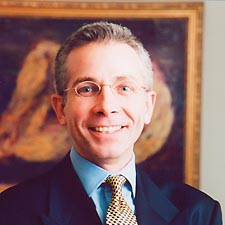 Smedberg
"It came up with this council in February, when the Virginia Assembly began to debate the language of the various bills to amend the Constitution," explains Karen Gautney, political awareness chair of the Alexandria Gay and Lesbian Community Association. "There were several House bills and Senate bills. It became clear they were determined to pass some version of an amendment. One of the City Council members said it would be appropriate for the City Council to pass a resolution condemning any such law."
That council member was Paul Smedberg, one of only three openly gay elected officials in Virginia.
"I asked that we go ahead and look at doing something," recalls Smedberg, who says he's lived in Alexandria for more than 15 years, and with a partner for about 10. "We wanted to send a strong message that we value all our residents, despite what we're seeing and hearing from the rest of the state. The point is that we have to respond to people who feel they have an open slate to discriminate against a certain group of people, which is blatantly not fair."
Despite Virginia's increasing infamy as the "hate state" when it comes to equality for gays, the resolution was an easy sell in Alexandria, passing the Council unanimously. Nor did the Council get any argument from its constituents.
"To be honest, I don't think this is just a sort of 'liberal values' of Alexandria [resolution]," says Smedberg. "We got one e-mail in opposition, but we got them in support too. Not only from gays and lesbians, but from straight people with kids, elderly people…. A lot of people, particularly in Northern Virginia, are in the [political] middle and recognized that something needed to be done.
"It says a lot about the community. We're a caring community, and we value all our residents. We want to reaffirm our human rights ordinance. Instead of appealing to fear and prejudice, we'd rather strive for equality and justice."
But like the proverbial tree in the woods, does a unenforceable ordinance make a sound?
"Of course, it's symbolic," Gautney grants. "Unfortunately the Alexandria City Council doesn't direct the Virginia General Assembly. But [the resolution] makes a very strong statement. I think the measure is twofold, and it's very powerful. Number one, it says to the citizens of Alexandria that the city remains a place where principles of equality are not just a theory; they're actively practiced. When and where we can, our City Council is prepared to stand up against opposition and say to the world, 'We don't discriminate in Alexandria.'
"Number two, it sends a message to the rest of the state — and legislators who feel very differently — that they may find themselves in the majority, but their opinions and discriminatory behavior are certainly not unanimous. It certainly won't continue without some challenge."
Joshua Israel, president of the gay, Democratic, statewide Virginia Partisans also finds value in the resolution beyond Alexandria's borders.
"I don't know how many people pay attention to what goes on in localities beyond their own, but I certainly think gay and lesbian people around Virginia are paying a lot of attention to this," Israel says. "After last year's passage of [Virginia] House Bill 751, the so-called 'Marriage Affirmation Act,' a lot of gay and lesbian Virginians have moved out of state. A number of our members have said to me, 'I can't live in this state anymore. I don't know if my partner and I can do so safely. If something happened to one of us, we don't know if our legal contracts would be binding.' We're enormously grateful to the Alexandria City Council, and also the Alexandria members of the state Senate and House of Delegates, all of whom stood with us on every issue this year."
Gautney also points out that beyond the Council, other elected officials representing Alexandria have also done their part in fighting for equality for gays in a hostile General Assembly. "In this particular case, all the elected officials that represent the city of Alexandria already voted against the [marriage] amendment," says Gautney. "At this time, there is no conflict with any of our elected representatives to Richmond."
Washington, however, may be a different case. The Human Rights Campaign, the nation's largest gay-rights advocacy group, has rated Virginia's delegation for the 108th Congress. In the House of Representatives, James Moran (D) has earned a perfect 100 on the HRC scale while representing the district that includes Alexandria. The commonwealth's two senators, George Allen (R) and John Warner (R) scored only 13 apiece.
As the Alexandria resolution specifically includes the city's congressional delegation, copies of the document have been sent to Allen and Warner. There's no word yet on whether they will answer the City Council's urging to "create the federal legal atmosphere necessary for equality in civil rights," and all the rest.
"We have not received any response from Warner and Allen," says Smedberg. "Typically, when we send them information they do respond. I do expect we'll hear from them." Until then — and likely after — it appears Alexandria will have to continue setting its own course against the Virginia current.