With much of last week's Oscar buzz going to the major categories, it's easy to miss the notable — and in some cases, noble — winners in the slightly less glamorous categories of Outstanding Feature Documentary and Outstanding Foreign Film. Both of this year's winners, Born into Brothels and The Sea Inside, are extraordinary. And while one is wrapping up its run in theaters, the other is only now gaining steam. These are both movies you should go out of your way to see (and in the case of Sea Inside, watch for on DVD). They are thought provoking, deeply felt respites from the meaningless Hollywood piffle that assaults us on a weekly basis.
Born into Brothels plants us directly in the impoverished red-light district of Calcutta, India, where photographer Zana Briski expends enormous time and energy trying to find a way to keep a handful of the area's children of prostitutes from becoming part of a vicious cycle. Her self-imposed mission is virtually impossible, and as documented by filmmaker Ross Kauffman, it takes on an urgency as the girls near puberty, at which point they will be coerced into joining the alarmingly massive line of sex workers that nightly line the district's streets.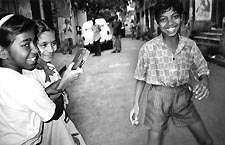 Oh, Calcutta: The kids at play
(Photo by Avjit)
Frustrated by her own attempts to take pictures in the area (the working women don't take warmly to being captured on film), Briski has an inspired notion: Give several children cameras, the idea being "to see this world through their eyes." She instructs them in the basics, like form, composition, and photo editing and the children deliver art in its purest form.
Throughout Born into Brothels, the children's astonishing photographs are employed as punctuation marks. By turns ravishing and compelling, heartbreaking and gritty, the photos are ultimately uplifting in their ability to unearth beauty in the most appalling of situations. It becomes clear that a few of the children have extraordinary talent, but without proper education or opportunity, their artistic gifts will be left to wither. Briski, who declares herself to be neither a teacher nor a social worker, struggles to try to find boarding schools that will accept the children — not an easy task, considering they're viewed as outcasts by Indian society. And her ordeal of fighting the chaotic Indian bureaucracy seems, at times, futile. Even the seemingly simple goal of obtaining a passport for one of the boys turns into a nightmare of unimaginable proportions.
Briski and Kauffman capture a handful of sobering observations from the children, adding to the film's grim, hopeless atmosphere. "I keep thinking if I could go someplace and get an education, I wonder what I would become," says a young girl named Kochi. She then pensively adds, "But one has to accept life as being painful and sad."
"Nobody lives as filthily as we do in our country," remarks a bright-eyed scamp named Gour, explaining why he wants people to see his photographs. "I want to put a face to the behavior of man."
"There is nothing called 'hope' in my future," says another young boy named Avjit, who, of all the youngsters, shows the most artistic promise, but whose home life is well-beyond intolerable. Late in the film, the normally jubilant lad falls into a funk and when Briski finally succeeds in getting him accepted into a boarding school, his reaction is disturbingly apathetic, prompting her to take out her frustration on the boy with a dismissive "I don't care what you do anymore."
Despite the bleak subject matter, Born into Brothels reveals moments of pure elation, such as when the kids, wide-eyed and beside themselves with glee, attend their first gallery opening in Calcutta, where they're swarmed by the media. Still, the fame doesn't alter their lives in any meaningful way. Nothing gets easier. In fact, these children and their art can almost be viewed as a novelty, a story that's worth a few seconds of television headline news time before the anchors move on to the next newsblip.
---
In Alejandro Amenabar's The Sea Inside, Javier Bardem gives a remarkable, delicately honed performance as Ramon Sampedro, a man of sound mind but unsound body, left quadriplegic from a diving accident in his youth. For nearly thirty years, Sampedro battled the Spanish government in an attempt to be allowed to end his own life, to, in effect, "die with dignity." Sampedro — author of an acclaimed volume of poetry — eventually got his wish, no thanks to the Spanish government. But while representation of all sides of the core moral arguments are vital to the film's fabric, it's Sampedro's journey to ultimate freedom that most intrigues Amenabar.
To give the movie added emotional depth, the director  focuses on two women — a lawyer with a debilitating condition of her own, and a bright young mother of two who befriends Sampedro in an attempt to get him to change his mind — and how their love for this wondrous man changes them, as well as him.
Sampedro's family remains divided with regard to his request. His older brother, Jose (Celso Bugallo) is staunchly, vocally opposed. Meanwhile his sister-in-law, Manuela (Mabel Rivera), Sampedro's selfless, loving and somewhat possessive caretaker for decades, is entirely supportive. But Ramon's father puts the situation into emotionally hard-hitting perspective when he says, mournfully, "There's only one thing worse than your kid dying on you. Him wanting to."
Amenabar uses his cinematic skill and exceptional sense of timing to get inside Ramon's mind: there are several fantasy sequences in which Ramon imagines himself able to move — indeed, able to fly — that are quite simply exquisite.
Coincidentally, the Oscar-winning Million Dollar Baby boasts a thematic resemblance to The Sea Inside, but where Baby deals with the subject of euthanasia as a poetic (and tragic) emotional grace note, Sea deals with the entire concept of an adult life spent immobilized.
"I [have been] just passing time against my will for almost my whole life," says Sampedro. "I consider life to be a right, not an obligation." While it's hard not to see his point, when the film reaches its inevitable conclusion, you still feel overwhelmed by the loss.