So you think you know Electra? You may recall Sophocles' intricate version of the Greek tragedy, the bloodbath where Electra, born to King Agamemnon and his queen Clytemnestra, seeks revenge for her father's death after his return from the Trojan War. You remember the bloodthirsty sister mourning the loss of her father and brother Orestes, cloaking herself in what she believes to be his ashes, later convincing him to commit double murders at the house of Aegisthus, yes? And as you begin to recollect the ancient text that gave birth to the Electra complex — Jung's 20th century psychiatric antithesis to Freud's Oedipus complex — you might even wonder how its antiquated themes of vengeance and betrayal, loyalty and justice have aged over the past 2,400 years.
Here's your opportunity to find out.
Earning a 1999 Tony Award nomination for Best Revival of a Play, it's no wonder why producers at Alexandria's MetroStage chose Frank McGuinness' streamlined adaptation as their first foray into Greek tragedy. McGuinness' script is a dense, engrossing work, covering all of Sophocles' fierce moral philosophy with a startling veneer of violence and horror. The original themes of lusty rage and intense passion are still there, layered with the complexities of sacrifice and ultimate retribution. Electra still bears the burden of avenging her father's death, and she is still ready, willing and enormously capable of performing matricide. It just takes the right opportunity and the right accomplice to seize the moment.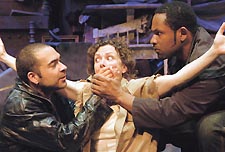 It would seem that McGuinness left Sophocles's account of events untouched by history, true to form and pure in narration, a nearly perfect incarnation of one of the most studied Greek tragedies. Yet an enduring story told in lucid terms isn't enough for director Michael Russotto, who seems to follow, in the most haphazard fashion, English director David Leveaux's concept for McGuinness' 1997 adaptation, which placed the court of Aegisthus in Sarajevo, of all places. Marking his chorus as Bosnian refugees and commenting on the traumas of humanity inflicted by war and civil abandonment, Leveaux's production may have used the platform of Electra's plight to outline critical socio-political context hidden within the source material.
Russotto's messy concept begins with an apocalyptic courtyard designed by James Kronzer, where Agamemnon's earthly possessions are heaped together in a junkyard mound — computer monitor here, a pile of old books and clothes there. With Debra Kim Sivigny's meticulously detailed costumes establishing an immediate sense of modernity, Mycenae might as well reside somewhere in the present day Middle East instead of 419 B.C. Greece. Accompanied by the familiar mechanical sounds of electronic gates shrouded in barbed wire opening and closing and shrieking car alarms, Russotto's production flickers with ideas about militia rights and wrongs and the gross universality of Electra's "eye for an eye " mentality.
All of that supremely lofty speculation is leveled by Jennifer Mendenhall's hyperdramatic Electra, a ferocious fireball confined by some style of house arrest, bound at the ankle by an electric sensor. Living under the quarters of Aegisthus and her adulterous mother, she is the estate's writhing watchdog, a raging Doberman prowling back and forth across the stage in an apoplectic frenzy. Her vicious conspirator is a tempestuous vision, eschewing any hint of loathed femininity as she laments her father's murder.
Mendenhall proves a vigorous tragedienne, capable of waxing dramatic at every turn of the boot. It's easy for her Electra to slip into moments of gluttonous melodrama, responding to pain and to happiness with the same level of enthusiasm. But Mendenhall only occasionally falters on that invisible tightrope, balancing the same impossibly overzealous emotions from the beginning of the evening until her final exhausting moments of hard-won freedom.
Electra
To May 29
MetroStage
1201 North Royal St.
Alexandria, Va.
$32-$38
1-800-494-8497
www.metrostage.org

Mendenhall is joined by a terrifically depraved Maura McGinn as the wicked Clytemnestra, whose gory blood-stained wardrobe and golden accoutrements are immaculately decadent, and Ted Feldman as the athlete brother Orestes, a strong, masculine "champion " of the family's vengeance. Russotto's only casting blunder is his very literal approach to Sophocles' chorus. He engages a tacky trio of women to speak in unison and deliver absurd choreography in modern servants' attire.
Although Russotto entangles his production in too many disorganized implications of freedom and obligation, Sophocles' Electra is still a gutsy play with resonance. There's no intermission to offer relief from the intensely bloody brawl, which culminates in a triumphant blow for Mendenhall, a near-coup for MetroStage, and a stomach-spinning display of capricious revenge and cold-blooded murder.