Anyone who's ever had a dog knows that a canine is more than just a pet. Man's (and woman's) best friend is also one of the nearest and dearest members of the family. For gays and lesbians, in particular, dogs (and cats as well) can be just as valued and important as any human family member.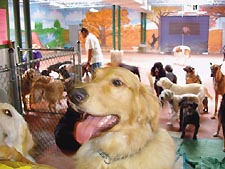 There's plenty to get excited about for dogs who spend their time at Dogs by Day.
Walking in and around the 14th Street corridor, it's easy to see the close bond many residents have with their four-legged friends, as neighbors of all backgrounds walk dogs of all sizes on their daily rounds.
As with any family, juggling the needs of career with the special needs of family members at home can present a challenge. While you're out winning the bread, Fido's at home languishing in bed.
What's a beloved pooch to do?
On 14th Street, the answer is doggy day care. While you're off at work, your dog can spend the day with a room full of canine pals. Two specialty stores in the neighborhood offer 24-hour day and night care, as well as other pet services: Dogs by Day (1724 14th Street NW; 202-986-6301; www.dogsbyday.com) and Wagtime (1412 Q Street NW; 202-234-8825; www.wagtimepetspa.com). And the neighborly atmosphere makes both places a prime destination.
"I love the neighborhood," says Wagtime owner Lisa Irene Schreiber. "I just love the people. I've created such a really great relationship with so many people over here.
"It's a friendship," she says of the relationship between Wagtime and their clients.
Scipio Garling, the manager of Dogs by Day, says that their services are there to help people balance those stressful work lives with the needs of their pets, and that the growth in the industry is a result of the growing role of dogs in families.
"People realize that dogs don't like sitting at home by themselves all day," Garling says.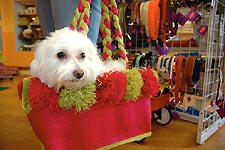 It's a pleasure to arrive in style for Wagtime's doggy day care.
That's where cageless day care and boarding comes in. Instead of dogs staying home alone for the day where boredom can lead to anxiety and chewed furniture, they can spend the day (or night) socializing, playing and napping with other dogs. All this takes place under the watchful eyes of their human pals.
"We have a hands-on experience," says Schreiber. "We're always here."
Among the amenities offered by Wagtime are pick-up and drop-off service, dog walking, cat-sitting, and an outdoor area that the dogs socialize in during the day. Wagtime also offers a state-of-the-art grooming facility where owners can stay with their pets throughout the process.
"We do whatever you need," she says.
Scipio says that owners use Dogs by Day's day care, dog walking and grooming services (provided next door at its sister store, Pet Essentials) in a variety of ways tailored to their own needs. Some bring their dogs daily, others for once or twice weekly social interaction.
Scipio says that just as people need to spend time with their own species, dogs have social needs as well.
"As much as you love your dog, you need time with other people," he says. "Your dog needs time with other dogs."
Wagtime also works with a number of hotels as an official provider of pet services and, says Schreiber, they are the only provider used by the FBI — employees of the agency get a discount. The store will soon expand, with an additional location on 9th Street to provide larger day care facilities.
And don't worry that your dog will miss you too much during the day, Scipio says.
"When the parents drop them off, the dogs have the sad face. Then the door closes and it's like, 'Let's go!" he laughs. "It's hilarious to see. It makes the parents happy."