To look at Eric Himan, you expect his music to be hard-charging punk-rock, maybe even heavy metal. After all, he's got "inked arms that out-sleeve Tommy Lee, " or so says his official biography.
But Himan isn't a metal-head. He may be gay, but he's no Rob Halford. While he occasionally picks up the electric guitar and drives into blistering hard-rock territory, you're more apt to find him slinging his acoustic guitar along the avenues of alt-pop, folk-pop, country-pop or straightforward rock. His image is harder than the sound of his music.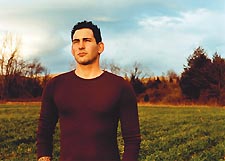 Guitar man: Himan
(Photo by John Arsenault)
"What a tangled web we weave, when we see what we want to see, " Himan sings on "Weave," a bonus track from his latest release Dark Horse. "When you open up your eyes, welcome to your big surprise. " Well, sort of. It's true his latest self-released set, his fourth in as many years, offers "something for everyone, " as his press release notes. And that includes the softer side of Himan. He offers touching pop balladry at several turns, including a decent cover of Simply Red's "Holding Back the Years. " He also offers a country jam, "White Horse, " with lyrics perfectly attuned to a sexually diverse world. Lyrically speaking, Himan generally always reveals the sweet, naked man beneath his tattoos, whether he's singing about an unhealthy relationship or urban longing.
But he's at his best musically when his sound matches up to his image, as on the ferociously energetic "Weave. " The first half of Dark Horse is the strongest, opening with the hard-rocking, mid-tempo "Habit/Curse, " followed by the fast-paced "Have Me " and the haunting rock ballad "Clyde. " Himan calls to mind the alt-rock mainstay Live and the full-throated delivery of that band's frontman Ed Kowalczyk.
Himan should stick with this hard-charging vibe, instead of baring his soul with intimate gospel or gentle jazz that dominates Dark Horse's latter half. It's refreshing to see a young tattooed hunk cry, but it's less affecting when his cries sound more like an old man's lament, looking back on his past and forgetting the details of the pain.
Martha Wainwright grew up singing traditional folk tunes, French chansons and old pop standards, from the 19th century as much as the 20th. And that eclectic and very serious vocal-music repertoire helps explain why Martha sounds characteristically Wainwright on her powerful debut solo album, out next Tuesday. You can hear echoes, of varying degrees, of her father, the folk legend Loudon, her gay brother, the sweeping art-song creator Rufus, and her mother, the Canadian country-folk singer Kate McGarrigle.
You could make endless comparisons to her brother Rufus, for whom Martha has served as a backup singer on tour and in the studio. (Rufus returns the favor here on two tracks, as does her mother.) Like Rufus, Martha has a quirky, rich voice. And like Rufus, she's confident enough to bend and stretch it as she sees fit — sometimes tenderly, like Dolly Parton; sometimes exaggeratedly naïve, like Tori Amos; and oftentimes blusteringly straightforward, like Chrissie Hynde. Together, those three forebears paint an approximate picture of Martha's stylistic variety on her self-titled album, moving from soft country to lush indie-rock to pop-rock.
But unlike Rufus, Martha's voice remains pure, never moving into her nose nor straying too far from its comfort zone. And unlike Rufus, Martha's music generally has a sprightly, accessible sound even when she's in a patented-Wainwright grandiose, despairing mood.
Martha Wainwright sparkles with shining intensity even at its most gentle. But Wainwright is at her brightest when she's ready for war, packing four-letter heat. Her smoldering rocker "Ball and Chain " is a bitterly alive tale of confronting a lover who fancies a better-looking woman. "Yeah, her tits were higher than mine, with a waist that is sugar-fine, " Wainwright says, as she stokes the fire. "I heard she could read & write too, and she's getting a degree in Fucking U. "
Wainwright is at her most outraged on "Bloody Mother Fucking Asshole " (or in polite company, "B.M.F.A. "), the album's true peak. With its catchy chorus, the song, or at least its title — sung with a "you " before it — is an easily chanted retort that's destined to be a crowd favorite on tour.
Martha supposedly wrote it about her father — just as Rufus has done several times before her. The lyrics are just vague enough to doubt that claim though, or at least to suggest Dad wasn't the only one to raise her ire. "I will not pretend, I will not put on a smile, I will not say I'm all right for you, " she sings in one verse, in a friendly but forceful style that evokes, strange as it may sound, classic Loretta Lynn. Her reedy voice soars when it hits the second syllable in the word "smile" — it puts a chill in the air.