No matter how hard you squeeze a lemon, it will never yield luscious wine. Neither red wine, nor white, no Chardonnay, Zinfandel, or blush. The best you can hope for is a glass of fresh, tart lemonade. Now that warm concoction of pulp and juice might become more palatable if you stir in a little sugar and add some ice — but no matter how hard Richard Clifford's cast works on stage at the Folger Theatre, David Garrick and George Colman's 18th-century satire The Clandestine Marriage is never sweet, and no matter how many ways they may attempt to stomp grapes into Cabernet, they're still stuck with a heaving goblet of smashed lemons.
That's quite a lumpy toast for secret newlyweds Fanny and Lovewell, who must keep their marriage under cover until Fanny's fiscally-fixated father and social climber aunt consent to such a modest matrimonial arrangement. Mix in overt affections from a flighty Sir John Melvil with jealousy and outrage from a spoiled elder sister, and the formula for farce is complete. But the hurly-burly really gets underway once Lord Ogleby tangles himself in the throes of passion for fair Fanny, and alas, she is compelled to confess her true love before yet another indecent proposal is presented.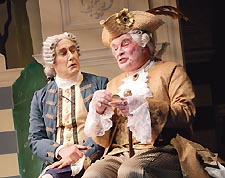 Tea for two: Lawrence Redmond and van Griethuysen in 'Clandestine.'
(Photo by Carol Pratt)
Of course the whole sordid ordeal is wrapped up in an abrupt and tidy little ending, where Clifford stamps his production with a big toothy grin and blank nod to the audience. It's a silly trifle of a play, but the director's failed attempts at humor render The Clandestine Marriage ready for annulment.
It's all there in fine fashion — the grand English attire and the painfully obvious posturing, the flowery confessions and trivial asides, the bumbling chambermaids and frisky servants — yet Clifford misses all opportunity for real comedy. In a polite work that blows one too many empty air kisses, it takes a lion of an actor like Ted van Griethuysen to engage the audience in a big fat sloppy wet kiss.
The evening would prove an entirely dreadful affair without van Griethuysen's feverish frenzy and knowing glances in our direction. A bemusing spectacle in pale rags and a turban conjuring up a dollar-store Norma Desmond, the actor glides around the stage in a play of his own making, far beyond the overripe tone carried out in other tawdry scenes. His primrose Ogleby is the pièce de résistance in a production that sorely needs his talent and exquisite timing.
The Clandestine Marriage
To May 22
Folger Theatre
201 E. Capitol St. SE
$30-$48
202-544-7077

While Aubrey Deeker and Jenna Sokolowski are a suitable couple to carry out their covert relations alongside Ian Merrill Peakes' loony Melvil, Susan Lynksey's obnoxious, over-the-top cooing as snotty sister Sterling is an absurdly anachronistic distraction. And Michael Tolaydo, in fine form as the patriarch salivating to change old money into new money, maintains the evening's only consistent dialect.
Tony Cisek's pastel scenic design is washed in all the pinks and peaches and mint greens that denote the English countryside, while Kate Turner-Walker presents her finest work to date with elaborate period costumes. Perhaps if she had been given the opportunity to update the half-hearted comedy into a decade of more relevance — oh, say the 1950s — and Fanny and Lovewell were both male, then maybe, just maybe, van Griethuysen's Ogleby wouldn't be the only diamond mined in The Clandestine Marriage. Now that's a fair and decent proposal.
---
Just across the river in Arlington, Trumpet Vine Theatre Company presents an ambitious exploration of gender identity and sexual preference with Kate Bornstein's Hidden: A Gender. Juggling gender stereotypes in an irreverent sideshow setting, Bornstein attempts to resolve the gender issues that contemporary and historical transsexuals have struggled to dissolve and re-define.
As introduced by ringmaster/mistress Doc Grinder (Ghillian Porter in bicycle moustache and heaving corset), Herculine (Sarah Fischer) and Herman (Katie Atkinson) fight to reconcile their sexual psychology with their natural biology. Bornstein's hero and heroine exist somewhere between the nebulous lines of male and female, in a marginalized society of sexes where gender is bought and sold by religion, marketing ploys, and Doc Grinder's "Gender Defender. " The bright bottles of colored liquid — pink for girls, blue for boys — boost femininity or masculinity (for those times when you're just not so sure you're enough of either).
Hidden: A Gender
To April 30
Trumpet Vine
3700 S. Four Mile Run Dr.
$20
703-912-1649

"Gender identity has nothing to do with sexual preference, " claims Herman/Kate, a modern-day "transsexual lesbian " who studies the 19th-century drama of Herculine, a tragic hermaphrodite who developed male genitalia after adolescence. Both Herculine and Herman fear becoming male, while both desire women sexually. Bornstein offers a profound comparison of life lived in androgyny to life assured by gender identity as a dull pencil sketch to a brilliant oil painting. Her sensationalist style of writing works well on Jared Davis' inspired big top set, while Jeff Kellum adds thoughtful sound design to Bornstein's bawdy circus.
Director Vincent Worthington paces the evening with smart and swift brio, evoking impressive performances from a competent trio of women. Atkinson is most convincing as the protagonist who believes that the "issue is not gender; it is us versus them," and even when Bornstein ventures off into a fantasia of subconscious gender theory and subliminal planes of existence, Hidden: A Gender still melds into a powerful evening of provocative theater.