My advice to anyone who joined the ticket-purchasing frenzy when they saw the words "magic" and "flute" in the same sentence as Washington National Opera is as follows: Have a good strong espresso before you head out the door, maybe two, and don't just lower your expectations, step on them. This production of Mozart's comic and also quite lyrical opera is an uneven yawner. This will come as a big disappointment to those of you who love The Magic Flute, especially since this is just the kind of thing the WNO can do brilliantly. Still, if you've paid your money, don't scalp the ticket — it's still a night at the opera and there are some highlights. You just have to stay awake for them.
On paper, this should have worked. The production was designed by Gerald Scarfe, a Brit with a dry sense of visual satire. It features some creatively colorful sets and props, much of the singing is very good, and at its best it has the suavity of a fractured fairy tale. But somehow the opera has a tired, forced feeling. Nobody on stage seems to bed having any fun.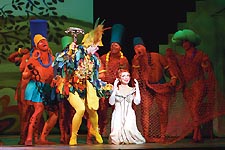 Magic lair or a night at VelvetNation? The cast of 'Flute.'
The two strongest actors are the male leads — tenor Michael Schade as Prince Tamino and baritone Rod Gilfry as the bird-catcher Papageno. These two sing well and bring the only real flow and chemistry to the production. When they are driven into Sarastro's weird lair to test their mettle, they come as close as an opera can get to a buddy movie. They do generate a few genuine laughs when compared to the rest of the stagy hijinks, but much of their good will is lost in the laboriousness of the opera as a whole.
Unfortunately, once these characters are at the mercy of Sarastro's whims, which is basically the whole second half of the opera, things really lose dramatic focus. For starters, all of the scenes with Sarastro and his congress are simply painful to sit through. I feel nothing but sympathy for the members of the opera chorus who in both this opera and Maid of Orleans have been assigned challenging garb. In Maid, they struggled with armfuls of billowy silk. Now they're laboring under yet another physical challenge — a set of truly dire costumes and masks resembling what? Egyptians? Extras from the Planet of the Apes? I didn't catch sight of any aqualungs, but it looked like they needed them.
The Magic Flute
Presented by The Washington National Opera
April 15 and 17
Kennedy Center
Opera House
202-295-2400
www.dc-opera.org

Then there's the choral choreography. I know we must recognize that Sarastro leads a powerful and deeply somber order of freakishly outfitted automatons. And this does require giving the audience a sense of the house rules. But I really don't think I've ever seen the act of "filing" given such gravitas in an opera. They file in, they file out. They file in to shake Sarastro's hand, they file up the stairs. Now they're filing with palm fronds.
And then there is what I would call the "grotesque" aspect to the production. The Prince's love interest, Pamina, sung with lovely delicacy by soprano Andrea Rost, is captured early on by Sarastro's minions who fuss lecherously about her while she lies in chains on a giant pillow in his castle. The minions are costumed in striking orange- and green-hued attire that is meant to show them as near-naked caricatures. The lead servant, Monostatos, played with repulsive vigor by Robert Baker, has a disturbingly distended backside and stomach and a barely-there thong.
Yes, there are some good moments. The arias between the Prince and his Pamina are delightfully rendered. And Arianna Geneson, Ben Parzow and Nicholas Teleky as the three young spirits who float in periodically to buck up the Prince and Papageno, sing gorgeously (did they really have to be miked?) and bring some all-too-rare wit to the evening. The little alligator-penguin thing that flaps its way on stage when the Prince plays his flute is just as cute as cute can be. But, overall, this offering completely lacks the magic of the title.