Important Weather Notice: The Youth Pride Day Festival has been rescheduled to Saturday, June 4. Other events will continue as previously scheduled. Please visith the official YPD Website for full details.
Some things change and some things remain the same. At least that's the case with Youth Pride Day 2005. The Rock Creek Park location at 23rd and P streets, NW, hasn't changed. Nor has the Infatuation dance at Nation later that night.
While those things that are remaining the same aren't broken — and therefore don't need changing, the "what's new" column is pretty exciting this year. First, the Youth Pride Alliance, the group responsible for putting all this together, has secured Rep. Barney Frank (D-Mass.) as a speaker after years of trying.
"Barney Frank is going to be speaking at 1:30. We've invited him in the past. This year we were very fortunate," says YPA President Nathan DeCarolis, adding that it helped to have a YPA member working on Capitol Hill down the hall from Frank's office.
Frank's dedication to gay youth aside, for the most part the stage will be reserved for the kids themselves. The highlight promises to be the SMYAL Idol competition, sponsored by the Sexual Minority Youth Assistance League (SMYAL) and Youth Pride.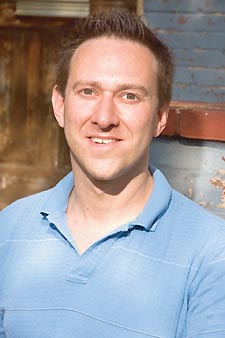 SMYAL's Bruce Weiss
(Photo by Todd Franson)
"It's a way for us to get more youth involved, and to give youth a chance to share their talents," says DeCarolis. Auditions are open to the first 10 performers who sign up at 10:30 a.m. at the festival. From those auditions, judges will pick the "final three," who will perform on the main stage later in the afternoon. At that point, it's the crowd that will choose who will be named SMYAL Idol 2005. Simon Cowell, step aside.
Bruce Weiss, executive director at SMYAL, explains that as a "Titanium Sponsor," his organization is not a full-fledged partner in producing Youth Pride, yet plays a part in creating the event. For example, at SMYAL's Capitol Hill offices, youths have been involved in this month's Youth Pride events for some time.
"We have youth at SMYAL who all week have created buttons for Youth Pride," says Weiss. "I'm not talking about a couple, but lots of youth are creating bags to give out at Youth Pride. They're definitely eager."
And Weiss and his boyfriend served as chaperones for the April 16 Alternative Prom, one of Youth Pride's many April events.
"My boyfriend was just in awe," says Weiss. "He was like, 'Wow, this is amazing. There are 16-, 17-year olds holding hands, kissing.' Having come out of the closet at 24, I was nowhere near that level. It's an absolute joy. At SMYAL, we're always working on budgets, or scheduling or meetings. This is a time when I don't really have to do anything. I just get to be there. Because we're not at SMYAL, the kids can run up and give you a hug and say 'hey.'"
Beyond the singing and dancing, a more cerebral offering for those attending the Saturday afternoon festival is the Youth Pride College Fair. This college fair will bring representatives from more than 80 colleges to the Radisson Barcelo, across the street from the festival area.
"This is the first time the D.C. area is going to have an LGBT college fair," DeCarolis says of the groundbreaking event. "It's going to be the largest in the United States this year. Boston always has one, but this year theirs is going to be smaller than in the past."
DeCarolis says organizers are hoping to attract about 750 youths to this pioneering college fair, made up of schools that want to attract LGBT applicants. But if DeCarolis estimates attendance the same way he estimated the number of colleges wanting to exhibit, he may have to raise his numbers.
"We were gearing our space for 60 [colleges]," says DeCarolis, explaining that YPA sent letters to nearly every college in the country, asking if they would like to take part in a college fair for sexual minority youth. "When we hit 60, we ended up getting a second ballroom. Today, we're at 81. Â… Anytime you put something on for the first time, there are a lot of logistical hurdles. But now we know how to do it. I'm hoping it will be something that will continue next year."
If that's the case, it will have to continue without DeCarolis. The 24-year-old will soon be stepping down as president of YPA to pursue graduate studies in Texas. DeCarolis, who has been with YPA since 2003, will be leaving behind one of the country's preeminent gay youth festivals, now in its ninth year and a month long.
"There aren't that many [youth pride celebrations]," DeCarolis grants. "We're one of the largest on the East Coast. Boston does one through the mayor's office. New York has one. Atlanta used to, but as far as I know they're not doing as much as they used to."
In the time this young man has gotten a handle on the event and his audience, he's also gotten a handle on the issues. He points to opposition to Gay-Straight Alliances in Virginia schools as a galvanizing debate with gay kids in Northern Virginia. More universal for gay youth, says DeCarolis, are HIV/AIDS and homelessness.
Weiss says watching gay youth handle these issues offers a lesson that is difficult to grasp. "The major lesson is that many of our youth are just survivors," he says, pointing to young people facing harassment or being kicked out of their homes, among other things. "Many of them find hope in places I wouldn't imagine."
DeCarolis says he also finds some of the issues are changing from when he was coming out just a couple years ago.
"There is a lot more focus on transgender and gender identity," he observes. "That's been a growing issue for the past several years. We've gotten more involved in, and gotten more involvement from, the trans community. HIV/AIDS is still a very big issue, but I'm sad to say it doesn't receive as much attention as it used to. Â… Ten to 15 years ago, people were coming out in their early 20s. Now it's 18 and earlier. That brings up other issues. High school is already full of a host of issues for youth."
Saturday, however, is a celebration. High school's "host of issues" will have to wait till Monday morning.