The stretch of 17th Street NW, between P Street and Riggs Place, roughly, is possibly the "gayest" neighborhood in D.C., with a cluster of gay bars, gay-owned businesses, gay residents, and gay traditions that include October's High Heel Race and June's Capital Pride Parade. On a pretty spring day with the sun shining and the trees in bloom, it's about as peaceful a stretch as one is likely to find in the district. At least, that's how it looks.
Ground Zero for the latest battle for the nature of the neighborhood is 1624 Q Street NW, base of operations for Jamie Leeds. This lesbian chef who for the past three years has been plying her trade at 15 ria, the notable restaurant at the Washington Terrace Hotel, has been transforming this space into what will be Hank's Oyster Bar.
"Everybody is so excited about it that they can't wait for it to open," says Leeds of her planned white-tablecloth restaurant named for her late father. "I see it as being the starting point for a growing company."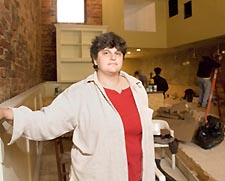 Chef Jamie Leeds
(Photo by Todd Franson)
Surrounding Hank's, however, are six residents who have filed a letter of protest with the Alcoholic Beverage Control Board. Alexis Rieffel lives closest to Hank's, just across 17th Street. Two of his immediate neighbors, David Mallof and Susan Meehan, are also signatories. Joining them are Ralph Johanson Jr., a bit further up Q Street; Susan Meehan at 17th and Corcoran streets; and Michael Fasano, whose address is on the 1000 block of 16th Street NW, but who also owns two properties on 17th near Q Street.
Each camp appears to have a different idea of how this affluent neighborhood should evolve.
"We wish to protest the substantial change application of…Hank's Oyster Bar…to increase its authorization from 30 to 65 interior seats. This represents a doubling of seats for that licensee…and as such would add to over-concentration and the attendant adverse effects on the peace, order, and quiet of the neighborhood, as well as adverse effects on residential parking and pedestrian safety," reads a portion of the March 14 letter submitted by the six. Other points of contention involve transferring the Trio's Pizza liquor license for beer and wine to Hank's, as well as seating concerns for neighboring Trio's Restaurant and Fox and Hounds Bar, which share the same landlord with Hank's.
That's just for starters. The four-page letter points out discrepancies and "glaring omissions" in Hank's application, with regard to issues including outdoor seating and the establishment's proximity to schools, churches and the like.
"I believe it is none of my business how businesses are managed," says Rieffel. "What is of concern to residents is respect for the laws and regulations of the city, and the implementation of those laws and regulations. The diversity of the neighborhood and mixed uses on the 17th Street corridor are only the way they are now because the residents have fought more of the commercial establishments on 17th Street from converting [to liquor-license establishments]. I'm on record, going back to the first days of the moratorium, as believing that 19 liquor-licensed establishments on that small strip is too many. I don't think it's in the interest of the business owners or the residents."
The moratorium Rieffel cites is the East Dupont Circle Moratorium, which limits the number and type of liquor licenses, among other things, in this particular neighborhood. It is periodically reviewed and — so far — renewed by the ABC Board, says Jeff Coudriet, director of the Alcoholic Beverage Regulation Administration, which operates under the authority of the ABC Board. He adds that the current moratorium is up for renewal, and that the ABC Board should be deciding its status around May 19.
This is where the plot thickens, adding a third faction: the Dupont Circle Advisory Neighborhood Commission (ANC). This nine-member body voted to recommend a four-year extension of the moratorium, rather than the traditional five years. It's a sign that some residents and their elected officials in Dupont may not be on the same page. The site for Hank's falls under Commissioner Mark Bjorge's jurisdiction.
"The general feeling on the ANC's part is, 'Wow, they're going to open a new restaurant,'" says Bjorge, a twice-elected commissioner. Notably, signatory Susan Meehan's husband, Bob Meehan, is one of Bjorge's fellow Dupont commissioners.
"The ANC decided to vote unanimously in favor of having them open," says Bjorge, who says he is in touch with Leeds as she continues to remodel the space she has leased for Hank's and continues to negotiate with the six signatories. "The way it works legally, my understanding is that the ANC represents the neighborhood as a whole. The neighborhood as a whole voted that this is going to be great, that we anticipate [the] opening eagerly…. I would say that people are overwhelmingly eager. Seventeenth Street, most of us feel, could use more high-end restaurants. I'm a little jealous of P Street west of Dupont Circle…. They've got a number of these name chefs. P Street east of the circle is just as hospitable. At least I hope it would be."
While Bjorge has his measure of neighborhood sentiment — "I've got over 2,000 people in my district and I've only heard from one [opposed to Hank's]" — Rieffel has quite another.
"You look at the commercial strip and you see that 50 percent of the storefronts are occupied by liquor-licensed establishments. How can you be a resident of the neighborhood and believe that it would be in your interests to have 60 or 70 percent of the storefronts with liquor licenses?" asks Rieffel, who has lived in the neighborhood since 1973. "You'd have to be on something to believe that. Or you would have to have a conflict of interest. Or belong to the D.C. Restaurant Association. Or you're a restaurant junkie and 10 restaurants within a block of you aren't good enough, and you want 15. Maybe 5 percent of the residents feel that way, but that 5 percent shouldn't be driving the decision."
With no concrete way of telling which residents want what, the situation is a muddle of anecdotes and bureaucratic procedure. For her part, Leeds says she just wants to open.
"You can tell I'm a little frustrated, a little angry," says Leeds, sitting amidst the sawdust and ladders as workers transform what was once Trio's Pizza into a refined space of skylights, windows, exposed brick, 17-foot ceilings and wood floors. "I see Hank's being a very serious player in the restaurant scene here…. Definitely busy, bringing people in from the suburbs, being a destination restaurant — for the neighbors as well. They're so excited about it. They can't believe the transformation of the physical space. They're thanking me for doing this. People are actually thanking me."
Given the support she's received, Leeds says she shocked at how easily a handful of protesters can put roadblocks in her way.
"I have thousands of supporters, and only six against me. And they have the power to hold me up. There's a piece missing with the process. I should be able to counter with my supporters, and there's nowhere in the procss that one can do that.
"I could understand if it were going to be another nightclub, but look at my pedigree," says Leeds, whose culinary career has won her accolades. "Look where I'm coming from. Look what I'm doing with the space. It's like, 'Hello? Don't you get it?' It's not going to be another rowdy, crazy bar. Given that, can't you let up a little?"
Leeds adds that while the Dupont Circle Citizens Association also filed a protest against Hank's with the ABC Board, she says she and DCCA President Bill Glew hammered out an agreement on Hank's proposed hours in short order, prompting the DCCA to withdraw the protest. On the other hand, she says she and the group of six have gone back and forth for weeks, negotiating items like placement of waiters' stations, at what time she must close the French doors she's installed at the front of the restaurant, and barring guests from carrying their own beverages to Hank's front terrace.
Coudriet notes that while there are six signatures on this particular protest letter — Rieffel says that other neighbors concerned about Hank's impact have sent letters to other district offices dealing with public space issues, but declined to provide specific names — until 2001, it took only one person to file such a protest letter with the ABC Board. The D.C. City Council changed the rules in 2001 to require a minimum of five signatories. Still, all protests, be they from an ANC or any other citizens group, are still only advisory, says Coudriet. The ABC Board will have the final say on liquor licenses.
Till then, and beyond, Rieffel says that he and like-minded residents will remain vigilant about controlling commercial expansion in the neighborhood.
"I personally don't feel that the neighborhood has suffered from having Trio's Pizza in the neighborhood. And it's not obvious to me that the neighborhood will be measurably better because Hank's Oyster Bar is there," says Rieffel. "That's irrelevant. It's not the job of the residents to make her business a success by changing the rules of the game…. If they lease space without understanding what the laws and regulations are, it's not the job of the community to teach them. It's the responsibility of the businesses to know what the concerns of the neighbors are."
Rieffel says he can imagine one hypothetical scenario in which he would support ending the liquor-license moratorium in the neighborhood.
"If half the liquor-licensed establishments closed down because they couldn't make it, so we're down to 10 or 12 establishments, and even those aren't going like gangbusters," he says. "Then I can imagine ending the moratorium."
Leeds says she's determined to open by her May 15 deadline.
"Listen to the majority," is the message Leeds offer to residents opposing her seating expansion or liquor license application. "If you're out to protect your neighbors, listen to them. This is what they want.
"I'm not letting them get me down ultimately. I'm still very passionate about the project. But it's just making the process that much harder…. I need to get this agreement. I need to get this place opened or I'm going to be sleeping on the park bench."