New Order just might have more influence on today's electronica scene than it's ever had in the 25 years the ever-influential band has been together as New Order (including their first few years as Joy Division, another story in itself). Gwen Stefani, Moby, the Scissor Sisters, the Killers and others have taken much obvious inspiration from this band out of Manchester, England. New Order was one of the first post-punk, new-wave groups to fully embrace the then-emerging technological revolution. The band coaxed melodies from supercharged synthesizers, and then added manic, ravishing drum-machine percussion and driving bass guitar licks for a vibrant urgency you couldn't ignore and wouldn't mistake for anyone else.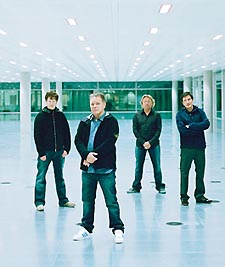 Blue Faith: New Order
Like Duran Duran before them, it's only natural that New Order would take advantage of this neo-new-wave moment in time to release a new album. But as with Duran Duran, the appeal of Waiting for the Sirens' Call depends on how much nostalgia you hold for the band, and how much sonic leeway you're willing to give it. The more, the merrier. Otherwise, you're unlikely to warm to another New Order album (e.g. 2001's Get Ready) that strays from the dance-happy sounds of their most popular days. In fact, several new songs lag in actual energy, something you'd never expect before.
Even Ana Matronic, the normally vivacious female Scissor Sister, doesn't add the right fuel to "Jetstream. " Among its other failings, the song finds lead singer Bernard Sumners spelling out in the chorus the letters "J-E-T, " which Matronic then quickly repeats, as if we stumbled into an elementary-school spelling bee.
The first single, "Krafty, " wakes up the album a third of the way in with a gently insistent programmed drum beat and ragged bass guitar that gives way to a sublime, anthemic chorus. Too bad the lyrics are embarrassingly adolescent: "Some people get up at the break of day, gotta go to work before it gets too late, " Sumners sings. And then later this unimaginative take on television's distorting worldview, "They've got violence, wars and killing too, all shrunk down in a two-foot tube. "
As Waiting nears its end, New Order bats out "Guilt Is A Useless Emotion. " The song begins with the sound of a quickening heartbeat and features another undeniably rising, anthemic chorus in line with the album's overriding lyrical theme of pursuing your dreams no matter what others may do or say to stop you.
Except that outside the chorus the song seems to be a plea for a reluctant woman's temporary affection. "You sure know a lot for a girl/You can bring the good times back, get me on the track, " Sumner sings, warning a guilt-ridden one-night stand not to fall in love with him. "Real love can't be bought, it is wild and it can't be caught. "
But a one-night stand could lead, after at least a few extra nights, to real love. So, too, it follows that at least one more piece of pop perfection like "Guilt " is needed to make an album a gem. Unfortunately, New Order didn't try hard enough to bring the good times back, to get on that track.
Is Daft Punk just one successful, decades-old joke played on us pop-loving humans by computers? The French duo's latest album, Human After All, encourages a listener to ponder such a conspiracy theory. It sounds like the kind of "music " a desktop computer would make: blustery but randomly hiccupping guitar chords, forceful beats that could be captivating if they weren't so mind-numbingly constant. And 45 minutes of tinny robotic voices. They know not what they repetitively say, and they care not how much it agitates the listener.
It's a huge letdown. Daft Punk has always been a bit repetitive, sometimes annoying and very robotic – and never in the same league as its most obvious rival, Basement Jaxx. But the duo always had enough sense to add warm house feeling to its brazen techno explorations. From "Around the World " to "One More Time " to "Harder Better Faster Stronger, " Daft Punk created singles that you warmed to despite their digitally distorted vocals and cold-processed synthetic sonics.
Human After All just has to be ironically titled. Daft Punk has never sounded so mechanized and passionless. Most every song here tests your patience, even if you can ignore the half-assed lyrics. "Television Rules the Nation " is both a song title and that song's sole lyric, repeated some 30 times over the course of nearly five minutes. Same goes for "Steam Machine, " which wastes another five minutes by recreating its titular sound with only two words heavily breathed throughout. Can you guess which two?
Unless you like being the butt of a computer joke, steer clear of this daft mess.