DIGITAL MUSIC POPSÂ… Pop artists are having a particularly good year. Green Day, for starters, is at the high point of its career, the band having just scored its highest-charting single ever, "Boulevard of Broken Dreams." The ballad recently peaked at No. 2 on the Billboard Hot 100 Chart, a week before the original American Idol Kelly Clarkson's fierce firecracker of a pop anthe, "Since U Been Gone," did the same. Clarkson's song is literally breathtaking: its chorus pauses for a half-second before kicking in at full emo-strength. The chorus kicks in even more dramatically in Jason Nevins' rocking remixes, which are propelling that song to the top of all three Billboard dance charts (Radio Airplay, Club Play and Sales).
What's going on here? It's more than just quality songwriting and remixing. Credit, to a large extent, goes to the iTunes Music Store, two-years-old this week. iTunes, along with the other commercial digital music sites, has helped revive a left-for-dead singles market. Week after week, for example, more and more new club remixes become available at iTunes. It's gotten to the point that in the past few weeks, well over half of the Top 20 tracks on the Club Play dance chart have been available on iTunes. Just a year ago, by contrast, you would be lucky to find three Top 20 remixes there.
The growing sales from this growing availability means these online sites have only just begun to impact the music business. So Billboard revamped its charts in February to incorporate sales figures from online music stores. And you see the results: Green Day and Clarkson got boosts to the top of the chart. Also boosted was the year-old conviction that rock and pop — including dance — are back as commercially viable genres. Pop is back, baby. Expect to see more pop and rock acts earning mainstream attention. As Clarkson would say, "Yeah, yeah!"….
HOLLABACK GWEN… Gwen Stefani is another pop artist aided by the reconfigured Billboard charts. She now has her highest-charting single as a solo artist — and she even managed it all without Eve. "Hollaback Girl," the giddy Bring It On-inspired cheerfest, could be Number 1 on the Hot 100 Chart by the time you read this. It should be — it's pure pop fun. But where are the dance remixes? It's hard to imagine one working, but still. This makes Stefani's second hit single in a row to go without enlisting dance remixers' assistance. So we're stuck on repeat-play with Jacques Lu Cont's rework of her first single, "What You Waiting For." "Stuck" isn't the right word, of course. Lu Cont gives us nothing to complain about….
REMIXING'S MR. BRIGHTSIDE… Recipient of this year's Grammy for Best Remixed Recording, Jacques Lu Cont — real name Stuart Price — could become the first remixer to win back-to-back Grammys if he keeps going at this rate. For Fischerspooner's new single "Just Let Go," Lu Cont has created a blitzed-out, endorphin-rushing remix. But before you check that out, listen to his new Thin White Duke remix of The Killers' "Mr. Brightside." Lu Cont is clearly one of the best dance remixers working today, and his passion for uptempo rock couldn't be more appropriate for today's scene. "Mr. Brightside" is about to burst into the top ten of the Hot 100 Chart — say "happy anniversary" to iTunes, Killer boys. And thanks to Lu Cont's characteristically sweet, guitar-charged remix (and another from Lindbergh Palace), the song looks set to very soon top the Club Play Chart as well….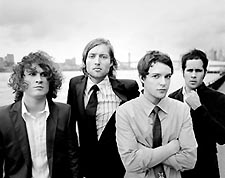 The Killers
KRAFTY REMIXES… Lu Cont's "Mr. Brightside" remix is redolent of the mournful guitar plucks, hazy keyboard strokes and pulsating programmed drum beats that is New Order's signature. (And there's more to come: Lu Cont has just finished a remix of New Order's next single, "Jetstream.") But it's not quite as New Order-y as what fellow passion-for-uptempo-rock remixer Richard Morel has done on his latest. Oh sure, he had a leg up in making "Krafty" extra-New Order-y. The song is, after all, New Order's own first single from its just-released album Waiting for the Sirens' Call. But the band has never sounded more like itself than on Morel's Pink Noise Vox Remix. He keeps in place most of the guitar/keyboard/percussion elements from the original, as well as its contagious, chipper dance energy. But he makes it more New Order-y, and takes it one step closer to perfection, through his unexpected — and unnoticed, if don't pay attention — addition of the manic percussive trills that gave New Order's classic "Blue Monday" its hallmark flare. It's a subtle and smart decision on Morel's part, and one that makes a close listener appreciate anew one of dance music's best and most influential songs ever. And you can download Morel's "Krafty" remix on iTunes….