In 1999, Jeanette L. Buck — a local filmmaker, playwright and director — was accosted by a stranger in her home, brutally attacked and left for dead. It was classified as a random act of violence. The outpouring of love and support from friends, family and strangers that followed helped speed Buck's emotional and physical recovery.
To help make sense of her ordeal — and to show gratitude to those who supported her — Buck wrote There Are No Strangers, a one-person show that's currently receiving its World Premiere at Theater J [see our review].
Buck, the show's director Delia Taylor, and its star Holly Twyford took time out from rehearsal to discuss the nuances of the piece, as well as what they call a "gender wall" in the local theater community, a wall that these women are doing their best to tear down.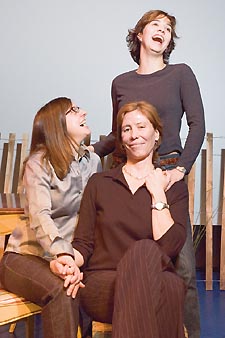 Director Delia Taylor, playwright Jeanette Buck, and actress Holly Twyford on the set of 'There Are No Strangers.'
METRO WEEKLY: Jeanette, There Are No Strangers seems to be a cathartic work for you.
JEANETTE L. BUCK: I never thought about it that way. I felt like it's something I just had to do. I was attacked, but the thing that happened after the attack was really what spurred the play on — it came into being because I was really overwhelmed by the response I received from strangers [as well as] people who loved me. I was overwhelmed by the amount of people that responded to help me and to offer up their support, their love, their money, their homes, everything. That was such an amazing experience that out of that I felt compelled to do something to acknowledge the amazing outpouring and to acknowledge my gratitude for all these people. So it's not really being hung up about this man who attacked me, or the actual event, it's about what happened after that.
DELIA TAYLOR: But that connection, that terrible event, led to something so incredibly wonderful — and that connection is made very clearly in the play, so that the bad and the good come together. The character Jeanette wants to tell the story of the people who healed her, but in order to do so she has to go back even further than the inciting incident. She has to go back to the only place that was a home for her as a child, which was her Aunt Rose, whom she wasn't even related to. It becomes a much larger journey.
JEANETTE: It's like these interviews. Everyone wants to know detail-by-detail the actual pummeling of my head. But that's not the story I want to tell. The story I want to tell is the story about all the people who helped me. But everybody wants to hear the other story. So that's actually the tension for the character, too — everybody's insatiable hunger for drama and blood and guts.
MW: I'm certainly not bloodthirsty, but I too find myself very interested in the details. What is it, do you think, that compels us to need the specifics of such a horrible crime?
JEANETTE: I think that if you know the specifics, it won't happen to you. I think there's this idea that if we know all the things we have to do to stay safe, we'll stay safe. I think it's kind of wrapped up in our need for attention and drama, but it's also wrapped up — especially the violence — in "What do I have to do so it won't happen to me?"
MW: Did you have Holly in mind when you wrote the piece?
JEANETTE: Holly was my first choice, my only choice — besides Sally Fields. [Laughs.] Holly's just amazing. I knew that the material could be really sentimental and I knew that Holly would work against that, that she's really smart and that this play is nonlinear and she could make connections and make those leaps, which is not very easy. She's made sense of it.
MW: Holly, what is the challenge in playing someone whom you know so well?
HOLLY TWYFORD: Well, it's always hard to play real people because you want to be truthful about them. But it is especially hard to play people that you know. I think the biggest challenge of this is that Jeanette is such a presence in our community that everybody knows her and loves her and we didn't want people watching me on stage thinking, "Well, she's really not like Jeanette, is she?"
JEANETTE: I think she's too dykey to play me.
HOLLY: I am. I'm dykier than Jeanette.
JEANETTE: Over the years I've lost some of my dykiness. My Doc Martens and my men's suits…
MW: Is the show especially emotionally straining because the subject matter is something you also lived through as Jeanette's friend?
HOLLY: That's a hard question. It was at first. But now I'm more focused on [the audience] and making sure that they are getting it. I don't have time to think about the fact that she's my friend and these things happened.
MW: The show has a special resonance in D.C., Jeanette, because of your close attachment to the theater community, as well as to the gay and lesbian community. Your feature film, Out of Season, for instance, had its premiere at the Reel Affirmations Film festival. Do you feel that No Strangers can have a life beyond Washington?
JEANETTE: I'd like it to. I'm the last person in the world to promote myself but it seems like a few people have said they really want to see what we can do with this. A woman I've never met after the show the other night said, "I think this should be in every city and every college town and every high school."
You know, it's a story about a lot of things. It's a story about somebody who has post-traumatic stress disorder, it's about somebody who survives random violence and tries to make sense of it, it's a story about someone that goes to all these different places, a psychic, an astrologer, a rabbi, to make meaning of it. And it's like, how do you make meaning out of your life? A lot of people have had events occur that came out of nowhere and they spend years trying to figure it out. And that's what this character is doing. I think people can connect to that.
MW: Have you successfully dealt with all your demons surrounding the crime?
JEANETTE: We all carry our demons, and they come and go depending on where we are in our lives. They hit us when we least expect them to and then sometimes we wonder, "Where did they go?" So I have dealt with this on a lot of different levels. And I'm sure that one night, when I'm least expecting it, I'll remember [this event]. I just can't anticipate it. But I've certainly done a lot of work around it.
HOLLY: Part of what the play says is that you can't live your life waiting for the next demon to appear. You have to keep going and deal with each demon as it comes. It reminds me of Buffy the Vampire Slayer.
DELIA: One thing I'd like to add is that it's been encouraging with the preview audiences to see the universality of the piece.
HOLLY: I think one of the things about doing it at Theater J is that there's a part of the play where we talk about whether or not this was a hate crime. And if ever there was a group of people who understand persecution, it's the main audience of Theater J. And I think that's part of why they can relate that feeling of persecution.
JEANETTE: The idea that people have had horrible things happen to them and how do they make it through? What do they do?
MW: But the show really doesn't have Jewish themes, so does it really fit in to Theater J's mission?
JEANETTE: I think [Artistic Director] Ari Roth feels like an unspoken part of the Theater J's mission is being inclusive of everything and all stories and all cultures. He sees it sort of a non-issue. It doesn't matter that we're a "Jewish theater." This is a story about people and we're people, and to him we're all connected. And wouldn't it be great if we didn't need a Jewish theater, if we didn't need a gay and lesbian theater?
MW: Speaking of which, you're all out. Are there any particular challenges to being out and working in the theater industry?
DELIA: I'm inclined to say that our gender makes it more challenging. I don't think it's about sexual orientation. I think it's about a gender wall in Washington theater.
JEANETTE: How many female directors are [steadily] working in Washington? Are there two? Maybe four?
HOLLY: I would ask how many female playwrights are being produced? Probably even less.
JEANETTE: The Round House had Jane Beard direct this year. And then we had Molly [Smith] and Wendy [Goldberg] at Arena. And Joy [Zinoman, of Studio]. Now Delia is directing [No Strangers] at one of the medium theaters in Washington.
DELIA: I never thought it would happen.
MW: A woman just directed The Tempest over at the Shakespeare.
HOLLY: So we can pretty much name them all [on one hand]. Molly. Joy. Keep going. How many more can you name?
MW: Do you think there's a kind of tacit discrimination going on?
HOLLY: There's always tacit discrimination. As a stage actor, I've been out ever since my very first show, which Delia produced, and it hasn't stood in my way at all I don't think. But when I work on camera, except for when I'm on Jeanette's lesbian set, there's a different situation partly because usually they don't know me so they don't know that I'm out. It's a straighter world. My partner will sometimes come back from the office — she just started a new job — and say, "Well, I came out to so-and-so today." And that's what we always have to do. It's like "come out." It's like, "What did you do today?" "Well, I came out to three people, blah, blah, blah." It gets to be real tiring. They make assumptions and you have to set them straight.
MW: Of course, as an actor you should be able to play anything.
HOLLY: That's exactly right. Theoretically, I am transformational. The last character I played was 8 months pregnant and very, very straight. The character before that was gender non-specific, but the character before that was married and just had a baby. That's what being an actress is being about, playing all these different roles. If you call me a lesbian actress you're sort of modifying my ability in a way — that's what it feels like. So that's my cross to bear.
MW: Do you feel that being a lesbian has helped give you all a different or unique perspective in working in the creative arts?
DELIA: I think about this a lot with creative people — how many gay people there are, and how many are single and without children? And I ponder that equation, how do those factors relate to one another? There are plenty of actors — straight and gay, male and female — who have kids. There's no question. But I don't know if there's a statistic that deals with families in the arts. And I don't know if I don't want kids because I want all my creative energy to go into my work.
JEANETTE: I think everyone has a workplace that has some kind of support system, but I think the theater support system is pretty remarkable. And especially here in Washington, D.C., there is that family aspect. You get a lot out of the people you connect with on a day-to-day basis in a way that I don't think you get in an office. It's not like your passion for your work is replacing having family. Your passion at work also has a family.
DELIA: That's very true.
HOLLY: When way back when, when Delia and her then partner had a theater company — Consenting Adults — there was like a lesbian mafia [in the theater scene]. A huge group of women — actors, directors, stage managers, lighting designers. And there's a certain support right there automatically just by the sheer fact of having that in common.
MW: It comes back to what you said about there being a gender wall, Delia. To succeed in the theater world, do you think you need to create your own opportunities?
DELIA: Or do we need a male advocate like Ari? We're here now doing this project because he believed in it. He made it his own.
MW: Are there enough roles for women?
HOLLY: No. There are so many more roles for men than women. Look at the casts. There will be a cast of nine — six men, three women.
DELIA: And now you've got the gay male theater companies who are doing Les Liaisons Dangereuses with all men, that whole new phenomenon.
It comes down to power structure, who's in charge of what. I think it's easier for men to be in charge of things. At least that's what we're telling ourselves.
HOLLY: Delia is exactly right. The power structure is the key is. That's why shows like The L Word are important. The executive producer is a woman. And you know, thankfully there are more women in power in Hollywood. And certainly The L Word is important for lesbians. But it's gotta start from the top and trickle down.
JEANETTE: Have you been keeping up with the Op-Ed pages [in the Post]? A woman who is an editor for the section wrote an essay this past week that whenever she approaches women to contribute, they say things like "I can get it to you in a couple of weeks. Let me think about it." And when she calls a man, it's like "I'll get it to you tomorrow." She can't get women to write opinions because they want to make sure that they are totally correct, where men will just say anything. I don't know, maybe women are more hesitant to take the leap sometimes.
DELIA: [Laughs.] We're innies, men are outies.
There Are No Strangers runs through April 17th at Theater J, in the DCJCC, 1529 16th Street NW. Call 1-800-494-8497 or visit www.theaterj.org.