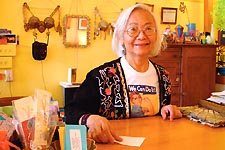 Go Mama Go's Noi Chudnoff
Since August 2001, Noi Chudnoff has offered funky and affordable artwork, housewares and gifts from her shop, Go Mama Go (1809 14th Street NW; 202-299-0850). It's a new chapter in her life after 20 years of suburbia, and she says she couldn't be happier, both with the store and with city living.
"We moved here about 20 years ago," says Chudnoff, a native of Thailand. "We bought in Maryland, near the school I wanted my son to attend. But now I'm back in the city. I have a house in Maryland, but I live in an apartment above Home Rule. I'm from Bangkok, so I'm a city person."
The owners of Home Rule, next door on 14th Street, are more than Chudnoff's landlords, though. She considers them something akin to guardian angels. Her gratitude stems from opening her store a month before the 9/11 attacks.
The 14th Street Corridor

·
14th & U: A Revitalized Corridor
·
This Mama Keeps on Going
·
Day care goes to the dogs on 14th Street
·
Sweet-Smelling Success
"When Sept. 11 happened, I told them, 'I'm not going to make it,'" Chudnoff recalls, fearing shopping was the last thing on anyone's mind at the time. "They told everybody. A lot of people came in to help me, buying Christmas gifts in September just so they could save me. I will never forget them. I want to say 'thank you' to Home Rule and the gay community for rescuing me after Sept. 11. They saved me."
That thank you has been paid back to the gay community over and over. Chudnoff says she's donated about half her profits from Go Mama Go to gay-related causes, such as Whitman-Walker Clinic and the National Gay and Lesbian Task Force. Her philanthropy fits in nicely with her spirituality, as well as this phase of her post-suburban-housewife life. The name of her store says it all.
"Go Mama Go — it's life after being a mom," she says, pointing our that her only child is now in college. "I told my husband I will never cook and clean again. I think all mothers will understand. I'm a mother, I'm a woman, so I don't think people should have to spend a lot of money on something nice.
"I don't want to make a lot of money from a hundred people. I'd rather make some money from a thousand people. I'm a Buddhist. If I make money, that's okay, but how I spend it is much more important."