Arguably, nobody needs a good laugh these days as much as the gay community. Help is on the way. As part of its ongoing "Laugh Out Loud " comedy series, One In Ten is showcasing Jim David and Georgia Ragsdale. Each brings a Southern streak of humor — by way of North Carolina and Texas, respectively — that David fine-tuned in New York and Ragsdale in Los Angeles.
But Ragsdale's mission in the capital is two-fold. She'll also be raising funds for her new movie, Babes Go West. "For lack of a better word, it's like a lesbian Blazing Saddles, " says Ragsdale of this sequel her 2003 Wave Babes, which she co-wrote and starred in. "It's a very silly comedy."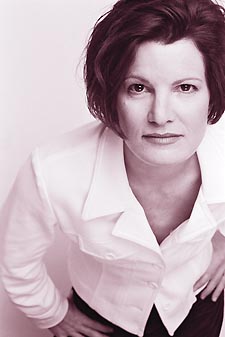 Ragsdale
Explains Ragsdale: "Basically, our three girls from Wave Babes go to a lesbian dude ranch for the weekend. The dude ranch is embroiled in a lease conflict between the lesbians and the landlords. The [American] Indian landlords are trying to build a casino on the land.
"We're skewering everything," she continues. "It's just really a license to do really funny things. "
As Ragsdale shifts her career to movie production, it's impossible to maintain her former stage schedule. While she once performed about 150 stand-up shows per year, she's down to about one per month, making an evening with Georgia Ragsdale a precious commodity. Her April 16 show with David should be no exception.
"I can get away with more subtle jokes with the D.C. audience, " Ragsdale says. "You just try to think of things that lawyers and FBI agents would find amusing. "
Following the show, One In Ten has arranged for a fundraiser at Titan Bar to help Ragsdale raise money to complete Babes Go West. "We'll have quadruple the budget of Wave Babes, " she guesses. "But that doesn't mean huge. Wave Babes was made out of some Dixie Cups, paper clips and string. "
Jim David and Georgia Ragsdale perform Saturday, April 16, at the Carnegie Institution Auditorium, 1530 P St. NW, at 8 p.m. Tickets are $25, $35 and $50. Call 1-800-494-TIXS or visit boxofficetickets.com/oit.