With the flowers blooming and the calendar filling, it's clear that GLBT pride season is upon us. From April's Youth Pride celebration to Memorial Day Weekend's Black Pride to June's Capital Pride Festival, it's the time of year the community shows its colors.
And although it may not come with as much fanfare as those long-established events, Pride & Heritage 2005 is well underway with its sixth year of celebrating the LGBT Asian/Pacific Islander community.
Pride & Heritage is a month-long celebration sponsored this year by Asian Pacific Islander Queer Sisters (APIQ), Asian/Pacific Islander Queers United for Action (AQUA), and KhushDC. The D.C. Men of Asia Prevention Study — run by Frank Wong of the Georgetown University School of Nursing & Health Studies and focusing on the health of Chinese, Filipino and Vietnamese men who have sex with men — is also lending support.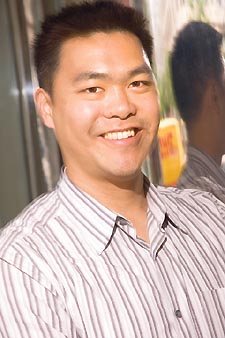 de Guzman
(Photo by Todd Franson)
While the month began with a happy hour at Halo on May 3, organizers say the best is yet to come.
APIQS will be offering a women's brunch on May 15, while Reel Affirmations will screen Beautiful Boxer — the story of a Thai transgender kick-boxer — on May 20. The highlight comes May 21, with the First Annual Pride & Heritage Awards.
"The celebration is evolving from what has historically been a more cultural celebration to one that's looking into the queer Asian/Pacific-American community and honoring those members and allies who've done much to advance the visibility of our issues and concerns," says Rebecca Sawyer, APIQS co-chair and a member of the Pride & Heritage 2005 planning committee.
"The awards dinner on May 21, honoring community activist John Tinpe and the National Asian Pacific American Women's Forum (NAPAWF), does just that by honoring Tinpe's activism work and celebrating the importance of allied organizations like NAPAWF," she says. "Last year, NAPAWF was one of the handful of primarily straight Asian/Pacific-American organizations that led the charge in supporting marriage equality for LGBT Americans."
Tinpe, meanwhile, is the openly gay chair of Mayor Anthony Williams's Commission on Asian and Pacific Islander Affairs.
"It's the first time we've very explicitly decided to use our marquee event to recognize people and organizations," says Ben de Guzman of AQUA, and a member of the Pride & Heritage planning committee. "It's more important than ever to recognize Asians and allies Â… to more officially recognize the ways in which they've helped the community. Our criteria was honoring individuals or organizations that raise awareness around Asian/Pacific Islander issues and concerns. It can be a person who is openly gay or lesbian and Asian, or straight Asian organizations that have been supportive, or mainstream LGBT organizations that have embraced a need to expand their own diversity."
Though not an honoree, Theron Gilliland Jr. fits the description of someone embracing a need to expand his own diversity. He's a member of the board at KhushDC, an organization for the local South Asian LGBT community and allies. But he's not Asian.
"I got involved [with KhushDC] because I was dating an Indian," he explains. "I wanted to know a little more. I got to meet a lot of people from different countries, different cultures. I think that it's healthy for everyone to reach beyond your personal experience."
A good primer for such a reach will be be KhushDC's after-party, "Jalwa," following the award ceremony. This annual fundraiser for the group will bring Pride & Heritage 2005 to a colorful close.
"'Jalwa' is Urdu for 'splendor' or 'display,"' Gilliland explains. "People will show-off, dance and have good time. We're hoping for 300 to 500 people. There is going to be a belly dancer, Mark Balahadia. We're having a really good DJ from New York, Ashu Rai. The theme is a Bhangra Bollywood global mix."
Gilliland says "Bhangra" is "India's version of hip hop." And Bollywood is a refernce to the lavish, vibrant and colossal Indian film industry.
Though the month is coming together on schedule, de Guzman cautions that Pride & Heritage 2005 was nearly the celebration that wasn't.
"In some ways, this almost didn't happen this year," de Guzman says with a relieved laugh, crediting the devoted members of the planning committee navigating the daunting maze of logistics to arrive at a method that seems to be an improvement on the past.
"That first year, it was primarily AQUA and APIQS. Through the years we've added more partners. Some have come and gone. The reality is that a lot of the organizations, historically, have not had a lot of capacity," he says. "Having done this for five years, we've finally gotten this right — putting the onus on participating organizations to take the lead on satellite events. In a lot of ways, this year has been really great for us. In the past, people have known we're around, but this is the first year we've been able to utilize the relationships we've built over the years."
For a selected list of Pride & Heritage 2005 events, see the Community Calendar. For a full listing of events, go to www.dcprideandheritage.org.