For those in tune with the Washington calendar of fundraisers and galas, it may seem that fall is arriving rather early this year. Fortunately, there's a simpler explanation for the appearance of the Servicemembes Legal Defense Network's 13th National Dinner on this weekend's social schedule: They moved the date from its usual October berth to May 7.
"One of the primary reasons is most of the national LGBT organizations based in D.C. have their dinners in October," says SLDN Director of Communications Steve Ralls. "We thought this could be a unique event. And it coincides with our lobby days."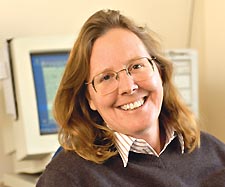 Deb Price
Despite the change, and with only seven months since SLDN's last national dinner, organizers are hardly stumbling through the arrangements. Rather, the group has secured former senator, ambassador and presidential primary candidate, Carol Moseley Braun (D), as keynote speaker.
"We asked Ambassador Braun not only because of her positions in the presidential campaign, but when she was a senator … she was one of only 12 senators who voted against 'Don't Ask, Don't Tell,'" says Ralls. "In addition to [DADT], she has an impeccable record on just about every LGBT issue."
Braun distinguished herself during the 2004 Democratic primary presidential campaign as one of only three candidates to support same-sex marriage. She was traveling, and unable to speak with Metro Weekly by deadline, but her comments during the Human Rights Campaign's Forum for Democratic Candidates in July 2003, offer a succinct illustration of Braun's views.
"I have the most comprehensive, consistent and 100 percent record for over 20 years now reflecting my commitment to social justice and dignity for the GLBT community and for all people," she began.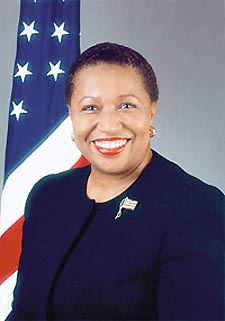 Carol Moseley Braun
Moderator Sam Donaldson of ABC News asked Braun specifically about gays in the military.
"'Don't Ask, Don't Tell,' was a mistake, and it was just an embarrassment and it should not have happened," said Braun, affirming that as president she would issue an executive order allowing gays and lesbians to serve openly in the military. "I think frankly that people are entitled to be who they are. The issue is one of conduct. And if somebody does something wrong, then there are remedies for that. Â… I was in the Senate at the time the debate came up, and people were, 'Oh, what's going to happen in the trenches?' Well, if somebody does something in the trenches, it doesn't matter whether they're male or female — they have done something wrong. And my view is that gays in the military provide a great service to this country, and ought to be given the opportunity to provide the service to this country that they are capable of giving."
Deb Price, an openly gay columnist for the Detroit News, will be honored at the SLDN dinner with the group's Randy Shilts Visibility Award. Shilts, a journalist and author, died of AIDS-related complications in 1994. His last book, Conduct Unbecoming: Lesbians and Gays in the U.S. Military from Vietnam to the Persian Gulf War, was published shortly before his death.
Like Braun, Price also has a clear recollection of the Clinton-era congressional debate about gays in the military in the early 1990s.
"I remember when Sam Nunn, during the gays-in-the-military debate, said that one of the things that should be a criterion for dismissal [of gays from the military] would be attempting to get married," says Price, looking back at the successful effort by Nunn, now-retired Democratic senator from Georgia and then-chair of the Senate Armed Services Committee, to block Pres. Bill Clinton's effort to allow gays to serve openly with the "Don't Ask, Don't Tell" compromise.
"I remember laughing at that. It seemed like outer space. But it was a very prescient link," says Price, explaining that gays in the military is as important an issue to the modern LGBT civil rights movement as same-sex marriage. "[Nunn] was hitting on something I couldn't see. These two prejudices are just like what was true with women and African Americans. Marriage always ends up being the flashpoint in any civil rights battle. Sam Nunn was bringing those things together in a way I couldn't see then."
Price says denying people the opportunity to serve their country makes it very simple to deny them the opportunity to be a full member of society through marriage.
"These are two of the most powerful institutions in our country," she says. "It's no coincidence that today we find ourselves with the two [of them] as our front-burner issues."
Though Price insists that being the third recipient of this annual Visibility Award comes as a complete surprise — "but a delightful one" — she has certainly done more than her fair share to keep plight of gays in the military in the public eye.
"I've been working on this issue since my column started in 1992," she says, recalling her trip to the Netherlands to observe gays who served openly in that country's military.
"It was sometimes hard to understand the conversation because I was coming from an American perspective," she says. "Their concern was that not enough of their gay soldiers were comfortable coming out. And this was 1992. It was a real eye-opener for me. That was the same year, in our country, the debate would explode and that SLDN came into being."
Since that beginning, Price has continually revisited the issue of gays in the American military in her column, developing a close relationship with SLDN. Although the "Don't Ask, Don't Tell" policy is still in place, Price says there has been stunning progress over the years, including the Supreme Court ruling overturning sodomy laws and other victories.
"These are enormously huge, huge breakthroughs. To suggest nothing has happened because 'Don't Ask, Don't Tell' is still there doesn't begin to really reflect what a civil rights movement is about," she says. "Remarkable things have happened. We're now at a point that in the current Congress we can have a discussion."
To follow Price's voice in the discussion, her columns are available online at the Detroit News (www.detnews.com).
Meanwhile, SLDN continues to prepare as zero-hour approaches. Ralls says that he expects attendance to match the October dinner, roughly 650 people.
The SLDN 13th Annual Dinner & Silent Auction will be held Saturday, May 7, from 6 to 10 p.m., at the Renaissance Washington, DC Hotel, 999 Ninth St., NW. For ticket information visit www.BOXOFFICETICKETS.com/sldn.