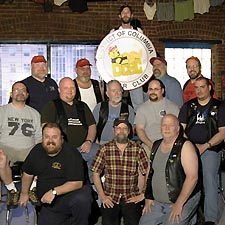 Members of DCBC
MISSION: DCBC was created in 1995 to promote fellowship among Bears, Cubs, Levi/Leather and other diverse members of the District of Columbia Gay/Lesbian Community.
NUMBER OF MEMBERS: 30
MOST COMMON ACTIVITIES: Monthly bar nights, and the annual Bear Invasion for which DCBC is the sole sponsor.
HOW TO JOIN: Members are asked to join by invitation.
BACKGROUND: "I joined [DCBC] two years ago, after hanging out with the gang for several years," says Pat Gorsuch, DCBC president, explaining that someone wanting to join the group should get to know them through their open meetings and bar nights. "We're looking for members who are going to be active," he adds. "We're always looking for members who are going to bring energy and fresh ideas. As well as someone who can have a good time."
CONTACT: info@dcbearclub.org