So baseball has finally returned its home plate to Washington, D.C. Leave it to the patently savvy leadership of The Studio Theatre to capitalize on that infectious fever with Richard Greenberg's homage to the Great American Game, Take Me Out, the 2003 recipient of the Tony Award for Best Play.
Greenberg's brilliant saga pitches three strikes against the dark undercurrents of celebrity, homophobia, and racism with all of the amorous melodrama that fans have come to expect from a heated game in the middle of the World Series. His mastermind of a plot is deceptively simple: Darren Lemming, baseball's golden boy, plays center field for the Empires, a tightly-knit championship team built on American dreams. When Darren casually announces his homosexuality in a national press conference, the team is sent into a fluttering tailspin and as a result, their stellar game begins to suffer.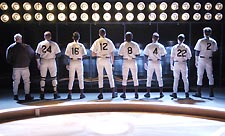 Home run: The cast of 'Take Me Out'
(Photo by Scott Suchman)
It's not long before the owners replace ace Japanese pitcher Takeshi Kawabata with Shane Mungitt, a roughneck rookie from the minor leagues donning studded leather and a mullet. It's up to Mungitt to redeem the Empires from their miserable losing streak, and after an awkward public blunder revealing his sordid truth (he can't stand showering next to a "faggot"), Mungitt must also learn to redeem himself. As relationships crumble and congeal in the locker room and dugout, Darren's surprise announcement introduces Mason Marzen, a lonely gay accountant, to the virile world of baseball. The diamond will never be the same again.
Take Me Out successfully smashes stereotypes of race, sexual identity, and America's favorite pastime, while Greenberg's passionate love of and devotion to the game is evident in his incredibly human writing. The result is a whimsical meditation on shameless contradictions and the punctuated irony in our Western worship of the sport. It's wonderful, purely American storytelling, and Greenberg expertly weaves his clever baseball ideology — baseball as a metaphor for democracy, its statistics and numbers as a metaphor for life, the sheer pageantry of the home run trot – throughout a script rife with vividly drawn characters who cling to the memory like smiling black and white photos of early teams.
To imbue each character with such a strong sense of purpose that you genuinely care about their future is no small feat. And director Kirk Jackson's meticulous staging strings together a taut series of scenes featuring some of the most deft acting on stage this year. Tug Coker is an ideal Kippy Sunderstrom, the straight, "everyman"-type who narrates the story with an admirable blend of self-awareness and self-assurance, while M.D. Walton is affable and appealing in the leading role. After a shining turn as Boy Willie in Arena Stage's The Piano Lesson, Jeorge Bennett Watson knocks another one out of the ballpark with his bombastic, self-righteous Davey Battle, the Empires' biggest rival player who also happens to be Darren's best friend.
Take Me Out
To June 26
Studio Theatre
1501 14th St. NW
$25-$48
202-332-3300

It's a winning combination of strong material and sharp talent, but Jackson's sterling production is nothing if not a blinding spotlight on two actors at the top of their own game. Jake Suffian marks his Washington debut with a shockingly acute and remarkably sympathetic portrayal of an uneducated orphan speaking what he believes is "in his heart," and Rick Foucheux's bumbling accountant "Marz" is a joyful revelation, especially as he confesses to Darren that, "You've done a wonderful thing for a community to which neither of us belong."
That "community" is never addressed as a stereotype or demographic in Greenberg's examination, which instead maintains a heavy focus on the field and locker room drama. Daniel Conway's beautifully simple setting allows the imagination to build scenery around his efficient showers, a set of wooden lockers that glide on and off the stage, and the small glowing pitcher's mound at center.
The idea that a play written distinctly about baseball ends up covering all of the bases — homophobia, racism, even contemporary politics and prose — not only makes for marvelous theater, it also renders Greenberg's script oddly poignant. While effortlessly balancing insightful drama with hearty doses of cerebral comedy, Take Me Out is the best way for theater lovers and baseball fans alike to spend an evening together.
Greenberg may have captured the heartbeat of all things Americana, but it's a 19th-century Austrian playwright who inspired Synetic Theater's rapturous production of Jason and the Argonauts. Suzen Mason adapted Franz Grillparzer's dark interpretation of the Greek legend of the Golden Fleece into a euphoric dance-play brimming with hypnotic music, sound, and much fury.
---
Director Paata Tsikurishvili and his choreographer wife Irina are at it again, this time luring Jason back to its Georgian origins. As their program details, "Jason's journey to the land of the Golden Fleece is a journey, in fact, to modern-day Georgia." Mason's script keeps the action primarily in Colchis and Greece, and shifts the attention away from epic adventure and classical heroism to lend a very intimate account of Jason and his foreign wife Medea, where the lines between criminal and victim are blurred by passionate acts of loyalty, violence, and revenge.
Jason and the Argonauts
To June 26
Rosslyn Spectrum Theater
1611 N. Kent St.
Arlington, Va.
$32-$39
703-824-8060

Of course it's difficult to re-create a convincing Colchis with neon exit signs glaring on both sides of the Rosslyn Spectrum stage, but as always, Synetic's strength in their superior form of theater lies in the judicious ways they so effectively employ the senses. Designer Georgi Alexi-Meskhishvili's set remains bare, with the exception of long dangling ropes that threaten Tsikurishvili's cast at every turn as Colin Bills' lighting adds mystical ambience. The simple aesthetics of the piece are astonishing to watch as they unfold by actors who use every available resource to allude to ships and shores, courtyards and caverns.
It's easy to fall in love with the cosmetic treatment of text mixed with lyrical dance to tell such an ancient story, and Irina Tsikurishvili's Medea is the raging goddess who breaks our hearts. She is a hot-blooded replica of the enchantress, in both form and function. Her Greek Juliet is at once a blossoming lily and a whirling dragon, and she induces hardcore drama with only a blazing stare. Mason's script is short on verbal communication, using minimal text to suggest inner turmoil for characters, and no one is more physically expressive and unpredictable than Tsikurishvili's compelling Medea.
Among a solid cast of thirteen, Greg Marzullo's Jason lends a wide-eyed, boyish presence to his muscular Argonaut, and Armand Sindoni is a strong force in dual roles as Phrixus and Creon.
A rich story with rich theatrics, Synetic's corporeal re-telling of Jason is a ballet of beautiful theater punctuated with the Tsikurishvilis' signature movement and ingenious choreography. As Medea commits her final, devastating acts of vengeance, the play's stark conclusion is illuminated by such extraordinary performance.