The Gay Men's Chorus of Washington's Spring Affair on Saturday night promises to be a glittering soiree with dancing, black ties and cocktails. But one invited guest won't be there decked out in his finest. Instead — barring a miracle — Mike (Mohamad) Abdul Karim will sit, as he has for the past five months, wearing his prison uniform in a maximum-security detention center in the grasslands between San Diego and the Mexican border. A Lebanese citizen, a gay man, and a six-year board member of San Diego Pride, Karim's apparent "crime" is living in the United States.
Karim, 38, left Lebanon nearly 20 years to come to America on a student visa. But that student visa expired long ago, and the United States wants him to leave. But returning to Lebanon is an option that leaves Karim fearing for his life.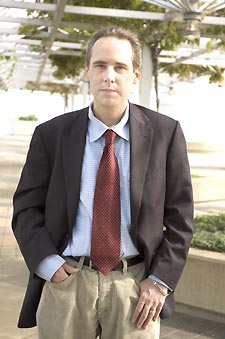 Chris Nugent
"It's still a very traditional country," Karim says, during a small window of time he's allowed to use the phone while in detention. "[Homosexuality] is still a taboo subject. I cannot survive there. My life could be in jeopardy, in danger."
Aside from social taboos, Article 534 of Lebanon's penal code criminalizes "unnatural sexual intercourse." Then there is Karim's association with Al-Fatiha, the LGBT Muslim organization. It's obvious why Karim would want to remain in the United States, his home since 1987.
Holland & Knight LLP, an international law firm of more than 1200 attorneys, is offering pro bono legal help to Karim in his attempt to gain asylum. For the work the firm is doing for Karim, and for many other LGBT refugees seeking asylum in the United States, the GMCW will be honoring the firm with a Harmony Award. The Chorus will also be honoring D.C. Councilmember David Catania, and Roger Bergstrom and Gary Regan at the May 21 gala at the Hyatt Regency Washington on Capitol Hill.
"We have had seven [gay asylum clients] in the past year," says Christopher Nugent, services team administrator for Holland & Knight. He's responsible for administering the firm's pro bono projects. He is also a board member of Immigration Equality, a non-profit organization advocating for immigration rights for LGBT people. He says this award marks the first time the firm has been recognized specifically for helping gay asylum seekers.
"They're not your typical asylum cases," says Nugent, who has gotten involved with many of the firm's cases. "You're dealing with gays and lesbians who've suffered persecution. People find them pretty sympathetic and compelling. … When you're representing a gay man from Iran who faces persecution simply for being gay, it kind of shocks the conscience.
"Of the [cases] I've been involved in, they've been very moving and disturbing and upsetting. It makes you understand how difficult it is to survive as a gay person in other countries. You do get teary-eyed in these cases."
The Department of Homeland Security has flatly ignored Holland & Knight's request that bond be set for Karim, as procedure dictates, despite requests from openly gay Rep. Barney Frank (D-Mass.), and a letter from 35 prominent members of the San Diego community.
That's why Karim will spend Saturday night in prison.
Other Holland & Knight clients are more fortunate. Three of them are expected to attend the Saturday ceremony.
Yorro Kuyateh escaped from The Gambia, where, according to the International Lesbian and Gay Association, sodomy is a felony punishable by up to 14 years in prison. Having been tortured in Gambia and permanently injured while in immigration custody in Missouri, according to Holland & Knight, Kuyateh now lives in Maryland.
After fleeing Iran, a country known to execute homosexuals, another client, a 29-year-old who prefers his name not be published, is living in D.C. after winning his request for asylum.
Gay asylum-grantee Wissam Abyad, 28, plans to travel from Boston for the evening. He says he finds relief in participating in events like this, talking about what happened to him in Egypt, where he had been out since the late '90s.
"When I first came out, it was kind of open," says Abyad. "There were bars where gay people would hang out on certain weekends. There were lots of private parties. … Then [the police] started raiding the gay bars, taking people's IDs. People were kind of nervous going to these places. After the Cairo 52, people stopped going."
The Cairo 52 were men arrested after a raid on Cairo's Queen Boat Disco, popular with gay men, in May 2001.
"We started hearing more about raiding private parties," Abyad continues. "People went to the Internet. It was the only way to socialize. We felt safe to chat on the Internet. Then we started hearing rumors about Internet entrapment."
Abyad found out the rumors were true when he made an Internet date to meet a Spaniard for lunch. The man said he had relocated to Egypt for work. Abyad, who already had an American boyfriend, agreed to meeting for a friendly lunch.
"He said he was Spanish and didn't know anybody. He wanted people to show him around," says Abyad, explaining that he stood in front on the restaurant where they were to meet, speaking to the man on his cell phone. The man instructed Abyad to wave so that he could spot him.
"I waved. Then when I hung up the phone, men were attacking me and lifted me into a police car," Abyad says, describing a scene of plainclothes police descending on him for all sides. "I got arrested that day, Jan. 17, 2003."
Prison conditions were brutal, says Abyad, adding that his American partner, Derek Reynolds, added a measure of protection.
"My mother counted on him completely," Abyad says. "When she went [to the prison] by herself, she got treated badly. When [the guards] see these foreigners, they wonder if they're with human-rights organizations. One of the 'generals' said, 'We don't want to hang our dirty clothes in front of foreigners.' I got better treatment. I got spat on, I got pushed, but other cases were physically tortured. There were lots of horror stories."
In April 2004, while on probation, Abyad accepted invitations from Human Rights Watch and Amnesty International to come to America to speak about his experiences in Egypt. Once here, he learned of the opportunity to seek asylum. Immigration Equality put Abyad in touch with Holland & Knight, whose attorneys secured his asylum status in September. Today he lives in Boston with Reynolds.
Frank, who has been a leading member of Congress in advocating for gay refugees, speaks highly of the work Holland & Knight has done on their behalf.
"They have been in the forefront of the work on LGBT asylum seekers, and I admire the diligence they've applied to the problem," says Frank.
Diligence is a necessity in asylum cases, says Nugent. "You need documentation from abroad, psychological evaluation, confirmation that they're gay. Typically these cases take several hundred hours to put together." And that's when there are attorneys to do the work. Asylum seekers have no right to legal representation.
"I'm less concerned about asylum seekers represented by talented, pro-bono representation, doing a 'Rolls-Royce' presentation. For the vast majority with no representation, it's going to be a lot more difficult. It's a challenging system for all asylum seekers, but particularly so for gays and lesbians in that this persecution is so intimate, so tied to the core of their identities. It can make it hard for them to develop the trust to tell their stories to attorneys and government officials."
Dusty Aráujo manages the Asylum Documentation Program for the International Gay and Lesbian Human Rights Commission out of San Francisco. He echoes the praise of Frank and asylum seekers for the work of Holland & Knight and Nugent in particular.
"Some attorneys are what I would call 'activist attorneys.' Usually these are attorneys who are willing to go the extra mile," Aráujo says. "Chris…is deep in the trenches."
Aráujo cautions, however, that Holland & Knight will have their work cut out for them in the future. After all, of the 4,500 cases he himself has worked on, he's only aware of 600 gaining asylum. And things aren't getting better.
"Nowadays, especially since Sept. 11, we're moving toward panic mode," he warns. "I think things are getting worse, if anything. Most countries are tightening up. Asylum is an extreme measure. For anyone going through this process anywhere, it's difficult."
For those few who find Holland & Knight in their corner, at least it will be a bit easier.