Eric E. Richardson's first trip to Washington, D.C., was for a job interview in the late 1990s, when a local radio station had taken an interest in him based on his work as a DJ in Baton Rouge, La. As fate would have it, the station flew him to D.C. over a Memorial Day weekend.
That weekend, of course, was host to the annual D.C. Black Lesbian and Gay Pride Day festival. The Louisiana native quickly found himself immersed in a gay community unlike any he had known, even in New Orleans.
"I said to myself, 'I don't care if I don't get the job, D.C. is the place for me,'" Richardson laughs.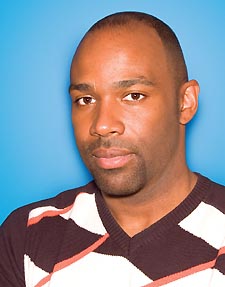 Richardson
A few years later, he now finds himself as head of the Black Pride weekend, which in its 15th year is the oldest and largest Black LGBT pride celebration in the nation. This weekend the city will fill with participants from as near as just around the block to as far as Europe.
Still working in broadcast communications in D.C., Richardson says he's passionate about participating in the community he so eagerly came to join. In addition to his work with the D.C. Black Pride board, he's a board member of Damien Ministries, one of the district's oldest providers of HIV/AIDS services. "There's a great need and I love the mission and the idea and the thoughts that they have for the community, so I wanted to be a part of it," he says of his service there.
But as the Black Pride weekend approaches, Richardson has his hands full welcoming participants both new and old. And from his enthusiastic approach and energetic style, you can tell he relishes the opportunity.
METRO WEEKLY: How was it growing up gay in Louisiana?
ERIC RICHARDSON: It was quite interesting. One of the reasons I came to D.C. was that it was a different world from that. I love Louisiana for the food, the fun and my family and friends, but it's nothing compared to D.C. I can actually be myself in D.C. and not be looked at strangely — or not too often anyway [laughs]. It's just a more progressive city.
Louisiana is so Bible-belt. My family — my father especially — is an "every Sunday morning go to Sunday school and church" person. It's that whole situation, and if you're gay you're going to hell. I've gone through that with not only my family, but my friends as well. Now they understand, and my father has realized that I'm not just going through a phase as he thought this was. This is real. I was a senior in high school, about 18 [when I came out]. That was very difficult. But my family knows who I am, and I try not to disrespect them in any way, shape or form. They act as if it doesn't exist.
MW: Do they know you're president of the board for Black Lesbian and Gay Pride Day?
RICHARDSON: Yes, they do. But I don't think they have an idea that the event is this huge. They're like, "Well, that's nice," because I'm a strong advocate for being a part of your community. I'm a member of the local chapter of the National Academy of Television Arts and Sciences. I'm on the board of Damien Ministries. I'm an advocate for getting out and being involved, no matter what. If you are a part of that community, I think you need to take an active part and participate in that community.
MW: What first got you involved with Black Pride?
RICHARDSON: As I saw Black Pride going on it was very different from what I'd seen in Louisiana — it was people [coming together] to make something happen in a nice, positive way. I wanted to get involved with that and I told [former BLGPD president] Earl [D.] Fowlkes [Jr.] that I wanted to help them with some entertainment, because working in radio and television I had some entertainment connections. And that started the whole process. I came on to do vending and entertainment for the first year and eventually became a board member.
MW: Already having worked on the event as a member of the board, what made you want to take it further and become president of the board?
RICHARDSON: People say to me all the time, "Why do you do this?" I was on the phone a minute ago and they said, "You don't get paid for that?" The reason I do it is that there's such a dire need for it. I don't want to say anything that would slight what people are doing, but I think as the face of AIDS has changed. The face of the gay community has changed. And we needed to make a change, to kind of pass the torch in our community. I don't see a lot of that. It's the same 10 people, and while they're doing an excellent job, we need to bridge the gap between young and old, black and white, and all these other things.
People constantly say, "Why is there a need for a Black Pride?" There's a need for a Black Pride because it's our experience, it's our culture, it's all these wonderful things. Just like there's a need for Mexican restaurants, but you're not going to get great Italian pasta in a Mexican restaurant. No one is going to complain about that. You know what you're getting and it's a way for that restaurant or that community to embrace their culture and share with the world. I think it's just a wonderful experience — I can't stress that enough. It's needed so badly.
MW: What are your responsibilities with the board?
RICHARDSON: It's overseeing, guiding and directing the events. And importantly, it's the fundraising — building communities, networking, bringing people on board and engaging sponsors and the community to participate.
MW: What are the biggest challenges for Black Pride, particularly on fundraising? Is it a challenge to pull in sponsors?
RICHARDSON: I would say yes. It's one thing when we call and say "Hi, this Black Gay Pride" — that's enough to get you to hang the phone up, isn't it? [Laughs.] But I believe that we can cross those barriers, because when people come to the event they go, "Wow, are you sure everyone here is gay?" Because they have this image and this stigma in their mind that it's going to be one way and then they find that it's totally different. We're the largest and the oldest and most inclusive Black Pride. We reach out to every community and I think we've done a great job of that this year.
MW: Was your first Black Pride festival at Banneker Field?
RICHARDSON: Yes.
MW: Was it a rainy one?
RICHARDSON: [Laughs.] Yes, it was.
MW: What are your memories of the festival in its outdoor days?
RICHARDSON: I loved the Banneker Field thing. I think it was a wonderful idea but it limits people because, you know, people can pass by [an outdoor event] and see who's there. And in our community that's a big issue, because we want to be all these things — some people don't want to be out for some reason. I don't know what that is — I'm just as gay as a picnic basket in July. So the outdoors event was very interesting but I think it was somewhat limited. Now [with the festival at the convention center] we have the opportunity to do things differently. That's part of the progress. After 15 years, we can't do the same things year after year after year. Next year, God willing, and if we're financially able, there are things that will be different. I want something different every year. No one wants to come to D.C. and know that it's always this on Friday, and that on Saturday. It has to cater to the needs of that audience and the needs that we have in our mission. So that's what we look forward to doing.
MW: What is the big difference this year?
RICHARDSON: This year as we're celebrating 15 years, so we're having a wonderful event at the City Museum on Thursday. And, because we always have people who want to go outdoors, on Monday we're having an outdoor picnic in conjunction with Daryl Wilson Promotions. We're giving people everything they've told me they wanted. I've taken it into great consideration. We've discussed it as a board and we've come up with a schedule where there's something for everyone.
MW: What's something you want to change for next year?
RICHARDSON: D.C. Black Pride has to be more than just Memorial Day Weekend. Since I took over as president in September, we've partnered with One In Ten to help with Reel Affirmations as one of the presenters with the African-American films they've screened. We've done a number of things and I think we have to do things throughout the year. It may be workshops throughout the year. It may be a black-tie affair. But I think we need to do things a little differently.
MW: When you talk about it being a year-round organization, what do you see as its mission? Where do you see yourself fitting into the broader structure of African-American GLBT organizations in the city?
RICHARDSON: I think our main mission is our HIV/AIDS platform. We want to build awareness, we want to eradicate HIV and AIDS. Our great and wonderful founders came up with this idea to raise funds for HIV/AIDS, but that was a few years ago and things have changed. I think we also want to deal with some of the other issues in the community. Lesbians are not as engaged in the whole HIV/AIDS scare to some degree and that's why there's a disconnect there. We need to start looking at other issues that affect them, be it breast cancer, be it substance abuse. We also have issues when it comes to education — I think we should have a scholarship fund. I think we should work with other organizations in the city to network with one another to build wonderful things and make this more than just "I'm proud to be black and gay every Memorial Day weekend."
This is a celebration of you — if you are a black man who is out, or in the closet, or however you identify yourself, this is a celebration of you. If you're a woman, if you're transgender, we want to celebrate you. That's a thing that's very special to me because D.C. Black Pride has empowered me. It's not about me — I'm just a small little part of this thing we call D.C. Black Pride. But I think if we live our lives in a certain way and we go out and reach out to each other, it helps the community as a whole, and not just the black community — it's across the board. It's for everyone.
MW: Weather played a role in moving the main event indoors. Is moving the location back to an outdoor venue something that comes up every year?
RICHARDSON: Yes, every year. That's one of the reasons we decided to do the picnic on Monday. And that's the element for people who want to go outside. There are some people who — no matter if it's raining — still want to go outside. We try to make everyone happy. The amazing thing is that even when it comes to the outdoor thing, this year we looked at doing something outdoors. We looked at several different venues rather than the convention center, but it was quite costly to do the Festival. We looked at other locations, but there's no outdoor location that's available. When you look at the permits and the zoning and all this other crazy stuff and you have to do the setup, we're spending about the same amount of money.
MW: What's the part you look forward to the most?
RICHARDSON: I have two things that are just wonderful. I'd have to say the convention center because that's my baby and I've worked with pretty much every aspect of it. It's a time where people come together, they're excited to see each other and it's hugs and kisses and shopping. It's just a nice, wonderful family day. And since that's kind of our closing event, that means for me that it's over and I can get my life back [laughs]. But equally as important as the convention center is the opening reception we do every year, because you see the people coming in and they're excited and looking forward to this new adventure. Some people have been here every year, for others it's their first year, but they look so intrigued, like "What's going to happen next?" To see that is a wonderful thing.
The Black Lesbian and Gay Pride Day festival will be held Sunday, May 29, at the Washington Convention Center, 801 Mt. Vernon Place NW. For a complete listing of official Black Pride Weekend events, workshops and festival activities, visit www.dcblackpride.org, or pick up a copy of the official 2005 D.C. Black Pride Guide, available at various locations around town and at the D.C. Black Pride Hospitality Suite in the Wyndham City Center (the event's host hotel), 1143 New Hampshire Ave. NW.