Just so we're clear, The Colorado Catechism is not a comedy. Yes, there are moments of humor, and yes, there are a few witty exchanges packed into Vincent J. Cardinal's two-character script, but by and large, a play featuring a couple of depressed alcoholics recovering at the Roger Goodman Drug and Alcohol Clinic in the aptly named town of Cripple Creek, Colorado is not a hefty barrel of laughs. Those expecting a "series of laugh-out-loud scenes " (as the promotional materials promise) will be sorely disappointed.
What The Colorado Catechism does offer by way of comedy is delivered through the dry, deadpan ardor of Deborah Kirby, whose sober Home Economics teacher from Indiana never misses an opportunity to toughen up her armadillo skin. "Do you think you'll ever get married again? " she is asked with earnest interest. Her reply: "I could, but why make a man that happy? "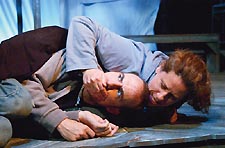 Dramatic codependency: Baldwin and Kirby
And so the recovery goes in Cardinal's sleepy, self-important play that ends the first season for Kirby's nascent Washington theater company.
Their mission statement reads, "Journeymen Theater is committed to reflecting the freedom of inspired faith in Christ by creating art that challenges individuals to consider the ramifications of personal choices and by providing a nurturing environment for theater artists. " Kirby, Journeymen's founding Artistic Director, and her ensemble chose Cardinal's bruising look at personal sabotage and the revelation in recovery to fulfill that mission, while recruiting Jeff Keenan, Artistic Director Emeritus of Actors' Theatre of Washington, to direct.
Although Catechism takes place in "the not-too-distant past, " Keenan's self-possessed production seems light years away from any sense of the harrowing reality of modern rehabilitation clinics and techno-savvy twelve step programs. Instead, Keenan allows his characters to bond at a tortoise's pace, two drugged and drunken heroes under treatment a few decades ago, as indicated by the music and sound design from Bryan Miller.
The Colorado Catechism
To May 21
Clark Street Playhouse
601 South Clark Street
Arlington, Va.
$20
202-669-7229
journeymentheater.org

It all plays out over the course of two hours on an oversized gazebo designed by Ryann D. Lee. Her large wooden beams extend out like empty arms, just as lonely as the two tragic figures treading upon them. This is the home of group sessions, coin ceremonies, and confrontational therapy, where life is governed by bells and fellow addicts "talking the program. " It is here Ty Wain, an "ambisexual " New York painter, arrives — already blasted from bottles of liquor downed on the flight in — and meets Donna (Kirby), a compulsive liar battling for custody of her only son. The two sad souls must learn how to cope with their somber realities instead of drinking to numb their emotions.
Kirby's realistic performance blends her natural instincts with heavily controlled temperament, and the result is a restrained woman weary from heartache and disappointment. She is joined by Cecil Baldwin's Ty, an emotionally disjointed portrait of a manic alcoholic. Baldwin is energized by interplay with Kirby, but whenever his solo delivery is rendered serious, the performance is flat and colorless.
Keenan's deliberate pacing moves Catechism towards its didactic resolution with an elegance that nearly transcends his material. It's not the most exciting or groundbreaking piece of theater, but his unpretentious study of two patchwork people bonding over their struggle to survive is a tender glimpse into the nature of co-dependency and addiction.