No two pop bands sound exactly the same of course, but all pop music is derivative. So every new or unknown band must face the inevitable: the sounds-sort-of-like comparison to those that came before it.
A band can try to preempt any comparison it disfavors by citing its influences, if not suggest its own comparisons. In his band Ringside's biography, Scott Thomas identifies the usual suspects in describing those who've influenced his partnership with Balthazar Getty: U2, Bob Dylan, Depeche Mode, and of course The Beatles and The Rolling Stones. Traces of all those artists can be heard on Ringside's self-titled debut. But Thomas ignored, perhaps intentionally, a more immediate predecessor: Maroon5.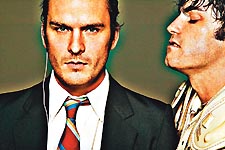 Ready for Radio: Ringside
Thomas, the band's singer, has a voice and a vocal style similar to Maroon5's Adam Levine — a slightly wounded tenor pleading for help in fanciful expressions that often turn a shade too whiny. The band's first single, "Tired of Being Sorry," is a catchy song with a nice lilting Latin flavor and an especially touching refrain. Thomas sings in just the melancholic style you'd expect from the title. But while it's a creative realization, the crying chorus grows a bit tiring the more you listen to it.
Thomas is more effective when he cries the lyrics to "Criminal," a beautifully haunting ballad about his insecurities. "I'm frustrated, and I try to medicate it/But nothing's as strong, as the damage I've done/Why does everybody run away?" Thomas pleads, singing over a gentle piano melody.
Like Maroon5, Ringside's soaring pop music is primed and ready for radio, especially adult-contemporary radio. Ringside features fewer ballads than Maroon5, but when it rocks, it rocks softer. It's as influenced by Motown (and R&B in general) as rock: Thomas and Getty have a passion for funky bass lines, sparkly instrumentation and intriguing mid-tempo syncopation. "Cold On Me" sounds like a song built for Smokey Robinson, with a sweet, sauntering mood shaded by harmonizing horns and — of course — aching lyrics, sung with forlorn hope. ""Don't go cold on me/Got to know how you feel," Thomas sings, as the horns second that emotion.
Athlete isn't a new band, but it is a largely unknown British quartet. It failed to make much of a splash with its debut, Vehicles & Animals, released stateside just one year ago. So on its follow-up, Tourist, Athlete decided to retool its sound, shaping it to sound-sort-of-like today's reigning Britpop band, Coldplay. Only it intended to one-up Coldplay: Athlete set out to make a lush, anthemic soundscape that accentuates quirkiness, not heavy-handedness, from the lyrics on down.
So far, so great: Athlete's debut was largely flat, with few memorable choruses and even fewer stirring melodies. The Coldplay model could do nothing but help. Unless Coldplay were to get in the way, that is. And guess what? Coldplay's third album, X&Y, drops early next month. As one of this year's most anticipated releases, X&Y should prove to be a juggernaut, and one that will likely cast a long shadow over Tourist. With that album having just been released, Athlete only has a few weeks, at most, to make a singular impression.
Here's hoping the band can pull it off. And any fan of Coldplay — as well as Keane and even Death Cab for Cutie — should take notice. With Tourist, Athlete has built grand, languid melodies to frame its quirky indie-pop sensibility, which still shines through in the music as well as in clever lyrics and slightly slack pronunciation from lead vocalist Joel Pott.
Every Athlete song here features rough patches, especially in the verses, and the more you pay attention, the more you begin to think that's intentional, part of its playful nature. It's also, of course, an effective way to draw attention to each song's exceptional chorus. The choruses are amazing. The best chorus, and Athlete's best song, is "24 Hours," which focuses on the last day before an unwelcome departure. "Now I'm standing clear/Cause all I waited for is, closing in/We've still got twenty four hours," Pott sings, trying to accentuate the positive while beautiful strings swell and ache and cry all around him.
"If I Found Out," Athlete's quirkiest song, starts off as a tender yet pointless pop song without any soul. But halfway through a gospel choir and sharp lyrics transform it into a great and soulful song.