Spring is barely in the air these days when the summer movie maelstrom begins to peek over the horizon. In some ways that's not a bad thing — we'll admit we've been looking forward to Episode III as much as the geekiest gay geek that ever geeked. But that's a bright spot on a season that looks, well, let's say muted. Is anyone actually looking forward to Mr. and Mrs. Smith, other than Jennifer Aniston's divorce lawyer? Will the world be a better place with Bewitched in the cineplex? Was it really necessary to dig Herbie out of his junkyard grave?
Studio honchos are praying some heavy-hitting directors, renovated popular TV properties, and a handful of superheroes will bring in the monster bucks. In other words, it's a summer of tight costumes, big-screen sitcoms and misguided remakes.
One out of three ain't bad. Bring on the men (and women) in tights!
STAR WARS EPISODE III: REVENGE OF THE SITH — Really now, what more needs to be said about the final Star Wars other than this: a long time ago (1977) in a universe far, far away (Hollywood), George Lucas combined the force of myth with the force of popular culture to create a phenomenon that would forever define his destiny. The saga comes to a conclusion this weekend, leaving the faithful with nothing to look forward to — unless Lucas breaks his secret Jedi oath and puts Episodes 7, 8 and 9 into development. Gay content? Director George Lucas gets the same level of wooden performance from his actors as director Chi Chi LaRue gets from hers. (May 19)
THE LONGEST YARD — An update of the 1974 Burt Reynolds hit in which prison inmates form a football team to face off against the prison's guards. Adam Sandler takes the Reynolds spot (all together now — OY VEI!) and Reynolds himself appears as the team's grizzled coach. Gay content? Depends on where you think prison rape jokes fall on the Kinsey scale. (May 27)
MADAGASCAR — Whimsical computer-generated animals flee from the Central Park Zoo and make their way back to the wilds of Africa, where they find life somewhat more challenging. Dreamworks wants another Shrek, but it looks like they're getting another Shark Tale. Featuring the voices of Ben Stiller, Chris Rock and Jada Pinkett Smith. Gay content? Can anyone make an animated kiddie film without a bit of wink-wink, nudge-nudge these days? We didn't think so. (May 27)
CINDERELLA MAN — In 1935, Depression-era fighter Jim Braddock defeated heavyweight champion Max Baer. This is his story as told by Ron Howard, who appears to excel (read: win Oscars) at biographical folk-hero tales. Starring Russell Crowe as Braddock and Rene Zellweger as his wife, Mae. Gay content? "Sala-gadoola-menchicka-boo-la,
Bibbidi-bobbidi-boo!" Oh. Never mind. (June 3)
THE LORDS OF DOGTOWN — In the '70s, a new sport was born in Venice, California — extreme skateboarding. Directed by Catherine Hardwicke (Thirteen), Lords chronicles the ascent of three of its early stars: Jay Adams, Stacy Peralta and Tony Alva. Starring the immensely gifted Emile Hirsch (Imaginary Heroes) as Adams and Victor Rasuk (Raising Victor Vargas) as Alva. Watch for cameos by super-skateboarder Tony Hawk (as an astronaut) and the real Alva (as "Oregon Man at party"). Gay content? If there is, we're not sure we want to know about it. (June 3)
MR. AND MRS. SMITH — The movie that will always be remembered as the beginning of the end for Hollywood's prettiest couple, Brad Pitt and Jennifer Aniston. Angelina, you tramp! Pitt and alleged paramour Jolie star as a married couple who lead double lives as assassins — and who have been separately hired to kill one another. Director Doug Liman did Swingers, so it may be interesting, even with the obvious plot lift from Prizzi's Honor. Gay content? Slightly crazy and prettier than Pitt, Jolie is always queerly compelling. (June 10)
THE ADVENTURES OF SHARK BOY AND LAVA GIRL IN 3D — If you were Robert Rodriguez, how would you follow a bloodbath like Sin City? With a kid's film, 'natch. Gay content? About as likely as the F-word. (June 10)
THE HONEYMOONERS — Cedric the Entertainer stars as Ralph Kramden in this big screen overhaul of the Jackie Gleason classic. Reportedly there will be no threats of sending Alice (Gabrielle Union) "to the moon." We'll see if the formula holds up without domestic violence punchlines (ba-da-bump!). No domestic violence comedy? With Mike Epps as Ed Norton. Gay content? Unless Ralph and Ed are hiding a very big secret, unlikely. (June 10)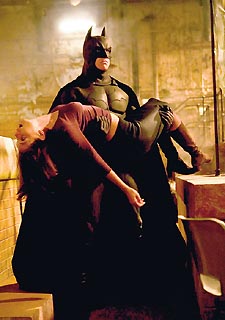 BATMAN BEGINS — Exactly how many times can you revive a (dead) superhero franchise? Obviously, as many times as you think it will make a killing at the box office. Still, 1995's nipple-riffic Batman Forever left many hoping for a mercy killing of the franchise. However — and this is not just false hope, here — it seems things are back on track with the hiring of a truly original, inventive director (Christopher Nolan, the man behind Memento) and the strikingly handsome Christian Bale in the title role. As for the villains? Well, you may have never heard of The Scarecrow, but our guess is Cillian Murphy will make the psychosis-inducing madman unforgettable. The A-list cast includes Gary Oldman, Ken Watanabe and Michael Caine as — you guessed it — Alfred. Gay content? After Joel Shumaker's two gay-taculars, perhaps it's time the series dialed it back a bit. But Christian Bale is the man who made naked chain-sawing sexy, and promises a better gay sensibility than nipple suits. (June 17)
LAND OF THE DEAD — George A. Romero, granddaddy of the undead genre, returns to the zombie well for one more big gulp of gore with the best cast he's ever gotten to work with. Gay content? We demand gay zombies! Gay zombies now! No, the Queer Eye guys don't count. (June 24)
BEWITCHED — Will Ferrell plays a TV actor set to reprise the role of Darrin Stevens in a new version of Bewitched. Little does he know, the woman hired to play Samantha (Nicole Kidman) is an actual nose-twitching witch. You can't get more high concept than that. Um, but is that the whiff of disaster in the air? With Shirley MacLaine as Endora. Written and directed by Nora Ephron. Gay content? It all comes down to Uncle Arthur. (June 24)
HERBIE: FULLY LOADED — The Love Bug refuels with a reportedly fully-loaded Lindsay Lohan (Did we say that? Yes, we did!) and an underworked Matt Dillon. Gay content? Rumors of a lesbian subplot sound like a bigger fantasy than Episode III. (June 24)
NIGHTWATCH — This first installment of a Russian horror trilogy tosses Highlander, Queen of the Damned, The Matrix, The Sixth Sense and God only knows what else into the cinematic blender and hits puree. Watching the trailer, we're not sure exactly what it's about but we know we wanna see it. Gay content? Depends if the vampires are Anne Rice sexy or Stephen King creepy. (June 29)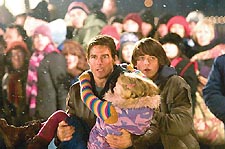 WAR OF THE WORLDS — What better path to world peace than battling interstellar terrorists. In this case, Martians — Martians who have a thing for blowing things up. Okay, yes, Independence Day already staked out this territory, but this remake of the H.G. Wells classic has a master in charge: Steven Spielberg, eschewing his traditional cuddly approach toward aliens (Close Encounters) for a less hospitable force. Of course, it will be a major problem if the alien invaders are placated by an offering of Reese's Pieces. Gay content? An alien invasion certainly sounds more convincing than the Katie Holmes romance. (July 1)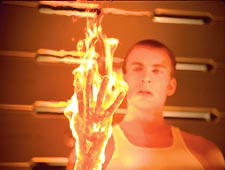 FANTASTIC FOUR — When it comes to superheroes, Hollywood seems to never quite quench its thirst — or, presumably, the public's. This Marvel quartet remains legendary in the comic book world, but coming so closely on the heels of the fabulous The Incredibles, which pilfered liberally from Four lore, there are worries that audiences may be a little oversaturated. Judging from the previews, the movie looks like it's going to be one of those pleasures that's a little guilty (because it's probably entirely substance-free) and a hundred tons of fun. We're ready for some fantastic entertainment. It's clobberin' time! Gay content? Julian McMahon is the most metro of sexuals on TV's Nip/Tuck — maybe there will be some carryover to his Dr. Doom. (July 8)
DARK WATER — Jennifer Connelly rents an apartment with a a nasty leak. Could be creepy…if you're creeped-out by faulty plumbing. If it's half as good as the cast — John C. Reilly, Pete Postlethwaite — then it's halfway there. Gay content? No dice. (July 8)
CHARLIE AND THE CHOCOLATE FACTORY — Tim Burton. Johnny Depp. Roald Dahl. Can you say super combo? With Depp taking on the role of eccentric confectioner Willy Wonka and Burton at the directorial helm, veering away from the sappy musical approach of 1971's Willy Wonka, this should be a wild, psychedelic ride through a land of jellybean forests and milk chocolate rivers. Reportedly, Burton remains faithful to the darker aspects of Dahl's source material. Expect movie concession sales to hit an all-time high — especially Nestle's Willy Wonka brand. Buy stock now. Failing that, buy an Everlasting Gobstopper. Gay content? If you're straight now, this movie will make you gay. (July 15)
THE ISLAND — Ewan McGregor discovers he's a "harvested being," whatever that means, and tries to escape from the utopic facility in which he's kept. It's Coma meets The Matrix meets Lost! The Michael Bay-directed film should get an automatic boost from McGregor's involvement in Star Wars, but the rest of the cast seems equally promising: Steve Buscemi, Sean Bean, Scarlett Johansen and Djimon Hounsou. Gay content? Nothing intentional, but Bay's fascination with über-masculinity always delivers loads of unintentional howlers. (July 22)
BAD NEWS BEARS — Billy Bob Thorton takes on the Walter Matthau role, as a hard-drinking, foul-tempered, little league coach. Too bad the filmmakers didn't digitally reproduce a young Tatum O'Neal to reprise her role from the 1976 hit. Gay content? Without a tomboyish Tatum, not so much. (July 22)
THE BROTHERS GRIMM — Who better than former Monty Python Terry Gilliam to bring the story of the fairy tale-spinning brothers to life? Gilliam's movies are often worlds of their own — spectacular blends of the fantastic and the wildly absurd, and Grimm should be no exception. Matt Damon and Heath Ledger play the brothers, and the stellar cast includes Jonathan Pryce, Peter Stormare and Lena Headey. Gay content? It's a fairy tale, not a FAIRY tale, people. (July 29)
THE PINK PANTHER — If the previews are any indication, this "prequel" to the Peter Sellers/Blake Edwards classic could be a monster embarrassment for Steve Martin, who takes on the role of bumbling Inspector Clouseau. Gone is Clouseau's sparring partner, the politically incorrect Cato, replaced by a sneering Frenchman portrayed by master-sneerer Jean Reno. Expect pratfalls. Expect malapropisms. Expect to lower your expectations. Gay content? From what we've seen so far, we certainly hope not. (August 5)
DUKES OF HAZZARD — More refabricated TV to fill the dog days of August. Johnny Knoxville and Seann William Scott star as Bo and Luke, with Jessica Simpson as Daisy, Burt Reynolds as Boss Hogg and the General Lee as some sort of flying supercar. It's doubtful it made any sense to the people who made it, either. Gay content? We repeat: From what we've seen so far, we certainly hope not. (August 5)
DEUCE BIGALOW: EUROPEAN GIGOLO — Rob Schneider has a sequel in theaters, so it must be August. It does call into the question the existence of a merciful and just God, does it not? Gay content? While we may hope against hope for no gay jokes, there's certain to be something for the 42 people who see it. (August 12)
THE CAVE — Divers become trapped in an underground labyrinth with a pack of vicious alien-like creatures. What a way to end the summer — with a subterranean thriller that's likely to be sub-par. Gay content? Lots of beefcake to feed the beasties — Lost's Daniel Dae Kim deserves much better — but nothing that can't wait for the DVD release. (August 26)