How do you calculate the tenor X-factor? Let's take Salvatore Licitra. We saw him already this season in the title role of Andrea Chenier, where the excitement of his performance spurred the audience into fits of unscripted applause. Now he returns as Cavaradossi, the male lead in Puccini's tragic-lurid tale of love and betrayal and, once again, he brings down the house.
Is his voice the X-factor? It certainly must start there. Licitra has the extraordinary ability to deliver the kind of soaring, masculine song that simultaneously expresses a capacity for emotion, virtue and (dare I say it) sexual competence. It doesn't matter that his voice is not infallible — that in itself is somehow part of his appeal. In those rare moments when a bit of strain creeps in, he is working with such honesty it turns the singing itself into an act of valor. He has a winning demeanor — not to be confused with a winner's demeanor.
And then there are those moments when he hits the notes like balls out of the park.
It also doesn't hurt that, like all star tenors, he has a bit of Captain Kirk in him — the ability to look beseechingly and convincingly into the upper tiers as if seeking the answers to life's most profound questions. Yet Licitra carefully uses his space on stage. He pulls the eye with subtle, not expansive, movements. And nothing quite beats a guy with enough chutzpah to perform a mean (and almost hilarious) somersault during a struggle with some guards.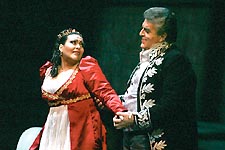 Music to our ears: Salazar and Pons
(Photo by Karin Cooper)
That's all pretty impressive, but there remains that tiny bit of je ne sais quoi. In this case, it may be the chemistry generated by his pairing with the fabulous X-factor soprano Ines Salazar as Tosca.
Salazar, in contrast to many of her contemporaries, has a slightly thicker, more velvety voice which simply pours into the air. In the higher registers, the tone is pure magic, a caress to the ear and soul. She is also a refreshingly reserved, under-stated actor, capable of suggesting the presence of an inner dialogue and, therefore, a greater dimension. She is well-matched with Licitra in theatrical temperament, which raises another point about this production. Care has been taken to portray the genuine affection between Tosca and her ill-fated lover Cavaradossi. The canoodling is tender and connected. Someone, be it the actors or director Frank Corsaro, bothered to cultivate this essential aspect, an all-too-rare detail.
Tosca
Presented by The Washington National Opera
May 13, 16, 19, 22, 25, 28, and 31
Kennedy Center
Opera House
202-295-2400
www.dc-opera.org

So there are two superb and quickly rising stars to catch here, but there is also a powerful pair behind them providing them the perfect domain in which to perform. Conductor Leonard Slatkin graces the Opera House for this Tosca and it is as if he adjusted every dial on the orchestra's panel. The volume is louder, the playing fuller and crisper in its excitement. The strings were especially finely played on opening night — Slatkin challenges them and they rise to the occasion. For his part, director Corsaro makes the wise choice of keeping everything about this production simple, smooth and traditional. Knowing he has the elements of excellence on hand, he simply clears the way for them. Still, there is more to it than that. He gives the production its cohesiveness, keeps the players tight, and creates their spaces. His staging of the Te Deum scene, like the rest of this opera, was extremely powerful in its understatement.
A fine performance was also given by Spanish baritone Juan Pons, as the diabolical Baron Scarpia. He brings the Baron an appropriate relish, singing strongly and consistently through this demanding role.
With the season nearly at an end, now is the time to take pleasure in one of the most vocally stunning productions to date. It's just the ticket to carry you through the long summer off-season.