Thirty years ago, Deep Throat was a national mystery, gays and lesbians were a marginalized community under attack, and gay pride was a new idea to promote equality.
Today, Deep Throat has been revealed, gays and lesbians are a prominent community under attack, and gay pride has ensconced itself right on the Capitol's doorstep.
It's been a long journey over three decades, marked with both successes and setbacks.
Since 1999, the man at the helm of Capital Pride has been Robert York. From his position at Whitman-Walker Clinic, where he also heads up the AIDS Walk fundraiser, he's overseen the continued growth of the event that started as a small street fair of 2,000 people in Dupont and ended up a massive festival of more than 150,000 people on Pennsylvania Avenue. And as Capital Pride celebrates its 30th anniversary, he sees a chance for the community to keep moving forward.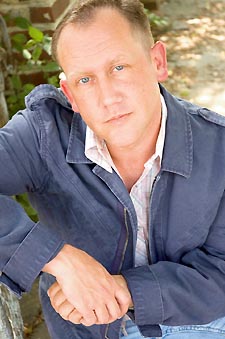 York
"I definitely think Pride is significant," he says. "Not only because we're located within a few blocks of the White House, but in terms of the political climate we continue to live in. We're still fighting for our rights on so many levels.
"One thing I think we sometimes forget, those of us who've been around for years doing things, is that there are people who are coming to Pride for the very first time and looking for ways to identify and come to acceptance. I think Pride will always remain important to the community on that level."
That perspective is reflected in this year's Capital Pride theme, "Honor Our Past, Fight for Our Future."
"It's about not forgetting where we started, or where we're still headed," he says. As part of that, Capital Pride will honor all the past Pride Heroes this year at a reception on June 9. "This is a wide range of people who have developed and defined the community and gay rights, and made it possible for us to celebrate 30 years."
One of the major changes to the weekend's festivities under York's tenure has been spinning off the Pride parade as a separate Saturday event, leaving Sunday for the street festival. "You can enjoy it, then rest and recharge for the next day."
The parade will change once more this year, as the route has expanded to include the growing gay business community on 14th Street and Logan Circle.
"The community is expanding and growing, and we're trying to do our best to keep the community connected through the parade and the entire celebration," says York.
Another way the event is community-based is its reliance on more than 200 volunteers.
"This event wouldn't happen without them," York says. "They work as hard as anyone to make sure this thing happens. The investment they've made is just unbelievable."
In addition to the 30 or so people who form the committee overseeing Capital Pride, the volunteers make almost every event — from the parade to the festival to all the affiliate events — possible.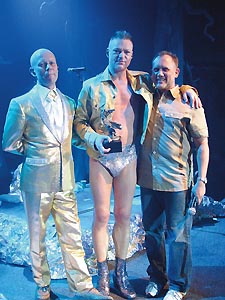 York presents the Capital Pride Director's Award for Lifetime Achievement to Erasure's Vince Clarke left) and Andy Bell (middle) at the duo's 9:30 Club concert, Tuesday, June 7
"It's the volunteers who have made [Capital Pride] more of a success every year," he says.
Asked what keeps him coming back to Pride year after year, York laughs: "Insanity." But then he quickly gets serious.
"It's really about being able to work with so many great people and organizations in the community, and the volunteers. That's what keeps me going. When I see people enjoying themselves, and I know that Capital Pride gives them the opportunity to connect with each other, it's an amazing thing to witness.
"I'm grateful for the opportunity. I'm humbled by the fact that I'm still able to do it."
York says he hopes anyone thinking of giving Pride a pass this year will reconsider.
"I think there's going to be a lot of excitement around the 30th anniversary. I think people [in the community] are really trying to pull out the stops."
But it's not just the entertainment and the celebration that he wants the community to come out for.
"When we're within steps of the White House, it's important for us to all be out in the open and seen and heard. We're still not where we need to be as a community. We have to continue to let people know that we need to be treated equally."
The Capital Pride Parade steps off at 6:30 p.m. on Saturday, June 11, at 23rd and P streets, NW. The Capital Pride Street Festival runs from 11 a.m. to 7:30 p.m. on Sunday, June 12. See the Parade Route and Festival Site maps, reproduced from this year's Capital Pride Guide, on pages 40-41. For more information about the Captial Pride events, pick up the official Capital Pride Guide, available wherever you find Metro Weekly, or visit www.capitalpride.org.