"I've always loved porno," purrs Chi Chi LaRue in a seductive cigarette meets gravel voice. "It started with straight porno, but I soon realized that my true calling was gay X-rated. So I moved to Los Angeles and got a job at a video company where I started pushing my big drag persona on everybody."
The pushing worked.
Nearly seventeen years later, the 45-year-old is one of the gay adult industry's most successful and critically acclaimed directors, with such adult classics as Hologram, White Heat, My Brother's Best Friend and Striptease, shot on location in Washington six years ago at Wet Nightclub. A few years ago, LaRue created her own production company — Channel 1 Releasing — and she's been steadily creating product for it.
"I take these movies very seriously," says LaRue, who, contrary to popular myth, does not direct in drag. "It's hard work for me and for the people who work for me. I feel it's my job to protect people. That's why I don't shoot barebacking and [other unsafe sexual practices]."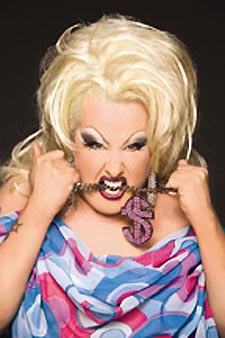 Chi Chi Larue
LaRue finds the rise of unsafe sex practices in certain gay videos disheartening. "It sends a bad message to the people that watch it," she says. "If they see people in the movies do it, then they think they can do it.
"I don't want to preach and tell people not to bareback," she continues. "People can do what they want. So that's why in my movies, I educate by showing how hot and how nasty and how fun safe sex can be."
LaRue says she occasionally misses the days when porn was shown in dingy, grimy theaters. "Part of me is a little nostalgic for that. I think that's kind of hot." But, she concedes with a sigh, "you have to change with the times."
One of those changes is director's commentary on porn DVDs, an idea that seems more than a little surreal.
"Sometimes I feel that maybe we're letting people in a little too much, that maybe we're ruining the fantasy a little bit."
LaRue is scheduled to ride in Saturday's Capital Pride Parade, flanked by two of her stars, local boy Tag Adams and Colton Ford, and will perform at Sunday's festival. She promises we'll be treated to "some dirty songs with some dirty, funny lyrics."
Prudes beware.
What's on your nightstand?
Pictures of my friends.
What's in your nightstand drawer?
Old cell phones, sunglasses, and change.
What's in your DVD player?
A Robbie Williams DVD for the song Radio.
What are your television favorites?
Lost, CSI and America's Next Top Model.
What was the last movie you went to?
Star Wars Episode III. I went solely as a favor to a friend.
What was your favorite cartoon when you were a kid?
Scooby Doo.
If you could be any superhero, who would you choose?
Catwoman, she's fierce. And I'm talking Julie Newmar Catwoman, not Halle Berry.
Who's your greatest influence?
My mom. She accepts me for everything I am and that I do.
What's your greatest fear?
That we'll have a Republican administration forever.
Who gets on your nerves?
People with closed minds who can't understand or accept something a little different.
Pick three people, living or dead, who you think would make the most fascinating dinner guests imaginable.
Paris Hilton, Janis Joplin and Elizabeth Taylor.
What would you serve?
My mother's famous Ball Soup — tomato sauce, pasta, and chicken broth with a piece of French bread in the bottom of the bowl. It's delicious.
Favorite retail store.
Ooooh. Anything retail. I'm a shopaholic.
Describe your dream guy.
Someone nice and who can accept me for everything that I am, which would be very hard to find, so it really is just a dream.
What's the most unusual place you've ever had sex?
I've done it in bars, restaurants and places all across the world, so nothing's really unusual to me.
Favorite musical group?
My all-time favorites are Joan Jett, Elton John, Cher and KISS.
What's your favorite website?
My own: liveandraw.com
Who should star in a movie about your life?
A while ago I would have said John Candy. But since he's dead, I would say Jorge Garcia, the big guy on Lost.
First celebrity crush?
David Cassidy.
What's your dream job?
Directing music videos.
What's your biggest turn-on?
A nice person.
What's your biggest turn-off?
Someone who looks nice but isn't.
What's something you've always wanted to do but haven't yet tried?
Skydiving, but I'll probably never do it.
What's something you've tried that you never want to do again?
Rollerskating. I fell and sprained my arm first time I tried.
What position do you play in the big baseball game of life?
Coach.
What's the most you'll spend on a wig?
In the range of $500.
On a pair of shoes?
Well, I just bought a pair of tennis shoes for $700.
What's your favorite season?
Winter — I love cold, I love the snow.
What's your favorite food to splurge with?
Pepperoni and green olive deep dish pizza.
What would you change about history?
The election of George W. Bush.
If you could go back in time to change one event in your life, what would that be?
I would have started dieting a long time ago and not been fat all my life.
What kind of animal would you be?
A cat, because they can be around without people knowing.
What kind of plant would you be?
A pot plant, because everybody would love me.
What kind of car would you be?
A great big tank so I could go anywhere I want.
What are you most grateful for?
That people have embraced me as this big drag queen who directs hot men having sex.
State your life philosophy in ten words or less.
Be nice to everybody no matter what. Say hi to everybody. Be as sweet as possible. And enjoy life.
And finally, what gives you Gay Pride?
What gives me pride is that I'm as out there as you can be. I'm a big fat gay neon sign for gay people. I love it and I'm proud of it and everyone who's gay should embrace it and love themselves no matter what.
Chi Chi LaRue will appear with Tag Adams and Colton Ford at the Capital Parade on Saturday evening, June 11 and on the Mainstage at the Capital Pride Festival on June 12.