When Wanda Alston was fatally stabbed in March by a neighbor in a crack-induced stupor, Washington lost a woman who was arguably the most powerful lesbian in the nation's capital.
It's impossible for me to describe the impact of Wanda's loss on the community. The loss feels catastrophic. As the head of Mayor's Office on Lesbian, Gay, Bisexual and Transgender Affairs, she was poised to take herself — and our community — far.
We don't know what heights she could have been reached. Would Wanda's offensive strategies have repelled the next assault from the Religious Right? Would she have agreed with the Mayor Anthony Williams's decision not to fight the recent congressional edict that denies gay couples the right to file taxes jointly? Would she have successfully harnessed the full power of the gay vote for the mayor if he ran for re-election? We'll never know.
But we do know that Wanda Alston was a woman on fire, a force to be reckoned with, the kind of warrior you wanted on your team.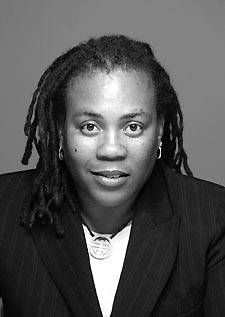 Wanda Alston
Photo courtesy of D.C. Government
Escaping a male-dominated family, a small-town mentality of homophobia, the cycle of drugs and alcohol, and the all-too-familiar self-loathing, Wanda dusted herself off, came out and got to work. Despite the fact that as a child little was expected of her, Wanda demanded much of herself.
It is no coincidence that she cut her teeth at the National Organization for Women (NOW), a group that specifically embraces and empowers women. There she had a meteoric rise from an unpaid volunteer to a trusted special assistant to then-President Patricia Ireland.
Never one to rest on her laurels, Wanda remained steadfast in improving every facet of her life. She got her Master's degree, regularly attended sobriety meetings, supported her mother, and found her true love — all while working in the pressure cooker of a high maintenance job in the Office of the Mayor. Collaborating, acquiescing, bridge building and defying the odds were all in a day's work.
Wanda's sense of focus let her see through the bullshit, cut to the chase and get the work done. Wanda did not take the path of least resistance. While she did not invite conflict, she would never shy away from a good fight. Wanda believed in the path of least time — a path that so tragically proved true. She lived her life fearlessly with a fire in her belly, a force that propelled her at full speed at all times. While others in the mayor's cabinet were kissing his ass, Wanda was cajoling, chastising, pushing him uphill to do more for her community. And she did it without apology.
Against the greatest of odds, she went from underdog to guard dog for the entire D.C. lesbian, gay, bisexual and transgender community. Don't get me wrong: Wanda was no saint, so don't make the mistake of canonizing her. But Wanda left behind some mighty big shoes to fill.
So what is the impact of the loss? Immeasurable.
Remember the good old days during the Clinton administration when the LGBT community had unprecedented and unfettered access to the White House? We had friends in high places. The community was invited to White House events early and often. After years of feeling like second-class citizens, we finally had a seat at the grown-ups table. That was the feeling, the access we all had to Mayor Williams during the "Alston administration." Now we face uncertainty, even if only temporarily.
Without statehood, D.C. is at the mercy of a hostile and homophobic Congress. So the stakes are high and our rights are eroding as we speak. We can't afford to lose a foot soldier, much less one of our most connected leaders.
Without Wanda, the lesbian community lost an influential sheroe.
Without Wanda, the African American LGBT community lost their unprecedented access to the Mayor.
Without Wanda, Mayor Williams lost his most vocal moral compass.
Without Wanda, the entire LGBT community could potentially lose what minimal rights it has now, as well as its direction, focus and ability to move forward in the struggle for equality.
But it's not all gloom and doom. Some positive energies and efforts have been created in the wake of Wanda's death. A new scholarship especially designated for an LGBT student has been created in her honor at Southeastern University. The Wanda's Will Project, a new initiative that educates the LGBT community on the need to execute wills and advanced directives has been created in her name. There has even been some talk of naming D.C.'s upcoming Community Center after her. Most importantly, Wanda's death has miraculously brought a fractious, segregated community together in shock, in grief, and hopefully soon in action.
So, the question is not really what's the impact. The real questions are how do we fill those big shoes and get back in the trenches?
And what part will you play?
An outspoken activist and advocate for the LGBT community, Sheila Alexander-Reid has launched four distinct businesses under the brand "Women in the Life." They include a magazine, an events management company, a web portal and a non-profit association, all primarily targeting the lesbian of color community. Her Women in the Life Association is spearheading the Wanda's Will Project to benefit and empower the entire LGBT community.
This article was originally published in the Official Guide to D.C. Black Pride 2005.