Today's pop music industry prefers its women doe-eyed and bird-brained. Pin-up pretty but deep-down dumb.
But not every woman plays along.
"I'm not the dumb kind of girl," says Amber, the 34-year-old singer who was born Marie Claire Cremers. And neither, for that matter, are the other two leading straight ladies at this year's Capital Pride — Deborah Cox and Frenchie Davis.
Both Amber and Cox became popular in gay circles through dance music — Amber as a dance artist and Cox as an R&B singer with crossover success through dance remixes. Davis is popular through today's pop music juggernaut, American Idol — more precisely, by being unceremoniously cast off of it.
All have outsized reputations to match their outsized voices. And yet, all come across as humble and thoughtful, giving a good name to the overused and undernourished diva label. All also have gladly signed on, repeatedly, to entertain and raise awareness for gay and lesbian rights.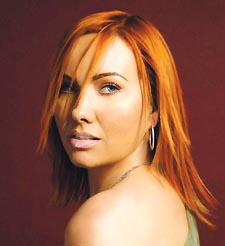 Amber
"Hello, I'm like the queen of the Prides," Amber says with a laugh. This year marks her first year at Capital Pride. "I have a huge gay fan base. Don't ask why, I wouldn't know. But it just has happened to have grown throughout many, many years."
Amber's string of hits began nine years ago with "This Is Your Night." She felt constricted by her previous label Tommy Boy and the 'dance diva' ticket they tagged her with. So last year she set up her own label, on which she released My Kind of World. "It mixes things up," she says of the album. "I don't really think that it has a very upbeat [dance] feel. It has pop and rock vibes, it has a little oriental vibe in there. It's a mixture of everything.
"It's more of an insightful album, because the songs are a reality of what I've lived through," she concludes, referring to a very bad divorce that she calls "the biggest disappointment" of her life.
Her biggest hit was 1999's "Sexual (Li Da Di)." That provocative track — centered around lyrics such as "Don't make this one dimensional, the way I feel is sexual" — was her way of stirring the pop culture pot. Yes, women want sex, too, she suggested. And saying so a slut does not make.
"That was the start for me to write dance music that had some essence to it," she says. "It's just really nice to see that people have an extreme reaction to that song still."
But because of the song's meaning many expected her to flaunt her sexuality — they expected her to be slutty. No go.
"I don't go out there with bikinis and shake my thing," says Amber. "I'm just not that kind of person."
Neither is Frenchelle "Frenchie" Davis, even if she is unexpectedly famous, for posing in revealing lingerie for an adult porn site many years ago. A clear favorite to win the second season of American Idol, Davis was booted without a trace by the show's producers after she made it to the final rounds, a result of the lingering lingerie photos.
But that wasn't about to stop her. Since then Davis, 26, has appeared in several touring productions of Dreamgirls and on Broadway in Rent, where the producers have repeatedly asked her back. Besides Rent, the Howard University theater alum also currently performs a weekly cabaret act at a Chelsea gay club.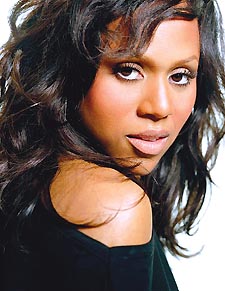 Deborah Cox
Just last year Cox became a Broadway sensation as well through her starring turn in the Elton John-Tim Rice musical Aida. The show was extended for several months before it closed last fall. From Aida came one of last year's biggest dance hits, a remix of the showstopper "Easy As Life."
The 30-year-old Toronto-native is reportedly finishing work on her next studio album. (Cox was unavailable to comment for this article.) Although an R&B singer first and foremost, Cox is one of contemporary dance music's biggest divas, consistently hitting with dramatic remixes of her songs, from the early "Who Do U Love" to the huge "Nobody's Supposed to Be Here" to the sassy "Absolutely Not."
She told New York's HX magazine in 2002: "With gay audiences it's about unconditional love. When I haven't had hits, the community has supported me with the remixes."
So, in a manner of speaking, she'll return the favor at Capital Pride. As will Amber. As will Davis, who in a way speaks for all three about the importance of the gay audience.
"Gay men were my biggest supporters from the beginning, even before I was on American Idol. They were my first fans. And they were the first people to push me to try to make this a career," she says, referring to her Howard University theater professors. With her parents 3,000 miles away in Los Angeles, her Howard professors took her under their wings when she was an undergraduate.
"They played a significant part in my life as surrogate parents to me. I'll never forget that love and support."
Amber, Deborah Cox and Frenchie Davis are all scheduled to appear on the Mainstage at the Capital Pride Festival on Sunday, June 12.