Once upon a time — roughly 150 years ago — there were "Advantages of Floating in the Middle of the Sea," as Stephen Sondheim's opening number outlines in Pacific Overtures, a musical briefcase packed full of ruminations on the crude Westernization of Japan. "Kings are burning somewhere/Wheels are turning somewhere/Trains are being run/Wars are being won/Things are being done/Somewhere out there, not here," sing the citizens of Nippon, in blissful isolation from a world wrought with violence and struggle.
It wasn't until 1853 when Commodore Matthew Perry demanded to set foot on the Floating Kingdom that the East was subjected to peculiar traditions and Western "civilization" influenced a society that had independently managed to preserve its own customs for thousands of years. With the advent of guns and other mechanical weaponry, even the most inspired attempts to maintain this law of the land were woefully unsuccessful. It didn't take long before the island of Japan transformed from a peaceful society of pristine culture to a bustling metropolis determined to defeat global competition.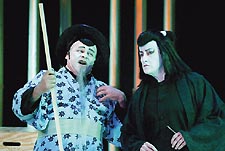 Kabuki fever: Harry Winter with Migliaccio
(Photo by Carol Pratt)
America was busy celebrating its great Bicentennial when Sondheim sat down at the piano to compose a virtual crash course in the history of the Japan, spanning 120 years in under three hours. (It's no surprise, therefore, that he included a statistic of irony in the show's punch-drunk finale: "57% of the Bicentennial souvenirs sold in Washington, D.C. in 1975 were made in Japan.") John Weidman was commissioned to write the book of this musical told exclusively through eyes from the East, and the original work employed a cast of 39 with 22 musicians in the orchestra pit.
Thirty years after its stunning debut, it takes a big fish like Eric Schaeffer, Signature Theatre's resourceful Artistic Director, to re-envision such a large work for a smaller theater, producing a reverently scaled-down version of Pacific Overtures in the tradition of one of its own pointed haikus: "The practical bird/Having no tree of its own/Borrows another's." With minimal playing space and boatloads of ambition, Schaeffer has crafted a production that matches bizarre aesthetics and inelegant visuals with patchy vocals from a tireless cast of ten and fantastic new orchestrations by Jonathan Tunick. Music director Jon Kalbfleisch works wonders with his tiny orchestra, and although Schaeffer's staging alternates between lovely and ludicrous, the focus here is always on Sondheim's oblique score and genius lyrics.
It's a strange scene to warm up to, an entirely Caucasian ensemble bedecked in Kabuki makeup and unflattering black wigs. The theatrical storytelling is a nearly satirical blend of rich melodrama and burlesque comedy depicting loud, lewd Americans arriving in a cacophonous fleet. Donna Migliaccio leads us through the evening as the first female Reciter in the show's history, and is ultimately ill-served by the score's original keys. As the songs were originally intended for male vocalists, Migliaccio growls through her lowest register, half speak-singing her lines and belting out impossibly low notes. Still, she's accustomed to challenging roles, and so attacks the Reciter with a masculine gusto.
Pacific Overtures
Signature Theatre
To July 3
703-218-6500

Sondheim's trademark staccato lyrics flourish in "Please Hello," a witty musical parade of nations waiting in line to court Japan's commerce, as well as the profoundly astute "Someone in a Tree." And while Schaeffer's cast excels in the plastic number "Welcome to Kanagawa," a comical ode to young geisha girls, the two most effective songs of the evening are both delivered by Will Gartshore's Kayama.
It isn't much of a spectacle, really, and some of the lighting seems recycled from last season's production of The Highest Yellow. Anne Kennedy's costumes are simple black uniforms and silk kimonos without any lavish ornamentation. The notion that the production purposely relies on Japanese minimalism is more likely an allusion to budgetary constraints.
Despite its flagrant lack of beauty or grace, Signature's carefully culled version of Pacific Overtures remains a testament to the strengths of one of the greatest composers of music theater. As for Schaeffer's ability to re-invent massive works into intimate affairs? That's best summed up by lyrics in Sondheim's closing number: "Never mind a small disaster/Who's the stronger, who's the faster?/Let the pupil show the master/Next!"
---
Big Death and Little Death
Woolly Mammoth
To June 12
202-393-3939

While on the subject of "small disasters," Woolly Mammoth Theatre Company has inaugurated its new downtown home with the world premiere of Mickey Birnbaum's Big Death & Little Death, a proud and prickly play filled with strange choices and even stranger subject material.
Reckless, disturbing, and intensely grim, Birnbaum's tale starts out promising before quickly disintegrating into an existential nightmare about a dyspeptic suburban American family and the consequences of their everyday choices.
It's the early 1990s and Dad's back from serving in Iraq. He's immediately greeted with a gift of soap on a rope and an admission from his wife that she hasn't been faithful. In a downward spiral of gratuitous black humor and morbid reflections on life, teenage son Gary openly contemplates, "Should I go to college out of state, or destroy the universe?" He chooses the latter.
Woolly front man Howard Shalwitz directs the darker-than-dark comedy with a messy visual concept that is plagued by lengthy, awkward transitions between scenes. He elicits particularly strong performances from Andrew Wassenich and Maia DeSanti, and Paul Morella is compelling as the military dad coping with the (intentional) death of his wife by snapping shots of dead bodies at crime scenes and car accidents. Oh yeah, and then he glues them into a photo album for his daughter.
---
Anna Christie
To June 19
Arena Stage
202-488-3300

Across town near the waterfront, Eugene O'Neill gets a healthy revival with Arena Stage's Anna Christie, the 1922 Pulitzer Prize-winner about the nautical reunion of a father and his wayward daughter. Set aboard a coal barge and in Johnny-the-Priest's New York saloon, Anna has evolved into a story that is more about the expectations we invest in other people than the searing social commentary it once engaged.
Molly Smith's sparkling direction turns prose into poetry. Anna Christopherson is brought to life with radiance and a youthful vigor by Sara Surrey. Dan Snook turns in a first-rate performance as Irish sailor Mat Burke, while Kevin Tighe steals scenes with his charming interpretation of a restless captain with the sea in his bones, forever cursing "Dat Ole Davil Sea."