Everyone's heard of climbing a stairway to heaven. But last weekend, one local recreational sex venue unintentionally offered a stairway to a little slice of hell — smoke and flames included.
Not long after the Capital Pride Parade ended on Saturday, June 11, fire broke out on 14th Street. Just after 9 p.m. a small amount of smoke was reported coming from the second floor of 1618 14th Street NW, according to Alan Etter, a public information officer with D.C. Fire and Emergency Medical Service. Etter says that according to the incident report, a candle started the fire by setting an adjacent mattress alight. The fire caused approximately $5,000 in damages in the three-story building. There were no injuries.
The candle and mattress were likely in a restricted portion of the building used as a personal living space, according to someone familiar with the parties involved, who asked that his name not be printed.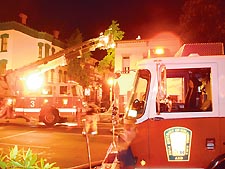 The D.C. fire department responds to the Saturday evening blaze at 14th and Corcoran streets.
(Photo by Todd Franson)
Regular events at the site include "Men's Parties" and gatherings of the Jack Off Enthusiasts of Washington and Baltimore. Calls to the advertised phone number for the Men's Parties were not returned. Attempts to reach the Enthusiasts groups were unsuccessful. Tax records list the property owner as S. Jaffe of Potomac, Md. Metro Weekly was unable to confirm the owner's identity by press deadline.
One D.C.-area resident who last visited the venue in January agreed to speak with Metro Weekly on condition that his name not be used. "It's a pretty open area," he said, describing the second floor, where the fire was. "And there's a kitchen. It's an actual, full-blown kitchen…. Further back, there's a smoking area on the second floor." This visitor says that although he is familiar with the basement, ground floor and second floor of this three-story building, he does not believe any of the floors offer back exits.
In 1977, a fire at the Cinema Follies — an adult theater catering to gay men, and predecessor to the Follies — killed nine patrons and led to a crackdown on nightclub safety violations. But this 14th Street property may be exempt from such inspections as it is not a business.
Etter says the property was zoned as residential, meaning it is to be "private occupancy and not subject to fire inspections." He added that the fire marshal says a business was being operated illegally at the site.
The facts are still vague. "When [D.C. Fire and EMS] went there for the fire, a business — I don't know what — was being operated." As of late Tuesday, June 14, Etter could offer no further clarification.
Though the situation is still murky, Rick Rosendall, the Gay and Lesbian Activists Alliance vice president for political affairs was able to offer his group's perspective on the fire.
"We are not sure how the building at 1618 14th Street NW is legally categorized, although the parties are regularly advertised to the public and people are charged a fee to enter," Rosendall wrote in a June 14 e-mail. Notably, the Men's Parties and Enthusiasts club's phone greetings tell attendees they will be asked for a certain dollar amount, rather than required to pay admission, further blurring the line between admission and donation, business and private club.
"But whether it is legally a business, non-profit, or social club, its patrons should be safe from fire and other basic safety hazards," Rosendall's e-mail continues. "If the place does not have appropriate safety exits, has a dangerous number of people, or other violations of the applicable fire regulation, Fire/EMS should take appropriate enforcement action. If, on the other hand, it is in compliance with fire regulations, then it is just a tragedy that a fire occurred….
"We have no problem with the parties themselves. In fact, they provide people who want to hook up with a place to go that has a presumption of privacy and will not bother anyone else."
Etter could not say how the city will be proceeding with this case.