It's Thursday and the French Riviera beckons. Trade the D.C. climate for a Mediterranean breeze and fields of lavender. If you're reading this, chances are that's not going to happen. But you can get close.
The One In Ten Reel Affirmations Pride Film Festival opens tonight, June 2, at 7 p.m. with Côte d'Azur, a sunny, Provençal comedy, ready to transport audiences for an hour and a half.
"Côte d'Azur is the perfect summer film," says Joe Bilancio, programs manager at One In Ten. "It's light. It's fun. It's at the beach. Côte d'Azur is, across the board, a delightful film."
Judges at this year's Berlin International Film Festival appeared to enjoy it as well, offering writing-directing team Olivier Ducastel and Jacques Martineau (The Adventures of Felix) an accolade. The film was also an official selection of the Tribeca Film Festival. On the gay film festival circuit, it's set to open both the Los Angeles Outfest and Frameline 29, the San Francisco International LGBT Film Festival, in the coming weeks.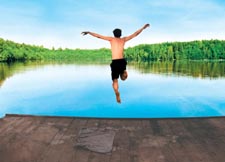 Set to make a splash: Summer Storm
Bilancio, of course, is enthusiastic about all four films that constitute the Pride Film Festival, now in its seventh year. Following Côte d'Azur June 2, is Naked Fame at 9 p.m. On Friday night, June 3, Summer Storm at 7 is followed by Producing Adults at 9.
"Côte d'Azur and Summer Storm are planned for D.C. theatrical releases. The other two are slated for late-summer DVD release. It was kismet. It worked out perfectly," says Bilancio, seemingly proud of getting these four films to D.C. audiences before they can see them elsewhere. Having access to four pre-release films makes the selection process a little bit easier, he says, as they move right to the head of the list. But it doesn't make it that much easier.
"[Choosing] was hard because, in my opinion, gay and lesbian film is getting better and better," he says. "The [film festival] is getting a little bigger. For the last couple of years, people have begun to see it as the kick-off to [Capital] Pride. So the films have tended to get bigger and bigger."
And speaking of kismet, Bilancio notes "It just happened that we were bringing in Naked Fame, and now Colton Ford is big into the [Capital] Pride festivities. I don't think we could've planned it any better."
Pride Film Festival
Presented by One In Ten
June 2 & 3
Lincoln Theatre
1215 U St. NW
1-800-494-TIXS

Naked Fame documents Colton Ford's efforts to switch from a career in gay porn to singer-songwriter. That should be enough to whet appetites till he arrives in D.C. to perform on the Capital Pride stage Sunday, June 12, with Chi Chi LaRue and fellow pornster, Tag Adam.
The first of the Friday films, Summer Storm, is a German import that won praise at the Toronto International Film Festival. A coming-of-age comic drama, it's set among young men's rowing teams, with the gay men's team from Berlin making waves for young Tobi.
Finland chose the closing film, Producing Adults, as its entry for an Academy Award in the Best Foreign Film category. Venla is the protagonist working in a fertility clinic. To circumvent her boyfriend's vasectomy, she turns to the clinic's sperm samples and to Satu, a friendly clinic doctor. (Note: "Satu" is a female name.)
"This year, these are probably the four best films combined for the Pride Film Festival," Bilancio concludes. "It will definitely be a banner year."