When you see Michael Wichita's photography, chances are you're going to have a few questions. That's the point.
"They are going to be dumbfounded, baffled and confused," he says. "I strive for work that's not hitting people over the head."
While the 31-year-old photographer eschews going for the obvious, that doesn't leave his work without meaning. When curator Angela Jerardi invited him to participate in the exhibition "re:place," an examination of memories and everyday items, he created a series of pieces reflecting the aftermath of the murder of his younger brother, Matthew, during spring break in Florida in 1998.
"I wanted to do something that was approachable, but had something to do with the murder," he says. He created work from objects, including the posters his brother hung on his walls in the 80s.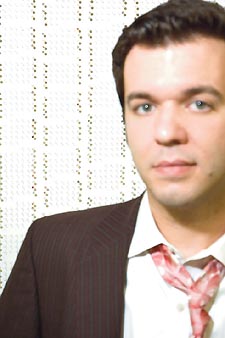 Wichita
"It's trying to create levels of understanding. In two seconds, [someone] can just see it's a 'nicely hung' show, or they can spend a little time with it and get a little more out of it."
It also helps him gain understanding.
"I use photography as a tool to investigate how to be gay," says Wichita, who was formerly the senior photographer for Metro Weekly. "I use photography to investigate and relate to the world, how it's affecting me, and what's my place in this mess."
In addition to "re:place," Wichita has a selection of landscape Polaroids showing as part of "West" at the Eleventh Street Lounge in Arlington, and his work will be featured in the upcoming "Queering Sight – Queering Insight," at Warehouse Gallery.
"It's sort of a return to my roots in doing hot gay art," he laughs. "It's been a long time since I let my roots show."
"re:place" runs through June 18 at unit c2, 7981 Eastern Avenue, Silver Spring. For more information visit www.michaelwichita.com. "West" runs through June at Eleventh Street Lounge, 1041 N. Highland Street, Arlington "Queering Sight – Queering Insight" runs through June 30 at Warehouse Gallery, 1021 7th Street NW (www.warehousetheater.com).