Like any alternative rocker worth his weight in angst, Bob Mould is not a carefree man. In fact, he's very concerned about the self-destructive nature of today's gay community.
"It's worse than ever," he says. "Having lived through the first wave of HIV and through the Reagan years, I'm shaking my head. I think the risky behavior and the questionable decisions are back up high, and I don't know why."
The 44-year-old Mould has mellowed some with age. And since moving to Washington in 2002, he's grown more at ease with himself.
"The past couple years I've taken stock in what I love about music and what I enjoy in life. I've changed my outlook on life to be a lot more positive, and to become a lot more forgiving, a lot more understanding of how delicate the whole thing is. And I think the new record reflects that."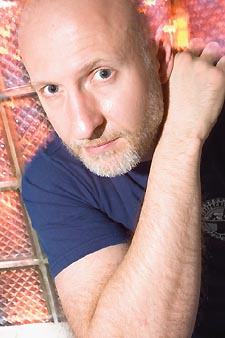 Bob Mould
Mould is referring to his latest studio album, Body of Song, to be released next month. As the frontman for the influential late '80s pop-punk band Hüsker Dü, and then for the even more popular — and more pop — early '90s group Sugar, Mould played a key part in alternative rock's past. With the new album, he's gearing up to help shape its future.
Body of Song sees Mould merging the sound of his storied rock past with electronica. His passion for dance music emerged publicly on his solo work in 2002, when he released the albums Modulate and Loudbomb. And for the past two years he's spun dance music at Blowoff, a local DJ party he throws with Richard Morel.
"If I have my two hands out and one of them said electronica and the other one said guitars," says Mould, "with Modulate the electronica hand would have been more in your face. I just pretty much switched the position of my hands this time. I think [Body of Song is] a continuation of what I was trying to do with Modulate, but it's way more rooted in my traditional songwriting style, with guitars forward, shorter pop songs, a little more direct, the personal stories kind of thing."
Mould says the album is less overtly gay than Modulate and more in line with his early work. He didn't officially come out until 1994, during the peak days of Sugar when a music magazine forced him out. But anyone familiar with Hüsker Dü should have known.
"It should have been clear to anybody that I was gay, both with the gender-neutral style of lyrics that I wrote and the causes that we were affiliated with," he says, noting the band's early support for HIV/AIDS.
Mould says it took him a while to find his place in the gay community. But Blowoff has helped with that. "That's been a real highlight for me," he says. "I've made a lot of friends through it. It's a really healthy sort of vibe. No really odd behavior of any sort."
And Mould is still not sure how he should speak out — or even if it is his place to speak out — against those "odd behaviors" that most trouble him, such as the use of cystal meth and the not-unaffiliated rise in unsafe sex.
"I don't know that I want to be like somebody's dad, telling everybody how they're supposed to live," he says. "But I'm just astonished that guys can't step back from the behavior for just a moment and identify the emptiness and fill it in a healthy way. I really don't understand. We're such a gifted, smart community, and at the same time so self-destructive. It's disconcerting."
Asked if he'll address these issues from the Pride mainstage, Mould says, "I don't think I need to make it a soapbox."
This is Mould's first year performing at Capital Pride, and he's excited by the opportunity. "Living in D.C. now for three years, I finally got a driver's license [to appear]," he laughs. He'll play a solo acoustic set, since his new touring band, which will include Morel on keyboards and backing vocals, hasn't yet rehearsed.
Mould's still not sure exactly how he plans to drop the soap at Pride and keep the mood festive. But he mentions at least one half-serious idea that would surely be a hit.
"Maybe I'll debut my 'Pretty Daddy' T-shirt line."
Bob Mould will perform on the Mainstage at the Capital Pride Festival on Sunday, June 12.