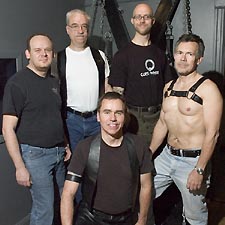 Members of SigMa
ORGANIZATIONAL MISSION:
SigMa is devoted to providing an environment where like-minded men can safely and sanely explore alternative sensual experiences, from bondage to hard-core.
YEAR FOUNDED: 1984
NUMBER OF MEMBERS: Approximately 150
GENERAL DESCRIPTION OF THE GROUP'S MOST COMMON ACTIVITIES: SigMa holds "play parties" four times monthly at the group's new dungeon space.
HOW TO JOIN: Membership form is available at www.sigmadc.org. Annual dues are $35.
BACKGROUND:
Gerry Martin was initiated into the world of BD/SM (bondage-discipline/sadomasochism) in New York, long before joining SigMa. But when he left New York for Baltimore, he sought them out. After all, unlike a lot of hobbies, BD/SM can require a serious investment.
"I don't have the facilities for setting up a dungeon at home," says Martin, now the group's vice president and membership chairman.
SigMa offered Martin a dungeon, and in return he has offered the group his dedication. His responsibilities with the group often mean, however, more work and less play for Martin.
"Fortunately, I'm retired," he points out. "I couldn't run this membership program the way it should be run and hold down a full-time job too."
CONTACT: membership@sigmadc.org
NEXT EVENT: Kink of the Month (TBA), Friday, June 17, at the dungeon space, 9 p.m.-1 a.m.