Let's get this out of the way. For those of you who attend gay films to see an abundance of sex and nudity and are frequently disappointed that the carnal displays only amount to approximately 15 seconds of the total running time, rest assured Mysterious Skin by no means disappoints. It has more nudity and as-close-to-explicit-as-possible gay sex than any American-made gay movie I've ever seen. Of course, some of the sex will make you uneasy. Extremely uneasy. But that's the point.
Gregg Araki's latest film is much more than a sexfest, however, as those pleasures sought by 28-year-old Midwestern hustler Neil (Joseph Gordon-Levitt) gradually move from enjoyable to horrific. The talented Araki, who burst onto the scene with the renegade AIDS drama The Living End and who explored dispassionate youth in The Doom Generation and Totally F***ed Up, has finally arrived with a masterpiece.
Based on the novel by Scott Heim, Mysterious Skin tells the story of two 8-year-old boys — the aforementioned, steel-hearted Neil and a wide-eyed, sensitive geek named Brian — whose lives (and fates) cross paths one summer during little league. The events of that summer define them both, though Brian has no recollection of the traumatic events that transpired, believing he was abducted by aliens. A decade later, Brian (Brady Corbet) embarks on an obsessive mission to find Neil, who, he believes, was also "taken." Early on, you see where the movie's headed — it's not the most subtle narrative — and yet Araki constructs things in a way that can't prepare you for the startling power, the emotional heartbreak that ultimately frames the film's final 10 minutes.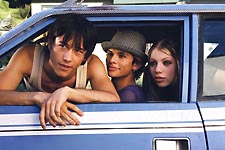 Skillfully crafted, Mysterious Skin calls to mind the works of Neil LaBute and Todd Solondz, but without any of the mean-spiritedness. The film has a core of heart that prevents it from descending into an exercise of pure shock value. Araki's direction has never been more self-assured, and his cast turns in performances that are ripe, rich and rooted in reality. Gordon-Levitt, best known for his work on the series Third Rock from the Sun, astonishes as Neil, the epitome of a carefree and careless young gay hedonist. It's an unabashed, unmatched, unforgettable performance. Corbet, as well, is quite good, as are supporting players Elizabeth Shue, Michelle Trachtenberg and Jeffrey Licon.
It's not enough to call Mysterious Skin one of the best films of the year (although that it is). It is one of the best gay-themed movies ever made.
At the Landmark E Street and Bethesda Cinemas. Call 202-452-7672 or 301-652-7273 for showtimes.