She's quite a vision, this mysterious lady in red. And sweeping into the ball with a smile threatening to part her pursed lips, you'd never know that this same stunning creature was once shunned by the genteel London society that reared her. But this is Mrs. Erlynne, Oscar Wilde's fanciful social outcast, and with his first foray into satire, Lady Windermere's Fan, Wilde ominously plucked out the last word on the Victorian elite and their high-nosed culture of class.
Written only three short years before his own private scandal became fatally public, Wilde set Lady Windermere's Fan among the drawing rooms and galas of Britain's high society in the last part of the 19th century. For Wilde, it was a personal coup, a bittersweet comedy plump with politics and biting social commentary. But Lady Windermere kept her audiences captivated with clever references that reflected back on the same well-heeled patrons who were more than anxious to hear Wilde's incisive words of wit and wisdom.
Over 100 years later, The Shakespeare Theatre has resurrected Wilde's premier comedy with a lavish production headed by Keith Baxter, who successfully staged last season's The Rivals. Baxter's rich, textured direction toasts Lady Windermere and Wilde with a summery elixir of light frivolity and sumptuous visuals.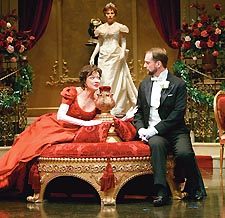 Lady in red: Carter, Auberjonois and Long.
(Photo by Carol Rosegg)
For the tender young Lady Windermere, life is all pink roses and afternoon tea until the Duchess of Berwick (Nancy Robinette, in fine form and fashion) spoils her birthday with news of Lord Windermere's unsavory affairs. There's a lady across town, and she may or may not be the person she may or may not claim she is. "Men become old, but they never become good," she warns Lady Windermere, thus sowing a seed of doubt in the impressionable lady's mind. Should she take a lover? Leave her husband (who may or may not have been faithful)? Or will a late-night encounter with a most unlikely ally settle such ruffled affairs? And what of that ubiquitous fan?
But back to that radiant lady in red. It is none other than Dixie Carter who leads Baxter's cast, defining the savvy Mrs. Erlynne with a humble grace not so far removed from her own Southern charms. "Manners before morals," she coos, and when those terms drop from the mouth of Julia Sugarbaker-turned-Brit, you can't help but stifle a chuckle or two. Carter oozes a piquant sensuality that defies her years, and she is well complemented by a pair of strong performances from Tessa Auberjonois and Andrew Long as the morally-washed Windermeres.
Lady Windermere's Fan
To July 31
Shakespeare Theatre
$12.75-$68
202-547-1122

The vivid language of Wilde is heightened by a round of splendid actors, including David Sabin, Gregory Wooddell, and Matthew Greer. But no one can deny that the real star of the evening is Robert Perdziola, whose luscious costumes radiate with elegance and extravagant detail, from frilly pink frocks to luxurious satin gowns, all accompanied by dazzling jewels and headpieces. Simon Higlett provides the stylish drawing rooms and gorgeous ballroom set, while Martin Desjardins' music is a merry soundscape underscoring the proceedings.
"All men are monsters," the Duchess of Berwick portends, but the sagacious Mrs. Erlynne offers us a gleeful reminder that things are not always what they seem. And in the hands of Dixie Carter, Lady Windermere's Fan is simply irresistible — or, as Wilde himself might have put it, a terribly delightful way to spend an evening in the company of Society.
---
"And the gods heard her prayer!" The gods heard my prayer when Round House Theatre announced they would produce the musical celebration Once On This Island. It has been ten long years since I began nursing my crush on Papa Ge, Asaka and the festive, flavorful world created by the Caribbean-inspired music and lyrics of Stephen Flaherty and Lynn Ahrens. And in 90 intermission-less minutes, director Scot Reese and a company of eleven exceeded even my highest expectations, conjuring up a whimsical island in the French Antilles through Island's jewel of a score and fun, fearless choreography by Michael J. Bobbitt.
Once On This Island
To July 3
Round House Bethesda
$10-$48
240-644-1100

A moving folk story, Once On This Island is based on the novel My Love, My Love by Trinidad's Rosa Guy, which was inspired by Hans Christian Andersen's tale of The Little Mermaid. Ahrens revised her version of a peasant girl struggling with her place in society and the wealthy man she loves with a more optimistic ending, but the foundation of her Island is unlike your typical vanilla fare. The music touches upon a variety of universal themes — love, hope, forgiveness, redemption, maturity, courage — but through a village of storytellers who preserve its lessons, we learn of a beautiful legend brimming with romance and drama, the story of Ti Moune and Daniel and their mythic gods, a tale as much about class and race as it is about religion and faith.
With so much to balance in such an economical score, there are so many ways to stumble (particularly to a pair of seasoned ears). Yet Christopher Youstra conducts his six-piece orchestra with the mark of a perfectionist, blending the cast's precise vocals in sublime harmony. Eleasha Gamble claims her status as goddess of the evening as Erzulie, belting out "The Human Heart" with equal parts tenderness and strength, while Griffin Matthews lends his soothing vocals to Daniel, the aristocrat who captures the heart of Montego Glover's Ti Moune. Glover offers a compelling, supremely well-acted portrait of the ill-fated ingénue, and her energetic turn is the highlight of the evening.
David Emerson Toney and Beverly Cosham also present warm portrayals as the adoptive parents of the little girl plucked from a tree, and Tony Angelini's sound design clearly distinguishes each voice from another. And while the focus is always on the performers, this Island offers all of the colorful spectacle without any of the thick Disney-fied homogeny. Martha Mountain lights Daniel L. Conway's simple round set with a virtual sea of shades that highlight robust costumes by imaginative designer Johnetta Boone.
Round House's stellar production of Once On This Island marks a triumphant salute to departing artistic director Jerry Whiddon. With its majestic combination of superb singing, dancing, and acting, it's a purely entertaining experience that you might not see for another ten years.