First the good news: Michael Ritchie's wonderful, utterly un-PC 1976 little league romp, Bad News Bears, is available on DVD.
Now the bad: Richard Linklater's remake is now playing in a theater near you — which, if you ask me, is a good as reason as any to avoid that theater near you.
A director who has learned how to move gracefully between the worlds of indie-experimental filmmaking (Waking Life, Before Sunset) and popular commercialism (Dazed and Confused, School of Rock), Linklater was clearly drawn to Bad News Bears with hopes of repeating his School of Rock success. But in painstakingly remaking the film — to the point where entire sequences are identical to the original — he's left out an element that made the first Bad News Bears an outta-the-park home run: heart. And in baseball, you gotta have heart.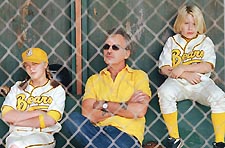 Even a hot dog wouldn\'t help: Kraft, Thornton and Timmy Deters
You know the story: Ragtag, klutzy bunch of kids, some with bad attitudes, all incapable of throwing or hitting a baseball, are put under the indifferent coaching hands of Morris Buttermaker (Billy Bob Thornton), a one-time minor league player and full-time drunk. After an opening day game that finds the team humiliated and ready to quit, Buttermaker has a sudden (and startling) change of heart and offers up the wisdom of his experience.
He also brings aboard two exceptional players — Amanda Whulrlitzer, 12-year-old daughter of a former flame who's a natural on the pitcher's mound and Kelly Leak, a tough-guy juvenile delinquent who's got a hell of a throwing arm. The team quickly turns around and lands in the championship, where they face the best team in the league, the arrogant Yankees, coached by Roy Bullock (Greg Kinnear), a nasty-spirited man for whom winning is everything.
It doesn't take a sports statistician to discern the primary theme running through Bad New Bears — playing a game to the best of your ability is ultimately more important and more satifying than winning. Buttermaker, moreover, finds personal redemption in coaching the kids.Though he pretty much sticks to the original's narrative path, Linklater has made some adjustments, the most notable being the omission of an infamous line of dialogue uttered by the combative Tanner Boyle that is blatantly racist and still alarming to this day. The Tanner Boyle in the new Bears is just as hotheaded, but he's vastly more tolerant. Another change finds the kids celebrating a victory with non-alcoholic beer, when in the original it was Bud all the way. Linklater doesn't bother to find suitable replacements for these details, thus stripping Bad News Bears of its edge and diluting it of whatever raucous fun it once had.
The movie feels like a series of montages — practice montages, game montages, trying to find a uniform sponsor montage — padded out by occasional forays into dialogue. While it's impossible to make a movie like Bears without time-compressing, lighthearted montages, Linklater approaches them with obviousness and a lack of finesse, compared to Ritchie, who artfully and stealthily glided through them in the '76 original.
Bad News Bears
Starring Billy Bob Thornton, Greg Kinnear
Rated PG-13
111 Minutes
Area Theaters


Area Showtimes
Billy Bob Thornton deserves a cheer for stepping into the Walter Matthau role and making it his own. Where Matthau's legendary bellow and generally shlumpy nature suited the role perfectly, Thornton deploys his bad boy image, cultivated to perfection in Bad Santa, to craft a contemporary Buttermaker. The character must also transcend stereotype and enter a realm of believable humanity — and Thornton pulls it off masterfully. He's the best thing in the movie.
I wish I could say the same for the kids, who fail to register in any meaningful way. You could make the same argument for the original film as well, if not for Tatum O'Neal, who brought sparkle, wit and spunk to the role Amanda, and Jackie Earle Haley, as the diminutive tough-guy Kelly. Rookies Sammi Kraft and Jeff Davies can't live up to the acting demands. Maybe they'll improve with subsequent parts — the good-looking Davies could find gainful employment in teen-slasher flicks and Kraft… well, I doubt there's much of a future in film for Kraft, whose delivery has all the conviction of person reading the phone book. To be fair, Kraft was tapped because she's a real-life pitching whiz — but therein lies Linklater's error: never hire an athlete to do an actor's job. It requires a different set of muscles, not to mention skills. Didn't he ever see an O.J. movie?
It's probably not a good sign for Bad News Bears that there was only one person in the theater at the Sunday matinee I attended: me. Paramount might be wise to call the game now and pull it from release.