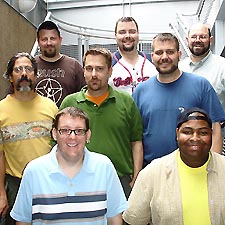 Members of Gen-X D.C. Bears
MISSION: An independent social group founded in 1999, Gen-X D.C. Bears is the original and only "Generation X" bear group in greater Washington, D.C.
MEMBERS: Listserv of more than 600, with approximately 100 core members.
COMMON ACTIVITIES: Movie nights, sports events, dinners and other social outings.
HOW TO JOIN: Membership to the group is open. Join at groups.yahoo.com/group/genxdc.
BACKGROUND: Moving to Washington in 1999, Malcolm Lee recalls that most of his friends in his new city were straight. "I had to branch out and find things to do that were gay friendly," says Lee. "Sometimes you want to hang out with people who are gay." Some friends suggested Gen-X D.C. Bears. Lee, now the group's coordinator, knew he'd found kindred spirits as soon as he attended a Gen X social, a Sex and the City marathon. "I met this great group of people who just accepted me," says Lee. "Most of my friendships are built from the group."
CONTACT: coordinator@genxdc.com
NEXT EVENT: Gen-X DC Bears meet unofficially on early Friday evenings at Titan Bar, 1337 14th Street NW.