The star — the real star — of The Osbournes wasn't the aging rocker who attracted MTV to launch that reality series in the first place. As entertaining as Ozzy was, the real star was momma Sharon, the heart, soul and mind of the series. So perhaps it shouldn't be a surprise that the real star of the newest album from an Osbourne is not the one who gets most of its attention, either.
Kelly Osbourne dedicates her sophomore set Sleeping in the Nothing to Linda Perry. Perry is arguably pop music's best producer, and certainly its best lesbian producer. "I could not have done this without you," Osbourne writes in the liner notes to Perry. She couldn't have written a truer statement. Perry did just about everything here: Wrote and produced all 10 tracks on the album, and played and programmed all the instruments. All Osbourne did was co-write a few lyrics, show up to sing and take the credit.
It was a wise move on Osbourne's part to hire Perry to do the work. Sleeping is a surprisingly good album, as different as night from day to her brittle pseudo-punk debut disaster, Shut Up. Osbourne now says Shut Up didn't reflect her or her taste in music. So Perry gives her a Madonna makeover. Instead of a punky Madonna, one who covers "Papa Don't Preach" as angry as one would expect from Ozzy's youngest daughter, Osbourne would rather just be a punchy Madonna: a dance-popper who provokes people as they dance to her musically pleasing songs.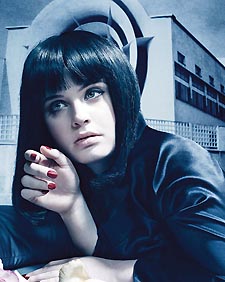 Osbourne
Since Sleeping's release, several critics have suggested the set's brooding lyrical sentiments ruin the music's kitschy '80s party vibe. But the opposite is true: the serious lyrical content makes you better appreciate the frilliness of the music. So Osbourne sings of society's imminent destruction on "Entropy," as the giddy synthesizer blows out little bubbles of percussion and teeter-tattering keyboard and guitar chords. And she repeatedly tackles both her own and society's problems with drugs — of both the prescription and party kinds — while the music provides a guilty-pleasure sound escape all its own.
"You have everything that you have ever wanted/But life's not full and you're miserable," Osbourne sings, clearly about herself, on "Edge of Your Atmosphere." For the song, Perry turns out beautifully haunting, minor-key synth-pop that ranks with the best of Erasure, a band that's have always expertly mixed the sweet with the sad.
Osbourne also succeeds with an unlikely and unprecedented rape victim's anthem, "Don't Touch Me While I'm Sleeping." Even if she disowns the label, this is Osbourne at her punk-rocker best, tackling a topic most artists would avoid, and doing so with a vengeful ferocity. "The moral to this story to make myself clear/Is all you rapist assholes better run with fear," Osbourne talk-sings. "I would think twice before your next date/Cause you'll just end up someone's bitch in cell block eight."
As wise as it was for Osbourne to hire Perry, the question remains whether the opposite is true. Should Perry have just taken this album for herself, to serve as a return to her short-lived recording days, as part of 4 Non-Blondes? There's nothing yet to give weight to the assumption that Osbourne would sell better than Perry. A month after its release, Osbourne's Sleeping has yet to even wake up once on the Billboard Hot 100 album chart, a major disappointment no matter what excuse you make for it. (The most obvious excuse: Osbourne checked herself into a mental institution just prior to release, cutting into her promotional push.) And first single, the slinky, sensual "One Word," has only found success on the dance charts.
Perry has said in year's past that she prefers working behind the scenes in shaping successful careers for Pink and Gwen Stefani, among others. But now comes word that she's re-releasing in September her decade-old, neglected solo album In Flight. So maybe we'll yet hear new material from Perry performed by Perry.
Until then, Sleeping is as close to a Linda Perry album as you'll find.