As the saying goes, if it looks like a duck, swims like a duck and quacks like a duck, it's probably a duck. But when it comes to one D.C. venue, Cada Vez, that duck might just be a restaurant.
Cada Vez, at the corner of 15th and U streets NW, is difficult to classify. Downstairs, there are tables for dining, a floor for dancing, a kitchen for cooking and a bar for drinking. Upstairs, there are separate lounge areas and conference rooms. Throughout, there is wireless Internet. There is dancing on Saturday and a new drag brunch on Sunday.
The liquor license says that Cada Vez is a restaurant. Commissioners of ANC 2B, in whose jurisdiction Cada Vez sits, say it is, inappropriately, a nightclub with a restaurant license.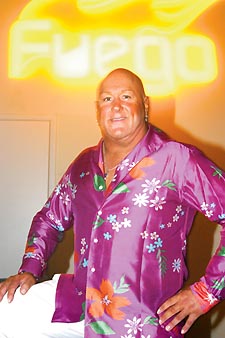 (Photo by Henry Linser)
The relevance to the gay community is that on Saturday nights, Cada Vez plays host to Fuego, a Latin-themed gay night. The establishment's most popular regular event, Fuego may be in jeopardy if Cada Vez management is unsuccessful in its current attempt to renew its liquor license, while simultaneously applying to lift current restrictions on its hours and types of music allowed on the premises. And they're trying to do it without a voluntary agreement — the sorts of agreements by which Washington businesses negotiate tailored restrictions in exchange for official neighborhood support — with ANC 2B.
Cada Vez falls under ANC 2B09 Commissioner Ramon Estrada's particular jurisdiction. With video camera in hand, Estrada — who happens to be a gay Latino — is leading the fight against Cada Vez, particularly on Saturday nights. He's been known to film patrons outside the establishment on those nights.
"We're in a protest process now," says Estrada, emphasizing the attempt by Cada Vez management to forego a voluntary agreement. "The ABC Board needs to see evidence that there are 250 people spilling onto the street at 2:20 in the morning."
The ABC Board should get a chance to see Estrada's evidence at a protest hearing scheduled for Oct. 10. The seven-member board is required to give "great weight" to ANC 2B's position on Cada Vez, but will ultimately be left to its own ruling.
Philip Doyle, who runs Fuego with his business partner Hector Zarate, says that his weekly event is being singled out, and that Estrada is manipulating the situation to make Cada Vez appear to be a worse neighbor than it actually is.
"The thing I feel is that it's specifically targeted at this night," says Doyle. "I don't want to say it was harassment, but [Estrada] was making people feel uncomfortable. Two weeks ago he made people leave by 2 o'clock, so it's like you have a massive exodus. We shut down the music at 1:45 and made everybody get out of here by 2. It's a safety issue, too. Trying to get all the people out, and then you've got someone there filming saying this is an impact to the community. Well how could it not be when you're trying to force us to get 'em out? Now they've backed away from that, saying it's okay to let patrons filter out."
Adds Zarate: "People are like, 'What is this?' There are Hispanic immigrants from many countries. They felt intimidated. They felt like they were harassed. There was a big video camera in front of them, facing them, coming out of a gay nightclub."
Doyle says a complaint by Estrada — adding to a list of prior complaints — forced him last weekend to shrink the size of Fuego's dance-floor slightly, in keeping with Cada Vez's license restrictions. With all parties involved feeling firmly in the right, there is every reason to assume the friction will continue.
Charles Zhou, the Cada Vez manager since his family bought the business in 2003, insists that his venue is unfairly under attack, countering all complaints made by ANC 2B, ANC 1B — which borders Cada Vez — the Dupont Circle Citizens Association, or loosely aligned neighborhood groups like Concerned Citizens of 15th Street.
Those 15th Street Citizens, for example, filed a letter of complaint with the Alcoholic Beverage Control Board citing parking problems, noise, a "hip hop recording promotion," and an absence of previously promised computer-training classes for youths and seniors.
"It seems like if you don't sign the voluntary agreement, they treat you like a virus in the system, like you're violating some serious law," Zhou counters. "If you don't sign, it makes them feel powerless….
"This is how they are using false claims to mislead the community. It's like the false claim that Fuego blocks traffic. I feel like it's harassment. [Patrons] are not illegally parking their cars…. I did get a complaint about the music. An inspector came to listen to the music. That's how crazy it is. I have to make sure the DJ does not play hip hop or rock." As for the computer classes, Zhou says that while a seniors program had ended before he became manager, some groups still conduct training in the upstairs conference rooms, and that he is open to the idea of hosting another community computer group.
And like the ANCs and neighborhood groups, Zhou and Doyle also have an arsenal full of supportive petition signatures.
Estrada isn't buying it.
"It's worsened," he says of the new management. "[Zhou]'s been the owner [sic] since November 2003. It's worsened because he was supposed to open a restaurant, not a nightclub."
Babak Movahedi, another gay ANC 2B commissioner, successfully ran for office last year as a proponent of vibrant nightlife in the district. But in this instance, he and Estrada are seeing eye to eye.
"I do support the business community's need for expansion, certainly on 17th Street, but I do not believe business' should be acting differently from their licenses," says Movahedi. "This is not about supporting the gay community or the Latino community. It has to do with the trend over the past months that I have observed of Cada Vez acting as a nightclub, but holding a restaurant license. I've heard the arguments that they can have entertainment, dancing — we understand that. However, the application limits the size of the dance floor. And if you are primarily a restaurant, you have to have food available at all times. You have to have food when your hours of operation are posted."
Jeff Coudriet, director of operations at the Alcoholic Beverage Regulation Administration, which operates under the authority of the ABC Board, says the law is not as crystal clear as that.
"When you apply for licenses, most restaurants or taverns list days they'll be open," Coudriet explains. "Whether you do it or not, that's up to you. You'll see that in Adams Morgan more commonly. It can be really slow in the beginning of the week. If you walk on 18th Street on Tuesday night, a lot of places might be closed. That's not a violation of the law."
District law, says Coudriet, has a two-pronged test to determine whether a restaurant is indeed a restaurant. The first test requires food to account for at least 45 percent of the businesses sales. Failing that, a business could still be considered a restaurant if it conducts itself as a restaurant in advertising, the availability of food, etc.
Cada Vez, which does offer a full menu, nonetheless stands a better chance of being regarded as a restaurant under the first test. Coudriet says past audits have shown Cada Vez to meet the 45 percent requirement. There is still, however, further auditing and investigation underway, he says.
Meanwhile, Movahedi raised eyebrows at an ANC meeting earlier this month by noting that he at one time had an interest in acquiring Cada Vez. That led to speculation on the part of some Cada Vez advocates that Movahedi would like to see the tenant operations, like Fuego, suffer from liquor-license restrictions and perceived harassment to the point of relocating. That, they argue, may mark Cada Vez for quick sale.
Movahedi is quick to deny, however, any continued interest in Cada Vez.
"To come up with these foolish comments is beyond belief," says Movahedi. "The reason we weren't interested is because [Cada Vez] doesn't have a tavern license."
As this apparent standoff rides along to the Oct. 10 hearing, Doyle says he has no intention of moving Fuego.
"I'm ready for a fight," Doyle insists. "It's better to go down in flames than to rollover. I'm not going to do that.
"I think people, in different ways, are trying to manipulate me to hurt Charles. But Charles has been great to work with. We have a good relationship. Hector and I are not going to abandon him."
From both sides, there seems to be some hope that an Oct. 10 confrontation can still be avoided.
"Hopefully we can have a meeting of the minds," says Andrea Bagwell, the attorney representing Cada Vez. "I would hope that the small gaps that are separating us can be brought together. It's always better to have people resolve their differences than to have the [ABC] Board resolve their differences for them. I don't think we're that far off. People just have to step back and see what is best for the greater good of the community. And Cada Vez is a good, good place."
Movahedi, in a sense, concurs. "I still don't think it's too late," he says. "If the neighbors have concerns, those concerns have to be satisfied. As far as I'm concerned, it would be more fruitful for them if they sat down [together]."