If gay men love a man in uniform, Rich Merritt could be their poster boy. In 1998, he was the closeted Marine on the cover of the New York Times Magazine. Six weeks later, he was outed in The Advocate. And, on occasion, he was Danny Orlis, the gay Marine porn star.
But Secrets of a Gay Marine Porn Star, Merritt's new autobiography, is arguably far more revealing than any of Merrit's eight skin flicks, like Bullseye or Reflections in the Wild. At 37, Merritt's life has held more than enough drama to hold a reader's attention.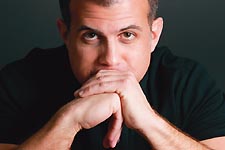 Merritt
(Photo by Robin Henson)
"My parents never really imposed rules on me, because the rules I imposed on myself were more strict," says Merritt, recalling his extremely conservative Christian roots in Greenville, S.C. "I had a strong desire to please everyone. I thought I'd have a greater chance of getting into heaven…. I'd always assumed I'd be a Christian school teacher."
That's not quite how things turned out. An Army uncle talked him into considering the military, which quickly broadened his horizons. Whereas his education at Bob Jones — grade school, high school and university — taught him that only born-again Christians were going to heaven, he just couldn't swallow that all the new and varied Marines he met were doomed to burn in hell.
The Marines could have given him much more than diversity, says Merritt, given the military's rules against sodomy and public indecency.
"It was a calculated risk," says Merritt of his porn work. "I never got in trouble for it. But when you do a cost-benefit analysis, there was very little benefit…. With eight videos, and three years [of possible imprisonment] per video — if they wanted to be jerks, they really could have been."
Other risks carried higher costs, says Merritt, who developed a methamphetamine addiction after leaving the military. "You can abuse alcohol for decades, but once you start using crystal meth, you've got a couple months," Merritt says. "I hated my career. I'd been unfaithful. My drug use was out of control. On Feb. 2, 2002, I attempted suicide. My partner found me in the garage with the car running. I'd taken a bunch of pills. He called the ambulance and I spent three days in a mental hospital. When I got out of the hospital, I started to write the book."
Since its June 7 release, the book has been doing well, says Merritt, who's reading from the book next Thursday at Lambda Rising. The nature of the reading will depend on who shows up.
"The Castro reading was NC-17," Merritt jokes about his recent reading in San Francisco. "If Rick Santorum's gay assistant is [at Lambda Rising], I'll make it triple-X."
Rich Merritt's reading will be at 7 p.m. on Thursday, Aug. 11 at Lambda Rising, 1625 Connecticut Ave. NW. Call 202-462-6969.