Ask D.C.-native dance-pop singer Rachel Panay about her first musical influence, and she doesn't hesitate (though she does insert a "you're gonna laugh" warning). In elementary school, her class was told to draw a picture of who they wanted to be when they grew up.
"I drew a picture of me coming down a staircase in a pink dress with a whole bunch of people around me," she laughs. The grade-school diva wanted to be the Marilyn Monroe from "Diamonds Are A Girl's Best Friend."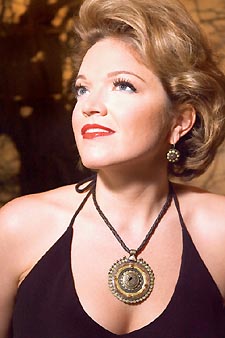 Rachel Panay
Two decades later, Panay's doing more than drawing a picture to create her musical flair. She was nominated as Best New Artist at a pre-eminent dance music award show, and she scored her first major dance hit, "Back to Love." That song has been all-but unavoidable, nearly topping the Billboard Club Play dance chart and appearing on many dance compilations by leading DJs. And Panay has performed the hit countless times here in D.C. and around the country. Now she's preparing for next Tuesday's release of her latest, "I Still Believe," another disco-fied confection also co-written with producer Josh Harris. Lightning is set to strike twice.
Beyond touring to promote the single over the next couple months, Panay will keep busy working with Harris and other collaborators on material for her debut dance-music album, due next year. "If I can wait that long," Panay chuckles.
When she's home in D.C. she'll continue performing for (and hanging out with) her gay fan base, whom she credits with helping her become a less inhibited and more "ballsy" performer, one who frequently leaves the stage to mingle with the crowd.
"I'm a theatrical person," she says of her exaggeratedly stylish look on stage. "I love ridiculous, I love over the top, I love campy, I love naughty. [And] I think the gay audience most enjoys the style of dance music that is full-voice, wide-range, a lot of dynamics and heightened emotional drama."
And that just happens to be Panay's cachet.
Rachel Panay performs Thursday, Sept. 1, at Hush, 2473 18th Street NW. No cover. Visit www.hushdc.com for more information.