Under the noonday sun Monday, a group of local religious leaders offered another ray of light. Downtown, on the steps of the Metropolitan African Methodist Episcopal (AME) Church at 15th and M streets, NW, about a dozen clergy announced their support for the Campaign to End AIDS (C2EA).
Rev. Charles King, C2EA national co-chair and president of New York-based Housing Works, the country's largest community-based AIDS organization, kicked off the brief Aug. 15 press conference, pointing to his group's October goal: "5 Days of Action to End AIDS," Oct. 8-12, here in Washington.
"It's five days of prayer and action," King said. "We're inviting all people of good will to participate."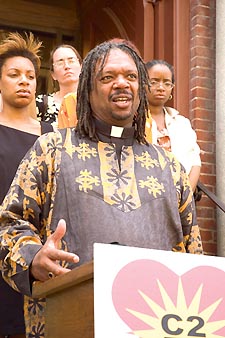 Bishop Kwabena Rainey Cheeks at a C2EA press conference on Monday
(Photo by Todd Franson)
A face familiar to the local GLBT community, Bishop Kwabena Rainey Cheeks of the Inner Light Unity Fellowship Church, was among the local leaders standing with King. Cheeks serves on both the mayor's interfaith council and his GLBT executive advisory committee. Further, he founded Us Helping Us, People Into Living (UHU) in 1985 to provide support to local gay, bisexual and transgender African Americans in the fight against HIV/AIDS.
Aside from Cheeks's Inner Light Ministries, and Rev. Ronald Braxton's Metropolitan AME Church, the assembled group represented seven other local institutions: the African American Women's Clergy Association; Brown Memorial AME Church on Northeast 14th Street; Foundry United Methodist Church on Northwest 16th Street; Metropolitan Baptist Church on Northwest R Street; Pennsylvania Avenue Baptist Church in Southeast; Shiloh Baptist Church on Northwest Ninth Street; and Westminster Presbyterian on Southwest I Street.
Rev. V. Phillip Mathews, associate pastor of the Metropolitan Community Church (MCC) of Washington, D.C., said that he received an invitation to attend the Aug. 15 strategy session and press conference, but was unable to attend. MCC was founded to address the spiritual needs of GLBT Christians. Mathews says that he or someone from his church will likely attend the next local C2EA meeting, slated for Aug. 30.
"We're just beginning to quickly organize and reach out to people and get this march off the ground," says Cheeks, saying he first met with King to discuss the October event two months ago. "As we get closer, it's getting to the point where we'll be calling and getting people to come. We need everyone's voices. We want to cross all the lines of religious groups. Â… I believe we'll see an outreach into the Jewish community, the Islamic community. Anyone who feels there's a need will hopefully not wait for an invitation."
Despite the religious overtones accompanying the announcement of the event, Cheeks emphasizes that this movement does not belong solely to the faithful.
"It can be a two-edged sword. There are a lot of people wounded by the church," Cheeks grants. "But this is the secular and the religious coming together. This is everybody's issue. We can argue about sexuality later. We can argue about theology later. We're talking about how we can reach out and save lives. Â… One big difference is that [this effort] really has an open door. No one will be turned away. There is diversity, and there is more than one strategy. There is the political arm. There is the activist arm; the religious armÂ…. We're all coming together, and I think that's powerful."
If such power can be harnessed, C2EA has some goals in mind. First, the organization is calling for "universal treatment with quality anti-AIDS drugs for all people Â… around the world"; science-based, HIV-prevention research not influenced by ideology; more research into treatment and a cure for HIV/AIDS, as well as female-controlled prevention methods; and a fight to defend the civil rights of HIV-positive people around the world; to mention a few priorities.
"There is organizing going on all over the country," says Kaytee Riek, C2EA field organizer. "Right now the focus is on caravans."
The caravans are designed to be groups of hundreds heading out by car, bus, foot and other means of travel, from cities across the country, converging on Washington.
"The first ones kick off on the 18th of September," says Riek. "They'll all be arriving in D.C. the 7th of October. Some, like the New York City caravan, [are] actually walking all the way. Our goal is to have 10,000 people here for all five days."
Among the actions planned during the October gathering are prayer services, a youth rally, and a march down Pennsylvania Avenue. The most ambitious offering is slated for Capitol Hill.
"Wednesday (Oct. 12) is 'Advocacy Day on the Hill," Riek explains. "Hopefully, 5,000-to-10,000 people will be on the Hill to meet with their members of Congress. We're envisioning that Capitol Hill will not be prepared for an advocacy day of that size, Â… [but] we have the right to meet with them."
Adds Cheeks: "Washington, D.C., has the highest rate [of HIV infection] in the country. There are people who still do not know that. The urgency of HIV seems to have been lost over the years."
For more information about C2EA efforts, visit www.C2EA.org or call 877-END-AIDS.